The Di Tella Magnette
A little history
<![if !supportEmptyParas]> <![endif]>
By the beginning of the 60ís, a large number of European and American car manufacturers decided to install a branch office in Argentina. The available models vs. population (wealthy enough to own a car) ratio was way too high, hence some models were built in very small quantities. While major car makers invested in installing their own factories, some others preferred to sell licenses to local companies which sometimes did not have either the experience or the financial resources to succeed in the car business.† This was the route chosen by BMC.†
<![if !supportEmptyParas]> <![endif]>
Among the most popular cars available in the Argentine market by the mid-60ís were the Fiat 600, 800, 1100 and 1500, Peugeot 403 and 404, Ford Falcon, Chevrolet 400 (local name of the American Chevy Nova), Borgward Isabella, Bergantin (a short-lived weird mix of an Alfa Romeo platform with a Chevrolet engine), Valiant I, II, IIII and IV (known in the USA as Plymouth Valiant), Citroen 2CV, Renault 4L and Dauphine, Rambler Classic and Ambassador, and the Di Tella 1500 and Magnette, local licensed versions of the Austin Cambridge family.
<![if !supportEmptyParas]> <![endif]>
There were also many post-war German cars built by small local companies, including the DKW Auto Union 1000 (with its noisy 2-strokes engine), Isard 1204, BMW De Carlo 700 (BMW was still trying to recover from WW2 by building small, cheap cars) and the wacky Wartburg that was built in East Germany until the fall of the Wall. Volkswagen was not there, they only came to Argentina during the mid 80ís.
<![if !supportEmptyParas]> <![endif]>
The Borgward Isabella-
†

<![if !vml]>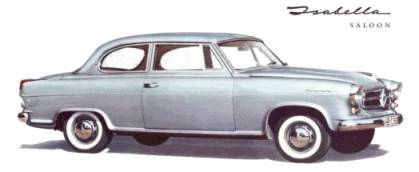 <![endif]>
(not the Argentinean version however!!!)