---

SUSPENSION

---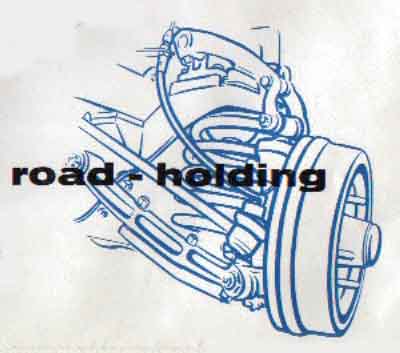 The BMC publicity machine said this about the Magnette's road handling:
"Truly upholding the M.G. reputation for speed with stability, the Magnette (Mark III) grips the road with the tenacity that always distinguished the breed. The careful intergration of suspension geometry and steering layout has permitted firm sports-car road-holdling without a hint of vibration. Tough coil springs in conjunction with hydraulic level-arm shock absorbers provide a system of independant front suspension that has yet to be surpassed. Positive stopping power is supplied by large fade-free brakes."
Anyone who bought a Magnette based on that statement should have sued BMC for all they were worth because the reality could not be more of a direct opposite. Resident expert in all things Farina, Neil Cairns, says:
The independant front suspension and worm-and-peg steering gear dates back to the 1947 Austin A40. The car cries out for rack-and-pinion steering, but never had it fitted. The steering is very vague, and early Mk3's had poor roll resistance. The dampers are all lever arm, similar to the MGA/MGB again. The Mk4 has front and rear anti-roll ( anti-sway,) bars, and is 1" lower, with wider and longer wheelbase. It also has double-acting dampers, all producing a much better handling car. Alas, it still has that steering! Rear suspension is the usual leaf spring 'Hotchkiss Drive.' Front suspension, less the drum brakes, is almost identical to the Austin Healey 100/6 and 3000.
---