I don't have a wireless fitted to my YB. Quite happy to be entertained by the hum and whirrings from the XPAG and general tyre/road generated noises. However, my peace was shattered by the hideous rattle of the gear lever. Fortunately, new springs are available and the fit is a simple job. Seats out, carpets up, gearbox cover removed four bolts on gear-lever cover and ready to replace. Fitting the spring is easy. Put spring in vice. Fit two professional quality cable ties to spring but do not put through small end of spring as it will not fit over end of lever. Once cable ties are in position, compress spring in vice and tighten each tie until spring is completely compressed. Put spring onto lever end. Fit washer and split pin. Remove cable ties. Job done!
Mick Bath
Click here to download notes on how to repair the PLC switch fitted to MG Y/Ts.
Tubular / Telescopic Shock absorbers brackets
If you are converting your suspension to tubular or telescopic shock absorbers, Tony Slattery has provided a drawing of his conversion brackets here.
Luvax Shock Absorber refurbishment
Extensive notes on how to refurbish your shock absorbers can be read here. See also Rebuilding Rear Shock on this page too.
Drain the radiator and slack off the top and bottom water hoses.
Remove the front engine mounting bolts holding the engine bracket to the engine bracket to the rubber block. Slightly jack up the engine at the front. This allows the pump to clear the frame member.
Remove the oil pipe from the oil filter to the oil pump.
Remove the eight bolts securing the pump to the cylinder block.
Remove the pump by gently tapping the side of the pump body and withdrawing backwards. Screw a suitable extractor into the end of the driven gear shaft and withdraw from the cylinder block.
MG Car Company - Workshop Manual, UK - added because it is often thought necessary to remove the engine from the car in order to remove the oil pump.
Ancillary modern electrical devices, wiring them in
Keith Herkes had a query on the BBS Bulletin board about checking vehicle speed when travelling in France. I have had the same experience as the French police are pretty keen on precise speed limits. A small complication it that the continentals use kph instead of mph so it involves a little mental gymnastics to calculate accurate metric speed. (Seem to remember a similar deal when driving from Seattle to Vancouver British Columbia!). Not usually a problem with the Y Type unless you are going too slow!
My solution is quite simple as it uses a Garmin Sat Nav. The GPS speed reading is actually more accurate than the car speedo even with most modern cars. The two snags to overcome with fitting the GPS to a Y Type or any other older car is the lack of a power socket (cigar lighter) and the vehicle polarity. My answer is not very elegant, but it works OK. I have a short pigtail lead that I can attach directly to battery terminals that is fitted with a female connector socket. As long as the leads are colour coded red positive and black negative and the red lead goes to the centre terminal on plug, any polarity sensitive device can be used.
On the Y, the battery box is conveniently situated right next to the opening windscreen. It is a simple matter just to hook up the pigtail to the battery, fit the GPS adapter, and put lead under windscreen frame. when fitted there is about 6 inches of cable visible from back of bonnet to windscreen frame. Speed reading is shown full time and mph or kph can be selected as required.
I do not usually use the GPS function for journey planning as I prefer to plot my own routes especially in areas that I know quite well already. I attached some photos just to show installation. When not in use, the sat nav, wiring and suction bracket can be put in glove box or just removed from vehicle if required. The pigtail lead also works OK with 12v inspection/ lead lamps that are not polarity sensitive.
Mick Bath, UK
The combined switch on the MG Y Series Saloons consists of a Bakelite assembly containing the horn push and a clockwork operated ring to operate the trafficators. There are at least two basic types of switch and they a re similar in principle if not in exact detail.
Complete switch assembly with centre horn button and rotating ring for trafficators. To remove assembly from steering column, push column full forward and lock with half butterfly nut. Remove single attachment screw on steering wheel boss. Pull switch assembly off and remove four wires from switch (if necessary, mark wire positions). Prise chrome ring from boss to reveal spring and spacer. Do not attempt to undo brass screws holding horn contacts to boss. Tease top hat shaped spacer out of boss to reveal cheese headed screw.
Turn switch assembly over and remove paxoline circular shape with four screws. I have marked the screws for identification purposes.
Remove centre screw to release contact cam assembly (note spacer under cam).
Clockwork mechanism can be carefully removed to show timer cams and return spring. Spring can be replaced easily but patience is required as it is a bit fiddly!
Two screws connecting the horn contacts to hub. Short brass screw to earth on hub body, long brass screw connects horn pigtail wire to horn power supply using an insulated sleeve and fibre washer with a nut. Access to this nut and bolt is only after clockwork mechanism has been removed.
Clockwork mechanism can be carefully removed to show timer cams and return spring. Spring can be replaced easily but patience is required as it is a bit fiddly!
Further stripping of trafficator assembly shows spokes on moving outer switch and the pegs on the inner fixed hub of switch. ( have marked these with snopake just for reference). These must be lined up correctly or rotary outer part of switch will not move through full range.
Mick Bath, UK
Fellow Y owner, Malcolm Hickman and I embarked this week on a journey to restore the Jackall jacks on our respective cars – Malcolm's because his rear jacks were leaking, and mine because they were an unknown quantity and it's easier to restore them whilst undergoing the complete restoration of my car. Download a PDF file here.
Neil Wakeman, Australia
Front suspension spring compression

There are a variety of tools for compressing a coil spring to install it between two A arms. Relatively inexpensive tools with a threaded rod having movable hooks on each end are commonly seen. Some are designed to go inside the coil spring and some arc designed to hook on the outside. If you can get the tool in a convenient position it may work.

There are more expensive hydraulic and pneumatic tools that make it easier to compress the coil spring. These are used mostly by professionals who do a lot of undercar work. The cost of these tools may be excessive for the amateur who does this job very rarely.

A technique that we have used in our shop with repeated success is illustrated here. It requires a strong, ratchet style tow strap and a good floor jack. You can hook the tow strap onto the jack as shown here or you can slide it under the jack and wrap it completely around the jack and the suspension.

Seat the spring in its upper holder, then bring the A arm up to the bottom of the spring so that the lower spring seat will catch the bottom of the spring and hold it in position as the seat on the lower A arm is pushed upwards. then, raise the jack against the bottom of the A arm, making sure it is in a spot where it pushes squarely against the A arm. Sometimes a block of wood helps position the jack just right and protects the paint on the A arm.

The jack will not raise the frame of the vehicle because the straps are holding the frame to the jack. And the jack will not lift, because the arm with the jack pad on it is pushing against the frame and forcing the jack downwards.

Once you get the lower A frame raised to the right height, you can insert the long bolt that goes through the holes on the outer ends of the lower A frame. You may have to use a long screwdriver or a drift to line up the holes and tap the bolt slightly. Then, fasten everything up with all bushings and washers in place. Tighten the castle nut per shop manual instructions, slip a cotter pin through the "turrets" and remove the strap and jack.

We can't guarantee this works on all vehicles, but it has worked well for us at least a half dozen times on a variety of cars. As with any restoration job. go carefully, think things out, do a "dry run" to test the equipment and wear proper safety gear like gloves and a face shield. Also be safe and cautious at all times. It's no fun having an energized coil spring flying around a shop!

John Gunnell, USA - Originally published in Classic MG Magazine Issue #52 2013

Sun roof rattles


My YB is obviously getting bored, it is now dreaming up various means to keep me busy, but in such a fashion, the fault takes some quite involved detective work. The latest item to my tired old mind was another rattle, but really carefully hidden. A normal road speeds in quiet lanes on nice days... nothing. But on main roads, doing a nippy 55 mph, in windy conditions there was this odd clank rattle clonk. It was a very muted sound, and impossible to source because of the other various members of the YB's orchestra such as minor axle wine, busy engine, tyre noise, etc. Then one day, whilst parked by the busy and fast A5 trunk road, a 42 tonne lorry thundered past, with a trailer on. With no engine running in the YB, I heard that noise again. As luck would have it I was looking at the sun-roof. It lifted a little with the various pressure waves of the thundering juggernaut, as they passed over the YB. There was the noise, the panel was a little loose.

I pulled back the roof lining by the two front rail clips, to find the nearside one was indeed loose and the felt runner was worn. The clip is held by one screw, so it was a simple job to loosen it off move the clip in a fraction, because of slot provided for such adjustment. Once tight, the play had gone.

This also cured the tendency for the panel to run too close to the offside edge, marking the paint.

Neil Cairns, UK

Fixing the nailed in trim

Some of the trim in the MG Y Type was originally fixed into place by twist nails with the trim being nailed in to rolls of very well twisted paper that formed a flexible rope. This was then able to be pushed into the curved channels in various places around the body tub. I have used twisted paper ribbon (available on line in many craft stores for example here). Some of the trim in the MG Y Type was originally fixed into place by twist nails with the trim being nailed in to rolls of very well twisted paper that formed a flexible rope. This was then able to be pushed into the curved channels in various places around the body tub. I have used twisted paper ribbon (available on line in many craft stores for example here). Modern suppliers only seem to sell this in narrow widths but you can cut several lengths from a roll such as this one then clamp one end in a bench vice and wind up the pieces to twist a new rope. Before you let go, have a friend tape up both ends with tape! Twist nails are readily available from your hardware store too, but be careful about the length that you buy - I found the originals were in different lengths, most were 7/8" - too short and you may not get a good grip through the paper, too long and you may come through the outer skin of the body shell ... so check your depth!

Rock Von Dullen, USA

Condenser ... and how to replace it

Condensers rarely go bad, but when your original condenser fails this PDF file tells you how to replace the condenser that was soldered to the base plate.

Masaaki Sakaguichi, Japan

Locking fuel filler cap

For some time now I have wanted to fit a locking petrol cap to my YB but how....well there is a simple method that allows you to keep the original cap if not on the car then for refitting at a later date if you want to. What you do is get a Morris Minor petrol filler pipe - its a lot shorter than the Y type one but otherwise identical in width and construction. Once you realise that the filer neck is 'sweated on' (soldered basically) it can easily be removed by heating it with a blow torch or even on a gas stove. The filler neck on the Y is also fitted this way so you take the Y filler neck off and after cleaning the end of the Morris filler neck you sweat (solder) it back on to the Y filler pipe in the manner you would do with a plumbing repair. You then get [off eBay possibly] a locking cap (with an adaptor for the Morris Minor - you need that so make sure it comes with it) and fit it to the new filler neck - OK it does not look original but it works and in the event of the car turning over (heaven forbid) the petrol wont leak out and it saves anyone putting stuff in or taking petrol out of the tank. If you want the original petrol cap back you unsolder the Morris filler neck and solder the Y one back on. Not for purists I suspect but if you want to use the car regularly a useful fitment.

Dave Mullen, UK

Running Board rubber strips - fitting to channels

The best way to install the rubber strip into the running board is to slip them in towards the body shell then pry the outside into the channel with a putty knife, or something less sharp. First though, measure the proper length then use a bench grinder wheel to taper and round off the ends.

Will Boden, USA

Brake Fluids - DOT 3, 4, 5 and 5.1

A PDF file compiled by Michael Long outlines the advantages and disadvantages of the various brake fluids available can be downloaded here.

Michael Long, UK

Rocker assembly (Valve Train)

Noisy tappets may not only be due to loose valve tappets. Here is a write up on how to rebuild your rockers.

Neil Wakeman, Australia

Lock repair - doors and boot

Does your door or boot lock not turn? If not, it is probably seized up. Here is a write up on how to get them working again.

Neil Wakeman, Australia

Electrics not working?

After 40 years sitting in boxes, a couple of my electrical components failed to function properly when removed from their long hibernation. The cause in some cases was very simple – surface corrosion!

Control box – power was not getting through to the 'accessories' that work only when the ignition is turned on – wipers, trafficators, etc. The cause? The clip that holds the accessories fuse linking A3 and A4 terminals on the control box had corroded and contact between the fuse end and the clip was lost. The solution? Clean them up with some emery paper. I also cleaned the fuse holder clips at A1 and A2, for good measure.

Dynamo – same deal. After pulling my non charging dynamo to bits and testing every part without finding a problem, my auto electrician mate concluded that necessary electrical contacts had been lost through corrosion. He cleaned and reassembled the unit without replacing anything, and it worked like a charm!

Wipers – these wouldn't work either because the points at the on-off switch were corroded. A quick clean with the emery paper and the problem was solved. Fuel pump – similar but different. That wouldn't work until I replaced the stiff diaphragm with a supple new diaphragm.

The moral of the story … look for the simple solution before ripping things apart!

Neil Wakeman, Australia

Tool Stowage

Ever since the car has been on the road (1992) I have carried a few spares in the car because we have done a few trips across Australia and back and other long trips including the UK and Europe of course. These spares have lived in plastic ice cream containers in the spare wheel compartment which are now all out of shape and lids that don't fit so a little retirement project was to build my very own fit to shape "Louis Vuitton" cases to fit where original tools that I don't have and don't need would normally go. A little over the top perhaps but might give our Y Type brothers a thought for something they could make. Their odd shape was a challenge but for obvious reasons necessary. The curved section around the spare wheel I used a heavy plastic and the piece of aluminium angle located by the little bracket on the left and my home made spare wheel clamp is to keep the boxes in place.

Richard Prior, Australia

Auxiliary Dashboard and how to make one

I fitted an auxiliary dashboard to my Y to carry additional instruments and a plug in power point (for GPS etc.) Here are some notes on how I made it.

Michael Nicholson, UK

Boot and Spare Wheel Compartment seals

I have just about completed a rebuild of an MG Y/T and I was looking for a suitable seal to fit the lip around the boot (aka trunk) lid and Spare Wheel Compartment (SWC) opening. I decided a neoprene seal would be the best as it will not hold water when it gets wet. I emailed a couple of suppliers with my dimension requirements - about 16mm wide and 5mm high (5/8th inch wide by 1/5th inch high).

The best quotation I had back was from Woolies (I & H Woolstenholmes Ltd) in the UK and so I ordered 2 possible products and their Self-Adhesive Black Sponge product hit the nail right on the head. Their product is 300-16-5 and you will need a total of 5 meters as the boot lid is 92 inches (2.44 meters) around and the SWC is 72 inches (1.83 meters).

First you should run the seal all the way around the opening and DO NOT remove the backing paper. Overlap the end by about 1 - 2 inches, then cut it. This will allow for shrinkage and also save you having to fight the long snake! Start at the bottom and centre of each opening, and remove the backing only about 6 inches at a time as you work the seal back in and around the corners (I go anti-clockwise) around the opening. When you are done, just leave the overlap for a couple of hours (overnight?) so the neoprene shrinks back. Push the seal firmly onto the rear of the opening so that the self adhesive gets a good contact - clearly the surfaces should be clean and free from dust and dirt first!

This seal will give you a nice filler and seal all the way around without causing the lids to stand out unnecessarily proud.

Paul Barrow, Washington State, USA

Sometimes it helps to know how the world used to be to understand why things were done that way. The reversing light on a Y-Type only works when the sidelights are switched on, not when the ignition is switched on. This is because reversing lights were fitted in the 1940's and 50's to "upmarket" cars to assist the driver in reversing at night.

It was only in the 1960's, that reversing lights were expected on the average car and as a warning that the driver had selected reverse gear. So. it is worth remembering this if you wish to indicate you have selected reverse in daylight, switch on the sidelights first. You can of course modify the wiring to enable the reverse lights to work when the ignition is switched on, and this will be the subject of another Y-Hint & Tip to follow.

The Classic Workshop, Australia

Oil Leaks from the rear main seal

Years ago I was wondering why T series had more oil leaks than other British cars using the same type of rear seal  especially after the engine was shut off., MGA,  Austin Healeys had the same reverse screw thread scroll .  Midgets had the same seal into the 1970's. Even American cars in the 40's used the same type of seal, but they all have their tube trimmed short so the oil drops out of the cap above the standing oil.

If you look at the drainage tube and see how high the oil in the pan is when the engine is off you will see that the tube stands in the oil. I feel that the run off from the rear main fills the tube and then runs out the trough by the crank. If you trim the tube it lets the oil drop off into the pan and not well up in the trough of the main cap up by the crank scroll. I usually leave it about 1 inch long, the main bearing cap has a big cast appendage on it. Basically you want the oil to drop out of the tube above the tray but well below the cork gasket.

This is practice that I have found to help reducing oil leakage out of the bell housing, maybe not 100% but every little bit helps.

Joe Curto, USA

Download a great article here from Enjoying MG magazine, on everything you need to know about the Coil Ignition system in your car and ignition timing. This article, although generic in nature covers almost all Pre 1981 MGs.

MG Owners Club, UK

Trunion and King Pin replacement

Download a great article here from Brian Cox on Trunion and King Pin replacement. This article was originally published in Practical Classics in June 1992.

Brian Cox, UK

Another way to get oil loss is to fit the bell housing cover plate the wrong way round, with the slot on the wrong side. This creates a vacuum in the bellhousing and pulls the oil out of the engine through the rear main bearing and oil scroll. I know people who had big oil leaks from the bell housing, and who have completely stripped an engine to examine/replace the rear seal who only needed to reverse this plate. You can work it out. Looking forward, the clutch/flywheel rotates anticlockwise. As a result, so does all the air in the bellhousing - and rather quickly too. If the plate is fitted with the slot on the left, all this rotating air will be thrown out of the slot and a vacuum situation develops in the bell housing (sucking oil out from the rear main). It is acting in the same way as does the water pump. With the slot to the right, this does not happen and there is even a slight pressure build up in the bell housing to push oil back into the engine. Most of these plates do have the word TOP stamped into them so it should not be too difficult, but with some corroded plates it's hard or impossible to see.

Clive Sherriff, UK

Fitting Flashing Turn Signals with Trafficators

Safety is something not to be compromised and many enthusiasts would like to have both the option of flashing indicators and the traditional semaphore arm signals operating on their car from the original steering wheel turn switch. Modern flashing indicators add a safety feature for the modern motorist who is not expecting to see (nor indeed are they looking for) a small arm on the middle and side of the car to pop out. The trafficators clunking in and out will satisfy the enthusiast both aesthetically and from the recreation of that 1950s driving experience!

There may be local requirements to fit internal repeater flashers, you will need to check this with your local Department of Transport (or equivalent) Office regulations. Also, some countries require that an audible device and an illuminating warning light must be fitted to a vehicle fitted with flashing turn signals. It would not be a major alteration though to run wires back inside the cockpit, via a correctly valued and orientated diodes (one way current passing switches) for both the left and right flashing indicator wires, to a suitably mounted repeater if this is the case.

In order to operate the Trafficators and the indicators concurrently with flashing turn signals, you will need to acquire two of the Lucas Flasher units (FL5 or similar) that were fitted to most British cars of the 1960s and 1970s. These can be easily mounted on lower bulkhead where the terminal connecting unit is located. The Steering Column slip ring has four terminals, one for the horn, one for the current feed and one for each trafficator. Both of the trafficators wires are green, the left one with has a white tracer and the right one with has a red tracer.

Take a feed from each of these trafficator terminals to each of the flasher units. The flasher units have three terminals and one will be redundant on each. Then take a feed from one side of the flasher unit to each pair (front and rear) of the indicators. The trafficators can then be operated at the same time as the indicator units, using the same trafficator switch on the steering column.

If you have not already done so, twin filament bulb holder conversions are available for the Lucas 1130 sidelights from suppliers such as Staffordshire Vehicle Components. These enable you to operate sidelights and indicators concurrently. However, orange indicator units are recommended for the rear of the car.

A circuit diagram together with a printed set of these notes can be downloaded here. Although this is based on the RF.95/2 Control Unit, the wiring suggestion can be fitted to any Y Type irrespective of the Control Unit type fitted.

Tony Slattery, Australia

Higher ratio rear differential

I opted to do a complete axle changeover - so you will need to find a spare Y-Type diff housing as well as a Morris Minor Diff Centre - I used a 9/41 (1:4.55) ratio. Ask other Y-Owners, someone close to you will have a spare housing.

All the work was done by a fellow Y-Typer and excellent engineer - Dick Pakeman at Helidon, Queensland. He makes rims for vintage & veteran cars as well a general engineering and vintage engine work. I got him to do 2 differentials for me and the total cost was $1500 which included new bearings/seals in the 2 differential centres, so $750 each. I supplied the MM differential centres, and 2 complete Y-Type housings. I thought it expensive at the time, but when you consider what he did for the money, it was very good value.

Attached you will find the analysis I did on engine RPM, tyre size and speed prior to the conversions. So here is how a "Brooklands Y-Type" differential is created:-

1) The sun gears are removed from the Y-Type differential centre and fitted to the MM differential centre - this allows you to use original Y-Type axles shafts. The MM front flange is OK as I recall and fits the Y prop shaft.

2) The mounting ring needs to be cut out of the Y-Type Banjo housing and a new ring made with the bolt pattern for the MM centre.

3) The new ring is welded in the correct location to suit the MM centre - there is about 6mm difference between the mounting flange and the axle line between Y & MM differential centres. This is most important to avoid broken axle shafts as you can well imagine.

4) Keep all the Y-bits, just in case a future owner wants to put back the Y-Type differential centre - just compare the pinion sizes between MM & Y.

5) You should then check the banjo is still straight after the new mounting ring is welded in - this can be done with a full width dummy axle and a press to correct any bend discovered - one of mine was bent forwards, the other backwards so I suspect the manufacturing tolerances in the late 40's were not that good.

6) Now its just a simple swap of the complete housing to the car and fitting the axles and brakes.

7) I use limited slip diff oil in all my cars at the recommendation of a differential specialist many years ago - it has much better wear protection and heat tolerance - nice and sticky too.

I fitted one of the "Brooklands" differentials to the YT in January 2009, before driving it to Geelong for the Easter National Meet, the car was driven to the top of Mount Buffalo on the Pre-War MG Week-end in October 2009 with ease, so the ratio is still OK for climbing steep hills with the 4:55 ratio. I then drove it from Melbourne to Adelaide for the 2010 National Meeting - doing the trip in 9 hours - then back to Melbourne before the trip to Canberra and then eventually back to Brisbane. The car broke down 9 times between Newcastle and Brisbane on the final leg, but with determination I got there. Just a couple of simple problems, but difficult to diagnose on the side of the road without the right gear. None of the problems were related to the "Brooklands Differential".

The trailer I was towing with the YT weighs 250kg and it had 212kg of tools, wheels, spares an cleaning equipment inside. The car was carrying me and luggage - total 145kg - and another 100kg for Deb and her luggage from Melbourne to Canberra. A YT weighs about 930kg - so all up 1,637kg powered by 1250cc and can cruise at 100km/h doing 3625 RPM.

Dick had previously fitted a MM differential centre to his Y, but made himself new axles to fit in the MM sun gears - he never thought the sun gears could be swapped until I suggested we try my idea. He also fitted a 5 speed gearbox with a bell housing he built himself.
MG Y-TYPE - ALTERNATIVE REAR AXLE RATIOS
Bias Ply
Radial Ply
Radial Ply
Radial Ply
Radial Ply
Radial Ply
Radial Ply
Radial Ply
Radial Ply
Radial Ply
Input:
525-16
165/80-R15
165/80-R15
165/80-R15
175/80R16
175/80R16
175/80R16
175/80R16
175/80R16
175/80R16
Tyre size
16" x 3"
16" x 3"
16" x 3"
16" x 3"
16" x 5"
16" x 5"
16" x 5"
16" x 5"
16" x 5"
16" x 3"
Rim size
5.143
5.143
4.55
4.222
4.222
4.55
4.875
5.125
5.143
5.143
Diff Ratio
36
36
41
38
38
41
39
41
36
36
# teeth crown wheel
7
7
9
9
9
9
8
8
7
7
# teeth pinion
Speedo Drive:
6
6
6
6
6
6
6
6
6
6
3rd motion shaft
15
15
15
15
15
15
15
15
15
15
take off pinion
1600
1600
1600
1600
1600
1600
1600
1600
1600
1600
Speedo fitted (revs/mile)
1
1
1
1
1
1
1
1
1
1
Top Gear Ratio:1 (4th)
2.06
2.04
2.04
2.04
2.095
2.095
2.095
2.095
2.095
2.09
Rolling Circumference (m)
Output:
781.2
788.9
788.9
788.9
768.2
768.2
768.2
768.2
768.2
770.0
Wheel turns per mile
5.143
5.143
4.556
4.222
4.222
4.556
4.875
5.125
5.143
5.143
Axle ratio:
0.400
0.400
0.400
0.400
0.400
0.400
0.400
0.400
0.400
0.400
Speedo ratio:
1607.1
1622.9
1437.5
1332.4
1297.4
1399.8
1498.0
1574.8
1580.3
1584.0
Speedo turns per mile
14.9
14.8
16.7
18.0
18.5
17.1
16.0
15.2
15.2
15.2
MPH per 1000rpm
1664
1681
1489
1380
1344
1450
1551
1631
1637
1640
RPM @ 40 km/h (in top)
2497
2521
2233
2070
2015
2174
2327
2446
2455
2461
RPM @ 60 km/h (in top)
3329
3361
2977
2760
2687
2899
3103
3262
3273
3281
RPM @ 80 km/h (in top)
4161
4202
3722
3450
3359
3624
3878
4077
4091
4101
RPM @ 100 km/h (in top)
4577
4622
4094
3794
3695
3987
4266
4485
4501
4511
RPM @ 110 km/h (in top)
4781
4828
4277
3964
3860
4164
4456
4685
4701
4713
RPM @ 71.4 mph (in top)
0
1
-10
-17
-19
-13
-6
-2
-1
-1
% speedo error
NB -ve means reads slow
BREAKERS YARD SEARCH LIST
Teeth
Diff Ratio
Standard fitment on:
11/41
3.727
Riley 1.5, Morris Major & Austin Lancer (Series 1 only)
10/39
3.9
MG Midget 1275cc (UK built cars), Mk1& Mk2 & Mk3 Sprites
9/38
4.222
MG Midget 1275cc (OZ built cars)
9/41
4.555
Morris Minor 1000 (PRE-1956)
8/39
4.875
Austin A30/Morris Minor Ute & Van
4.49
MG TA
8/41
5.125
MG TB & TC, Morris Minor 1000 Vans & some Austin A30
7/36
5.143
MG YA/YT
5.22
MG VA
8/43
5.375
Austin A30 Ute, Morris Minor Ute, (in 803cc models)
Download as tables as a PDF here.

Tony Slattery, Australia

This PDF file was written a while ago by David Pelham and Paul Barrow. If you need to fit a Heat Shield to a YT or twin carburettor saloon it will be of interest to you. This will help prevent "vapour lock" and fuel starvation issues caused by heat transfer from the exhaust manifold evaporating the petrol before it can get into the engine from the carburettors through the inlet manifold.

David Pelham and Paul Barrow, UK and USA

Rebuilding Rear Shock Absorbers/Dampers

Andrew Sorouni has provided detailed notes here of how to rebuild the rear shock absorbers. See this document for how to do this.

Andrew Sorouni, Australia

We all have stories of driving in the rain ... and arriving with a wet lap. Many times this is correctly blamed on the big, external seal that goes around the outside of the chrome surround. However, when I was driving my Y recently I happened to notice a bead of water forming on the inside above the chrome surround. I watched (while paying attention to the road too) as this swelled ... and then fell onto my leg. The source of the water ingress was not the outer seal of the windscreen but a failure of the inner surround seal. See this document for a cure for this!

Paul Barrow, USA

A document demystifying Antifreeze can be downloaded here.

Mike Long, UK

A document detailing how to make an Emergency Fuel Pump downloaded here.

Steve Locke, USA

p align="center" style="text-indent: 0; margin-top: 0; margin-bottom: 0">

Window winder mechanism replacement - front

Have you ever had that sinking feeling? Well I did on my way home from the Speckled Hen Run recently. "Wind the window up please dear" my wife Doreen said as we headed back to Radley College for our cream tea. Just as it got to the top "BANG" and it disappeared into the door.  The winder went all easy to turn so I guessed something broke, or slipped off. I had no idea at the time how it worked, never having had a YA to bits. All my experience with building and fiddling with MGs has been with MMM and T types. Oh well, another job to do.
When I got home I took off the door panel and immediately saw what had happened and what a simple and ingenious system.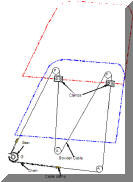 A very simple gear and chain driving a Bowden cable over some pulleys. For those who have never had the door panel off, the photo shows you what you will see. Looking at the diagram the winding handle connects to a gear over which passes a chain. A closed loop of Bowden cable is connected to each end of the chain with a loop and crimped ferrule. The system works thus:- Winding the handle anticlockwise pulls the left hand cable downwards. It passes over the first pulley "F" and passes through a clamp, which attaches it to the bottom of the window thus the window is raised. In order to lift the window evenly the cable then passed under another pulley "A" , down low in the door and up again over a second pulley "F" and down through another clamp attaching to the window. Hence both sides are lifted evenly. The cable then goes down and round the second pulley "A" and attaches to the other end of the chain. This ensures that the window is pulled down. The cable needs to be free of slackness to prevent the chain slipping on the gear. For this reason the two lower pullets "A" are adjustable.