DATE OF TEST:- July 19, 1951
MAKE OF CAR: MG T.D. 2-passenger sportster
DRIVER: Andy White
WEATHER CONDITIONS: Temperature 71° F., humidity 63%, wind 13 mph
MILEAGE AT START OF TEST: 14,721 miles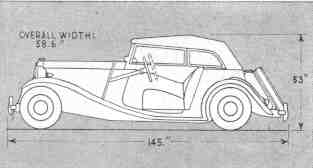 FUEL ECONOMY (in mpg): (checked with velocity flow meter, gas volume meter and Mile-O-Meter, a vacuum gage; level road)
North Run ..............................
South Run .............................
Average .................................
ACCELERATION:
(timed electrically)
zero to 50 mph .......................
zero to 60 mph .......................
HARMONIC POINT (or Optimum Cruising Speed): .......
TOP SPEED:
speedometer ..........................
actual ....................................
SPEEDOMETER ERROR (at Top Speed:) ............................
Hill Climbing:
(on 8-mile incline with grades of 12% to 29% up Mt. Washington)
(a) Top speed and gear ............
(b) Pct. of time in gear .............

BRAKING EFFICIENCY:
(checked with standard brake efficiency meter)

AIR-FUEL RATIO: ..................




IGNITION COIL OUTPUT: .......

Miles Per Hour

| | | | |
| --- | --- | --- | --- |
| 20 | 30 | 40 | 50 |
| | | | |
| | | | |
| | | | |
| 36 | 35 | 32.5 | 28 |
| 36.25 | 35 | 34 | 31 |
| 36.12 | 35 | 33.23 | 29.5 |




14.9 seconds
23 seconds

67 mph

83 mph
79 mph

4 mph






47 mph in third
66% in third, 34% in second, none in first or fourth

60% (at 30 mph stopping distance is 50.2 ft.)


1 ½-to-1 at idle, 14-to-1 at inter- mediate speed, 14¾t-to-1 to 15- to-1 at top top speed (lean mixture)

20,000 to 23,000 volts (American cars have 12,000 to 18,000)
ROADABILITY: Excellent, virtually no wander, steering wheel response is fast, due to this being a racing-type vehicle, clings to curves.
RIDING COMFORT: Fair, this is not a family-type car, therefore comfort is not stressed.
INSTRUMENTS: Fairly easy to read in day operation, difficult at night because of poor lighting; panel light dimmer helps to improve vision.
ACCESSORIES: Steering column is adjustable; tool kit in own box under hood, glove compartment can house radio; celluloid side windscreens are detachable; spare tire mounting is easily accessible-outside car at rear; both of individual seats are adjustable for angle of back and forward or backward.
(a)
ENGINE: 4-cylinder, overhead valves Bore: 2.56" Stroke: 3.541 Brake hp: 54.4 at 5,200 rpm Compression ratio: 7.25-to-1
(b)
TRANSMISSION: 4 forward, 1 reverse, gear shift.
Rear axle: ratio 5.125-to1 (top gear)
(c)
EXTERIOR (see drawing):
Wheelbase: 94"
Weight: 2,016 (ready for road)
(d)
INTERIOR:
Headroom: 35"
Hiproom: 44½" (full width of interior)
Legroom: limited (distance from seat cushion to floor, 52")
(e)
STEERING:
Lock to lock: 2½ turns of steering wheel
Turning circle: 31' 3"
Adjustable steering column
(f)
VISIBILITY:
(For 5' 8" driver)
Driver's eye to road between left headlight and hood: 18'
Driver's eye to road over center of hood: 30' (approx.)
Driver's eye to road between right headlight and hood: ; 20' 10½"
(g)
MISCELLANEOUS:
Battery: 12 volts (electric fuel system)
Tires: 5.50 x 15
Springing: front, independent; rear, semi-elliptic
Parking brake located to driver's right between the seats
Electric windshield wiper
Spare tire mounted on rear
ADVISERS ON TEST PROCEDURES
PROF. DEAN FALES, chassis construction authority, Massachusetts Institute of Technology, Boston, Mass.
DR. JOHN M. COLONAS, chief engineer, Commercial Filters Corp., South Boston, Mass.
LEONARD BELL, Ignition authority, "Mallory Electric Co., Detroit, Mich.
HENRY PRATT, authority on automotive fuels, American Oil Co., Baltimore, Md.
FRANK THILOW, service and lubricating engineer, American Oil Co., Baltimore, Md.
MOTOR VEHICLE RESEARCH herewith certifies that these are the true and accurate findings in tests conducted on the automobile named under the conditions specified.


A.J. White
Motor Vehicle Research
Gale-Hall Engineering, Inc.