Period Reports
just for You
Eight pages of accessories for the MGTD that appeared in the July 1952 issue of Auto Speed and Sport.





just for YOU




EXCLUSIVELY MG
THESE ITEMS MAY BE
JUST WHAT YOU'RE
LOOKING FOR
WITH SEVERAL, THOUSAND MGs touring the highways of the United States, we thought that many owners would like to see some of the many accessories available to them. Some of these you have seen in advertisements, others are completely new and have not been released for sale as yet. Some of the items are strictly "doll up" types but others are functional and practical, adding much to your MG driving pleasure. It is impossible to list every accessory that is being manufactured as there are many small shops that have designed a small item sold mainly to, and for the benefit of, their customers on the local market. The items on these pages are available through national distribution, either bv MG agencies or by mail.
There are many tops for the MG, but the newest sensation is
this Fiberglas coupe-type affair. It is easily attachable with a pair
of clips and has been quite successful on the West Coast
---

A tinted sun visor will greatly increase the driving
pleasure of the MG owner who lives in
the Southwest. It clips on the top
of the windshield without marring the frame
or interfering with the top.

A gimmick that Williaim Orr of Los Angeles built
to avoid the "kidney punch" that the wind can give, is
this light plastic shield that flts into the side curtain
mounting brackets. It does a good job,
while not interfering with the opening of the doors.





Windwings are available in several models.
All of them do a good job of keeping
the wind blast from the side of your face.
If you do much long distance driving,
these are musts. They also fold back against
the cowl when the side curtains are in place.
In addition there are other types that may be removed
and used as sports shields
when the windshield is folded down flat
For the competition enthusiast, the genuine "Brooklands" type
sports shield is now available.
These act as deflectors more than as actual shields
and are mounted with two permanently attached
posts (not shown). In this manner,
the shield may be removed for windshield-up
operation, but may be easily re-installed for competition


---


A wheel for the
TD model is this
one with a laminated
wood rim and a
two-bar stainless
steel frame.
The wheel is flexible,
but not to
the point of giving
a "soft" feel


While on the subject
of steering wheels,
the center medallion,
depicted above,
is a good-looking
dress-up item.
Up to the present
time, it is
available only
for TD models


The genuine Bluemel's
"Brooklands" wheel is now
available in this country in
several colors. This is an extremely
good-looking accessory
for the MG and its
17-inch diameter
some what aids the
handling qualities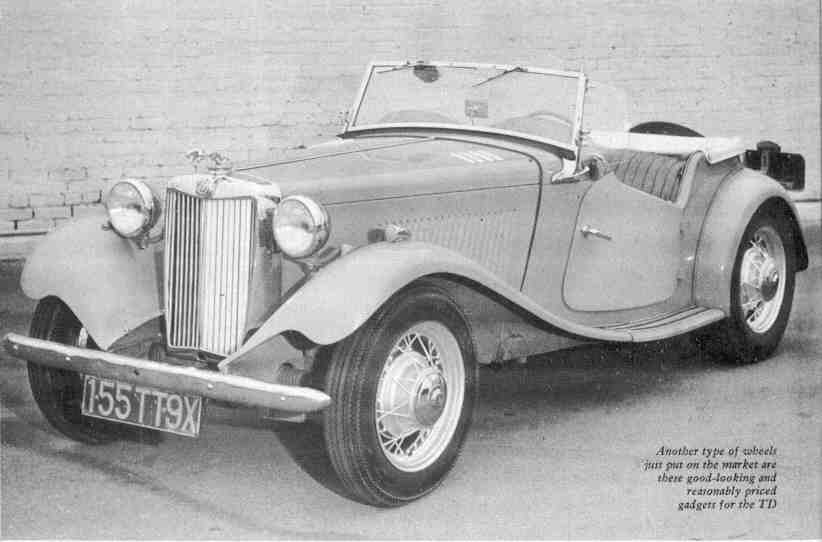 ---



Directional signals may not be an absolute necessity,
but they are attractive and convenient.
Easily installed on the TD, they are amber-colored
with a bulb powerful enough to be seen
at a great distance, even in bright sunlight

If you own a TC and are suffering from a worn
steering, or one that binds, this steering kit with
its roller action is a sure remedy.
Many of the competition TCs are fltted with this kit





One of the best dress-up items (above) for the TD
is a set.of wheel disks. Although most of the
American "custom" disks may be fitted to the MG,
those are made just for the TD
and are louvered to aid brake cooling


If you like wheels, these (above left)
are just about the ultimate in good looks.
Made in Italy under license from Rudge, they come
with plated steel or buffed alloy rims and spokes


In combination with wheel disks (left),
or with a plain stock wheel, these new, cast aluminum
dummy "knock offs" may be just what you are
looking for. They are supplied with the MG insert
in the center of the hub and attach
to the stock hub cap with two screws from the rear
---

Luggage racks for the MG are very popular
in Europe and are becoming
more and more popular here. This is
one type that fits above the fuel tank
and carries the baggage high

Along with the tonneau covers, a tire cover
of matching fabric presents a most attractive appearance.
They are available for either the TC or TD
from national distributors,
or may be custom-made by your local top shop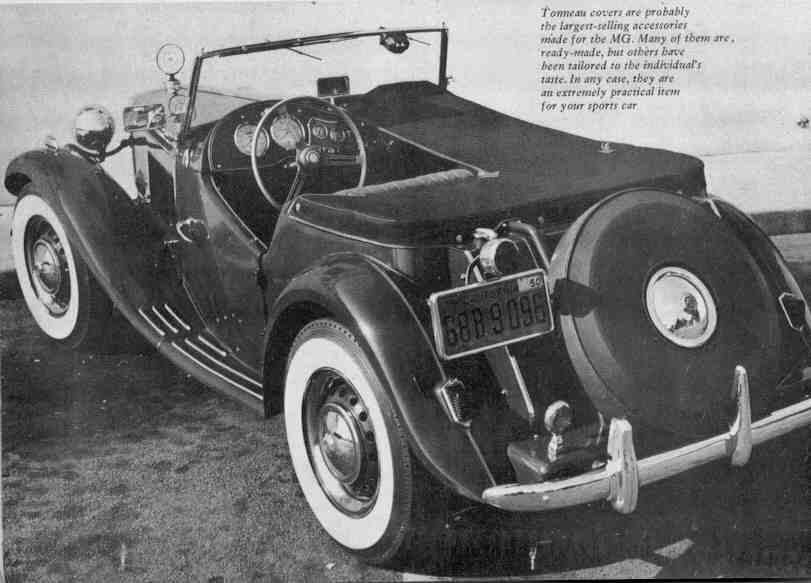 ---

This is another type of luggage carrier
that folds up against the spare
while not in use. It carries the bags low,
but away to the rear when traveling

Another new item that is meeting with
considerable success in the competition
field is a new Fiberglas front fender
for the TD models. Lighter than the aluminium
fender,it is good-looking and is supplied
in prime coat ready to paint any color desired

MG oil filters (above) have been worth
their weight in gold in most sections of the
country. However, there is a replacement filter being made domestically for all MG models that utilizes a standard American cartridge

For those who like fins on a valve cover (above right), here is a brand new item for the under-bood area. Also of polished aluminum, it is heavy enough to deaden all but the wildest tappets

For the clean engine enthusiast, here is a buffed aluminum rocker-arm cover (right) that silences the valves considerably and dresses up the engine



---
| | | | | |
| --- | --- | --- | --- | --- |
| | Here is still another type of arm rest for the TD that serves as a brake cover and helps to keep the right people on the right side of the car | | Without the arm rest comes this brake cover to prevent the wife from covering her skirt with the cable lubricant. It is provided in matching or contrasting materials and simply snaps around the handle | |







Another, and very handy, arrangement (above) is this combined ashtray and center arrm rest. It does not interfere with the operation of the shift leader and keeps the ashes off the floor and out of the driver's eyes


To better aid the Forestry Service in fire prevention, there is a very neat, in-the-door ashtray rig (above left) on the market. The outer bowl is easily removable for cleaning and the gadget is located right where the driver needs it


For entertainment when you travel (left), you will enjoy this Philco set built into your driveshaft tunnel. It does not interfere with shifting, or with the transmission filler plug
---
| | | | | |
| --- | --- | --- | --- | --- |
| For the racing MG owner, this tubular push-rod and special tappet will considerably lighten the valve train. On more recent models the oil hole has been relocated for better lubrication at all speeds | | Although the latest TDs are equipped with an engine (water) temperature gauge, this unit is available for the earlier models. Designed to fit into the radiator fitting, it is easily installed and the Stewart-Warner gauge may be mounted in or under the instrument panel | | If you are having, trouble with your speedometer, the cable breaks, or the noise bothers you, you might try, this Stewart-Warner conversion. Made by an enthusiast, it uses all-American components behind the face. It is available for both TCs and TDs |
| | | |
| --- | --- | --- |
| Engine accessories are a book unto themselves, but here is one that has been quite successful. It is a Lucas magneto kit ,with all necessary parts for installation including a valve side plate with breather openings | | If you like to carry around a lot of small, but valuable items and are always worrying about their safety, this locking tonneau cover is just about the ticket |
Home | History | Details | Myths and FAQs| Literature | Entertainment | Gallery | Links | Map
| | |
| --- | --- |
| © 1999 - 2017 by Christopher C. Couper | Page last updated on March 23, 2001 |