MGB Conversion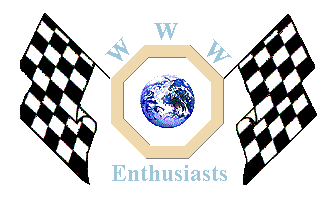 Click here to add your MG News.
---
1974 MGB GT V-8 Conversion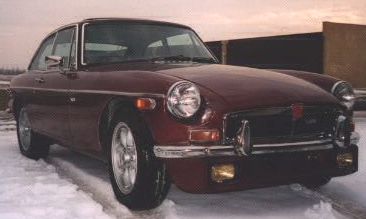 This car was a standard 1974 ½ USA model. I began by removing the drivetrain and stripped the car down to a bare shell for a complete rebuild. I changed the steering to RHD, rebuilt the front suspension using the MOSS coil over kit, uprated calipers and ventilated discs.

Presently I have installed a Rover 3.5 with a SDI gearbox, but I plan on installing a new Rover 3.9 with hot wire EFI and a Costello plenum cover. I have the RV8 exhaust coupled to dual stainless pipes to finish the engine compartment.

As indicated I have utilized a series of 1 Jaguar rear end for this car. The installation was rather straight forward. I had the axles and lower control arms narrowed 1 inch (each side). Then I assembled using new bushes, bearings etc. The cage fits rather neatly into the MGB body shell with minor modifications needed. The fuel pump needs to be relocated, so I fabricated a bracket and mounted it on the body shell, opposite the battery. Since my car had rubber bumpers I had to move the battery 90 degrees for the clearance needed. The hole that the fuel pump formerly occupied was used for access to the upper mounting bolts. Likewise a hole was drilled opposite for the left hand shocks. The cage is trial fitted to check wheel travel and to determine the location of the mounting bolts. I used 3/8 inch bolts to secure the cage to the body shell.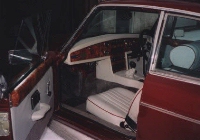 As a side note when the exhaust was being fabricated the car was left overnight jacked up on the tyres, the Jaguar rear end being bolted up. The next morning there were no problems.
I feel that the Jaguar Rear End with the Moss Coil over front suspension gives a superior ride and handling that cannot be equalled by any other combination.
To round off this conversion I replaced the interior with an RV8 style dash and leather seats, door panels etc.
This car is now avaialble for sale, so that Tom Hoadland can complete another conversion.
For futher details please contact Tom at PO Box 311, Palmyra, Michigan 49268, USA, or Tel: 517 486 2268
More on MGB-V8| V8 Conversions in the UK| Mike Satur Interiors
---




Made in England