Racing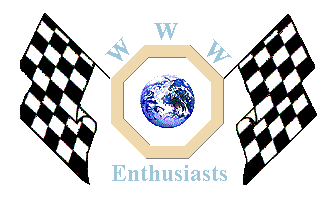 Click here to add your MG News.
---
Team 'Rosbif'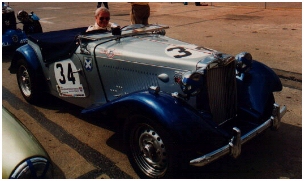 Eric Benson
I have been heavily involved with MGs since the 1950's. I should stick to the subject in hand so enough to say I have been a 'T' racer almost all of that time, including a spell when I paused for three or four years because I felt it was all becoming a bit "samey", ie racing week in, week out, on the same tracks in England, against the same guys. Of course there was the camaraderie and excitement but I had got stale. What revived everything was a little car I found in a lock-up garage in Dallas, Texas.
After early retirement I had been shipping a few cars occasionally back over to England and making lots of friends in the USA, mainly in Texas, when I stumbled on this sad, unloved TD with flat balloon tyres, peeling paint and crumbling upholstery. On, at first, disinterested inspection, I soon found it was a MK2 and had a Marshall supercharger on it. The guy said he'd bought it "not running" and all he knew was that the last time out it had blown away a TR4. The plates told me Illinois '67 and by now I already had a vision of the future for both of us.
That was October 1990. So the car came back to England, strangely enough clearing customs at Abingdon, and I set about creating the ultimate MG. Good to race, rally, go for a picnic in the English countryside or a blast round a French race track. It's true what they say about the TD MK2; it is more than the sum of its parts and after a year getting used to each other we restarted its competitive life. From someone who has driven just about every type of MG ever made I can honestly say that the car is a delight to drive, whatever the conditions.
However, I decided that I could improve on my old racing life and looked to France. It really is amazing what an enthusiastic motorsport country it is. Coupled with the love of good food and wine and remarkable joie de vivre, all I had to do was brush up on the language and find myself an event. One thing led to another and as I had some T racer pals of like mind, they enthusiastically joined me at the first venue, the fantastic Circuit des Remparts at Angouleme in S.W. France. The three of us were so obviously a team that I coined the name Team Rosbif for us. The French call the English "les rosbifs", not because they eat a lot of roast beef but because they all turn pinky red in the warm sunshine in France. It's a nickname, like we call them "froggies", not too polite really. But the French were absolutely delighted at the irony of the English using such a title and laughing at themselves. Well, the name has been a great success and raised many a laugh and made many new friends; kind of barrier breaking.
Angouleme is a lovely ancient city on a steep hill with cathedral and castle ramparts clustering on top. Since the 30's they have, each September, blocked off the traffic and created an exciting circuit through narrow streets, down a long semi-straight and then snaking back up through three very tight hairpins. The whole town is on fiesta for several days and there is a concours d'elegance and a gastronomic rally in the Charente; the region around the city famous for its food and wine, especially cognac. There is a wonderfully festive gala soiree for all the drivers and personalities on the Saturday before the spectacle of the races on Sunday. We have attended now for four years and each time the welcome is overwhelming. The cars in the races range from the turn of the century, through to recent F1 and Le Mans prototypes. There are motorcycle races also, all with grandstand crowds of 60,000 or more, as the racing is very worthwhile watching (or so I am told - I'm usually far too busy doing it!) The team is now around twelve drivers, from TA's to TF's and they are a great credit to the marque and themselves as we have luckily created an incredible esprit de corps.
Our other main event in France has been the prestigious Grand Prix de l'Age d'Or at Montihery, just south of Paris. This is France's showcase racetrack of the 1920's and 30's, now sadly showing signs of neglect. To race on this immense banked track is surely a privilege. If you walk - well, scramble really - up across the track to the perimeter, you will find the armco horizontal! The whole weekend is a festival of the golden age of motoring. Once again hundreds of rare marques are on show. There are dusty race paddocks with weird and wonderful machines, rock'n roll, all the pizzazz and fierce, exciting racing. The track eats brake linings! The facilities are a little primitive, if you know what I mean, (showers we could use!), but the restaurants in the area are pretty close and heavenly. Even central Paris isn't too far away. Most of us bring our MGs on open trailers behind our towing cars, though George Edney has a camper with a shower. Good old George!
We are not sponsored at all at the moment and so, like all MG folks, get by as best as we can, but I can tell you money could not buy any more pleasure than we already enjoy in the company of friends. We have great conversations, crazy times, wonderful meals and everlasting memories. I feel so privileged to be a part of it, but we havn't stopped yet and this year promises the same, and more. All this time the only help we have is from the M.G.O.C. who kindly paid for my articles after each event by donating team T-shirts, which have gone a long way to promoting the corporate team image, and also from a fellow Scot in Brittany Ferries who discounted our Channel crossings.
Unfortunately for me, my beloved TD is, of all things, too young to enter with the earlier T's in the bigger events so I regretfully will sell it and build a TA or TB to replace it (which will take some doing). I would really like it to return to the USA to continue its competition career, although it is equally fine to just take for a drive or go to a party with your "best friend".
Come and see the racing for yourself. C'est magnifique!
Republished with the permission of Investors Internet Journal Global Stockmarket News and Performance
More on Motorsport
---




Made in England