The Team Rosbif Mark II TD is For Sale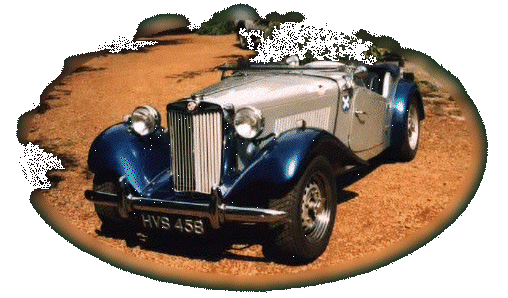 M.G. TD MK II NOW SOLD (through this site)
| | |
| --- | --- |
| Chassis No. TD/C/16849 | EXL/NA. Built June 5th 1952 |
| Reg No. HVS458 | Engine No. Xpag TD2/16265 |
Unique history. Fitted with Marshall Supercharger in the factory for the first owner in USA. Rumoured competition history. Found in 1990 bearing Illinois plates - JN3009 (1967). Originally white, it was red when found in Dallas, Texas. Front wings had been bobbed early in USA and many small parts chrome plated. The engine had been blueprinted and taken out to 1350 cc using Jahns pistons. Brought to England end of 1990 and totally restored as road racer in English MG T championship still with original engine and transmission and all-original steel bodywork.
The original twin fuel pumps were refitted. The interior has period bucket seats; correct option in MK IIs and is fully trimmed and carpeted in blue with dark blue mohair tonneau cover.
Specification:
Engine
Race camshaft, race coil and distributor, Cosworth valve springs and spacers. Supercharger rebuilt with new bearings and seals. Gas-flowed head, vacuum gauge. Runs on Red Line synthetic oils-over 100 bhp. Radiator recored with 96 tube matrix and pressurised. New battery relocated below rear floor with isolater switch.
Brakes
All new parts - M/Cylinder etc. Competition linings and race fluid. Ventilated back plates and scoops - aeroquip braided steel hoses.
Wheels
Original centres, rerimmed to 5½ (front) and 6 (rear) - fitted with Yokohama 185/65/15 tyres. Originals included.
Suspension
Front - Negative camber, V8 bushes, competition anti-roll bar with nylon bushes. Competition coil springs (MGB -CHA 21)
Rear - Lowering blocks. Fully located with trailing arm and transfer link. MK2 Andrex friction dampers available.
Full length alloy under-tray
The car comes complete with new bumpers and over-riders, chrome plated spare wheel rack, spare wheel, hood and side screens (old but usable), windscreen and period woodrim steering wheel.
Fully sorted, it makes a brilliant road car, 100 mph plus. Also very reliable and comfortable; it is suitable for rallys, races or just taking your girl to a dance!
History:
We now believe it was raced at Lime Rock, Bridgehampton and possibly Put-In-Bay races and Watkins Glen (more research to be done). Also possibly shown as during the rebuild I found the bonnet had once been chrome plated!
Since 92 it has raced several times at Silverstone, also Donnington Park, Cadwell Park, Prescott Hillclimb and in France; three times at the Grand Prix de l'Age d'Or at Montlhery and three times at Les Circuit des Remparts at Angouleme and the hillclimb at Vindelles. The car performed well every time and never once gave any serious problems. It has featured in many magazine articles as the founder car of team Rosbif. Most recently it won a Gold Award at the Classic Sportscar Show at the N.E.C. Birmingham, and was invited to race at the prestigious Coys/Chrysler International Historic Event at Silverstone in the MG celebrity race. It was running brilliantly on the Grand Prix circuit, fully kitted with bumpers and windscreen.
The car is very pretty in silver and metallic blue and is much admired and photographed. It also has FIA papers. This is a fabulous, unique and genuinely historic little car.
I have many photographs available.
| | |
| --- | --- |
| NB. | MG TDs built- almost 30,000 |
| | MG TFs built- almost 10,000 |
| | MG TD MK2s built- 1,022 (Only 1 supplied with blower, as far as we know.) |
For Sale:
£14,000 (approx $22,500). Eric Benson, the owner is prepared to deliver the car to a shipper.
Eric Benson
Postal address available by request
Tel: +44 (0) 1295 670207
More on Team Rosbif

Back to the News content
---




Made in England