Speed Record

Click here to add your MG News.
---
KEN MOSS, BLIND EX-POLICEMAN FROM ST DUNSTANíS, ATTEMPTS TO SET FIRST BLIND SOLO WORLD LAND SPEED RECORD IN MG EXF
On Saturday 16 October, blind ex-Policeman, Ken Moss, from the Charity, St Dunstanís (which cares for men and women blinded in the service of their country), will attempt to set a SOLO World Land Speed Record at the Defence Evaluation Research (DERA), Boscombe Down, in a special single-seat version of the best-selling MGF sports car, known as EXF, or experimental F.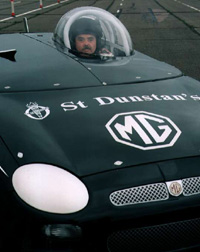 Ken 41, from Scarborough, North Yorkshire, was totally blinded in a road traffic accident whilst on duty on Saturday, 14 November 1992. He was aged just 34. Ken was totally blinded, suffered serious head injuries and was given a 5% survival chance.
Ken will be totally reliant on technology specially developed by Dr Graham Rood and Mr Paul Kellett, scientists from the Defence Evaluation and Research Agency (DERA).
The car from MG and the technology from DERA is so advanced that Kenís attempt has been scheduled to be the top feature on the new series of BBC1ís Tomorrowís World on Wednesday, 20 October, at 7.30pm.
Kenís attempt has been masterminded by Neil Swan, Project Director at St Dunstanís, who enlisted the help of former British World Championship Rally driver, Tony Pond. Tony said:
"I would be happy to sit with Ken at 200mph. However, what Ken is going to attempt, driving solo, will take unthinkable courage and incredible skill. As a professional MG ex-works World Rally Championship driver, when I tried it for the first time I bottled out and opened my eyes. Ken has no eyes, not even perception of light and dark. The last time he drove a car by himself he nearly died, In my view, the guy is a hero".
---




Made in England