To be staged before Christmas!
IT'S "ON"!
Our Second 24 Hour Marathon Wheelchange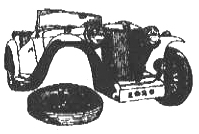 Ask for your Sponsorship Forms NOW!
You may do as many hours as you wish.
Fame and Glory for those who complete the full 24 hours! Proceeds to Dorset Scope OR the charity of each participant's choice.

Further Details:

Date : Saturday 6th / Sunday 7th November
Times : Saturday 4pm to Sunday 4pm
Venue : @ Roger Taylor Classic Cars
Free food for participants provided by "The Mountbatten Arms"
Free MG overalls provided by the MG Owners' Club
Full write up and pictures in the national magazine "Enjoying MG"
Potential television coverage!
Participation from local Mayors and MPs
Local press and possible local radio coverage!
An opportunity to support a deserving local charity or a charity of your choice.

Your participation in this event need not be arduous! Any contribution of time and support would be appreciated. Wheel changing is NOT 'against the clock'. A team from the Coventry & Warwick MGOC want to participate. Any other MGOCs reading this are welcome to send a sponsored Team. If your MG is used it will guarantee your car immediate media fame.
Come on, 1020, let's talk this one up and make it happen!!