Motorsport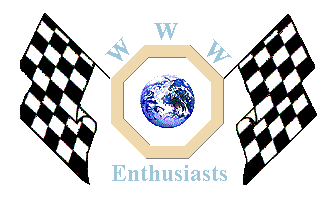 Click here to add your MG News.
---
1st March 2002

MG SECURES KEY ALLIANCES FOR 2002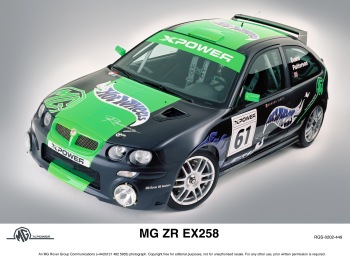 Rob Oldaker, managing director of MG Sport & Racing has today unveiled Mattel as title sponsors of the MG motorsport activities in 2002. The agreement will see the toy company Mattel's "Hot Wheels Racing" brand prominently displayed across MG's Le Mans, BTCC and rally programmes and will involve a number of joint promotional activities in the toy marketplace.
Speaking of the deal, Rob said: "We are really pleased to have reached agreement with Mattel. Whilst it is important to generate sponsorship in support of our racing activities, MG's approach was to try to establish brand partnerships with a genuine fit. MG's image of 'outrageous fun' is very much aligned to the Hot Wheels brand and will create a number of opportunities to enable both parties to capitalise on this partnership."
Jim Wagner, senior vice president of Mattel added: "Mattel are delighted to be associated with the MG XPOWER team through our Hot Wheels brand.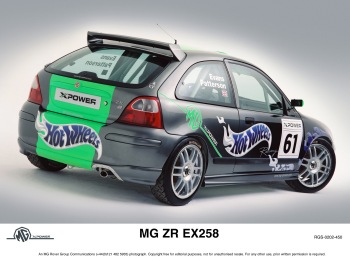 "When Hot Wheels were asked to consider sponsorship of MG's XPOWER race teams we took one look at their brand values and realised the very close link with Hot Wheel's brand positioning of speed, power, performance and attitude. This proximity in style and tone makes us very excited at the opportunities for using XPOWER in our offerings to children and adults who purchase die-cast product. We are also committed to using our vehicles as a way of getting the XPOWER team and MG into the hearts and minds of more people around the world through their association with Hot Wheels."
MG confirmed it has signed a strategic alliance with fuel and oil giants Exxon Mobil. The details of the agreement are still being finalised but it will include on-going joint research and development programmes, product endorsements and a number of marketing initiatives.
Rob Oldaker said: "I think this really does demonstrate the huge strides that MG Rover Group has made as a whole. To have the world's biggest wanting to work with you is fantastic news – our motorsport cars will be proud to wear the Mobil 1 sticker."
Mark Humphries, manufacturer relations manager, added: "Mobil 1 are delighted to be working with MG Rover Group in developing what will be a long term strategic partnership. In extending this partnership Mobil 1 are very excited to be sponsoring the MG XPOWER Sport & Racing team. We believe that their performance will succeed that of last year, and we very much look forward to being associated with such a dynamic and professional team."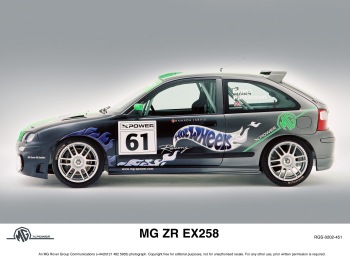 It was also announced today that MG have joined forces with Ramada Jarvis, the UK based hotel chain, in support of the motorsport programme. Rob added: "This is another great tie-up for MG. Our businesses both involve travel, so there is a natural alignment here, and there are a number of ways for both parties to work together and offer added value to our respective customers."
Lawrence Alexander, director, Ramada Jarvis commented: "Ramada Jarvis are delighted to be involved with MG's full time return to motorsport. Both companies, whilst with strong British roots, have global aspirations and markets and as such will make for a great partnership."
St Modwen, the property developers, have also been signed up to support the MG XPOWER team. They have had a number of business transactions with MG Rover Group and wanted to show their support for the company through the sponsorship programme. Richard Froggett, managing director, St Modwen confirmed: "We are working in partnership with MG Rover Group in the re-generation of the surplus land at Longbridge. For me the remarkable progress of the company was demonstrated by the fantastic first season effort in the BTCC. I am delighted to extend the partnership with support for MG XPOWER this year and wish the team every success."
MATTEL
Mattel is the worldwide leader in the design, manufacture and marketing of toy products. The company's core brands include Barbie ®, Hot Wheels ®, Matchbox ®, Fisher-Price ® and American Girl ®. With headquarters in El Segundo, California, Mattel has offices and facilities in 36 countries and sells its products in more than 150 nations throughout the world. For more than 50 years Mattel's toy brands have delivered fun, innovative and 'kid-powered' toys that inspire and spark children's imaginations around the world. Mattel has a diverse portfolio of brands that catch new trends, namely their collectables brand, Hot Wheels Racing ®.
Good luck to all the X-Power race team members for the 2002 season from everyone at Hot Wheels.
RAMADA JARVIS
Jarvis Hotels have joined forces with Ramada International, adding 56 Jarvis hotels across Great Britain to the Ramada portfolio and bringing international standards to a UK hotel group. Ramada International is a rapidly growing hotel brand with over 120 hotels in Asia, Central America, the Middle East and Europe.
Issued by MG Rover Group Corporate Communications

More on X-Power

Back to the News content
---




Made in England