Total Page
Hits since
21-3-01
Exhaust Systems

MGV8 Developments Exhaust Systems
Larger images and descriptions on a separate page, click here

Click on the images for a larger version
Robert Pulleyblank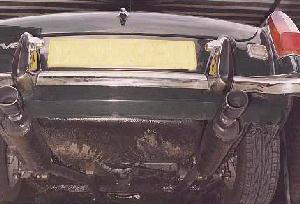 Mike the Pipe built dual exhaust system on the Roadster - showing how he stood the silencers on edge.

The dual system shown, of my roadster, connects to RV8 style manifolds also made by Mike. It is essential to fit a balance pipe between the two pipes up behind the bell-housing to make the car idle properly and the exhaust to function properly. Also you have to centralise the fuel tank and mod the right hand (from the rear) silencer.
These two pictures show the single system fitted to the GTV8 3.9, also connected to Mikes RV8 style headers.
John Bourke
Curtis Jacobson
To make a simple, clean dual exhaust system, we welded tubular pass-thrus in the frame outrunners that are located just forward of the seats. We fabricated a new seat mounting system that also provides pocketed locations for the mufflers. The pipes stop just forward of the rear wheel arches.
Mike Cook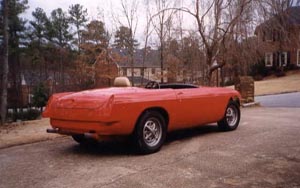 The twin pipe system I made myself, it has an "H" crossover pipe in the system. Note the "caps" I had to make these also as I was unable to get hold of manufactured ones or those from a Midget.

Fitting a V8 engine into an MGB

This site forms part of MG - The Classic Marque
Email: webmaster@mg-cars.org.uk