Total Page
Hits since
21-3-01
Fuel Injection

Click on the images for a larger version
Jürgen Felske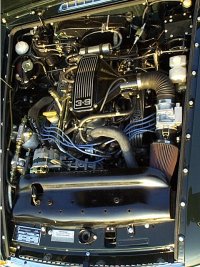 Picture shows a hot-wire-fuel-injected 3.9 Rover in an 1968 MGB. It has a full catalytic converter of a Vauxhall Carlton 2.0 - we have a "green" government in Germany now, so it's better to run on catalysts. Otherwise tax would be around 450 pounds sterling a year.
Nick Smallwood
These pictures show a twin plenum conversion using two Rover V8 Injection Units welded together and controlled using a Wolf Management System.

A full description of the conversion is covered on my website.