---
INTERIOR
---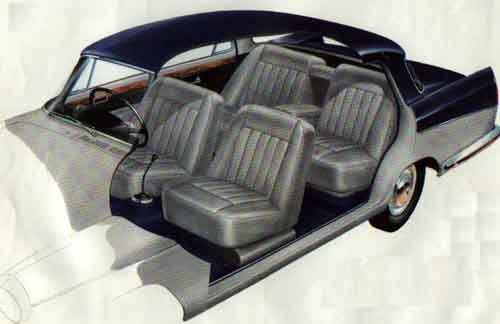 ---
One of the Magnette's greatest attributes is the stylish interior. The floors are covered with wool carpeting, the seats are made of English Leather, plus the dash and door caps are Indian Walnut. My personal favorite are the rear door panels with the black top and vinyl bottom that matches the upholstery. It is one of the most stylish features of the car.
---
Instrumentation:
This is one of the nicer views of the Magnette, from the driver seat. A large speedometer, not unlike that found in the Z-series Magnettes, dominates the dash. Smaller dials indicate battery condition, engine temprature, oil pressure, and fuel level. All are marked "British Jaeger" except the battery gauge which says "Lucas". To the side of the driver is a radio and speaker, along with a clock and heater controls. Under the dash is a large storage area. The VERY large steering wheel has a chrome horn ring, and an elephantine sound.
---
Driving Position: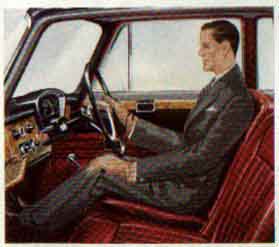 The seats are fixed in place, but very suppoortive and comfortable. Each seat is testament to Upholstery Art. Hundreds of tiny tacks and staples hold this seat together, not the familiar C-clips on later MGBs. The pedals are small but everything is very easy to get used to once you get over the unchangable seat rake. The seat does slide back and forth. The rear seat has a fold-down arm rest in addition to the arm rests on the door. The shifter is very tall and falls right into your hand.
---