Social Days & Runs
During the year the Lincolnshire Centre organise various social runs. We try to make these interesting and are invariably drives out to points of interest
SEE YOU AT THE NEXT EVENT
Social Days & Runs (Past Events)
MG Car Club celebrates National Drive your Classic Car Day
Sunday April 28th 2019
Sunday, April 28th was National Drive your Classic Car Day. The Car Club celebrated with a meeting at Metheringham Airfield Visitor Centre – the former base of RAF106 squadron which flew Lancaster bombers during WW2. A presentation was given about the workings of an airfield, the hardships faced by ground crews in one of the worst winters of the war and the ingenious but highly dangerous way of dispersing fog by setting fire to pressurised petrol.
Attendees could then tour the small museum at leisure, enjoy a picnic lunch in the old gymnasium and participate in an informal Pride of Ownership competition. In addition to the many MGs of all ages present there were other vehicles welcomed including a Mini pickup, a Morris van, an Austin A35, a Vauxhall 25 and an E-Type jaguar.
Participants then enjoyed a scenic drive to the International Bomber Command Centre at Lincoln. This is the County's newest attraction which celebrates the achievements of the many aircrew who made the ultimate sacrifice to defend their country. Everyone enjoyed a guided tour of the Centre followed by cream teas in the IBCC's cafeteria.
Over 40 vehicles entered the event so well done to everyone who attended and braved the inclement weather.
Pride of Ownership results were
MG NON-MG
Phil Drewery MGB Peter Houldershaw Mini Pick-up
Brian Clifton MGB Gary Sumner Morris Van
David Stonehouse MGBGTV8 John McEwan Morris Traveller
Rob Ely MGC
***********************************************
The new International Bomber Command Centre Lincoln Sunday 6th May
We all had a day out at the new monument to honour the personnel of Bomber Command and Lincolnshire air bases
Many thanks to Keith and all at the Wolds Natter for great organisation to the benefit of us all
Social Drive to W. H. Brand - MG CarFest 18th September 2016
Organiser Robert Taylor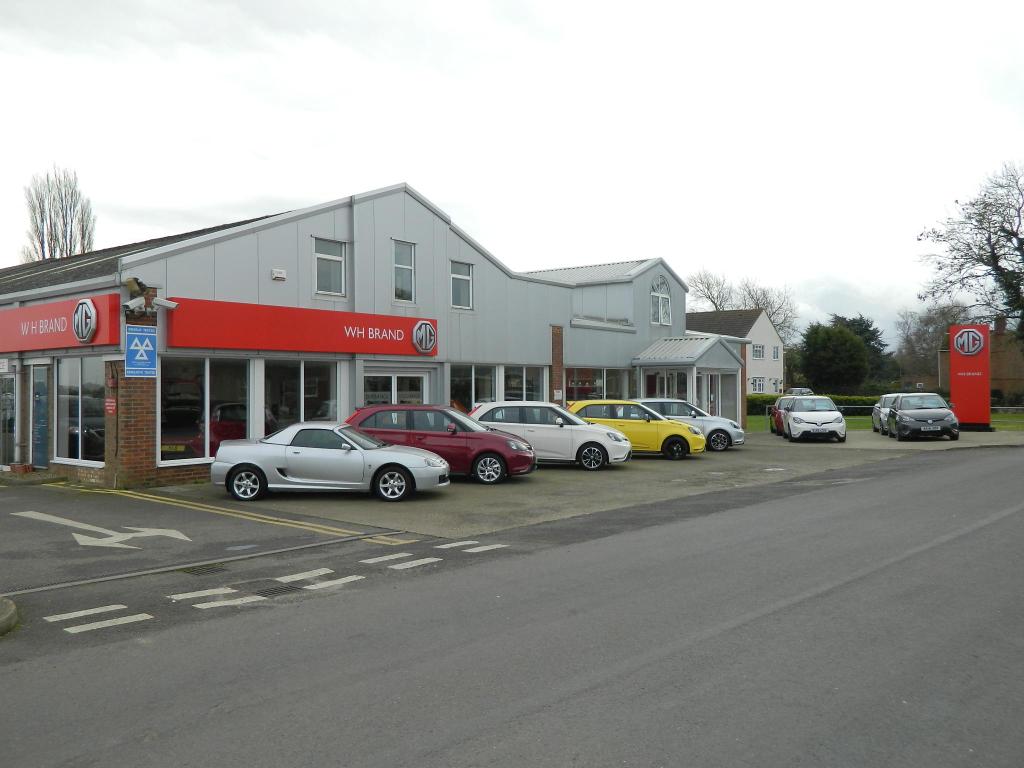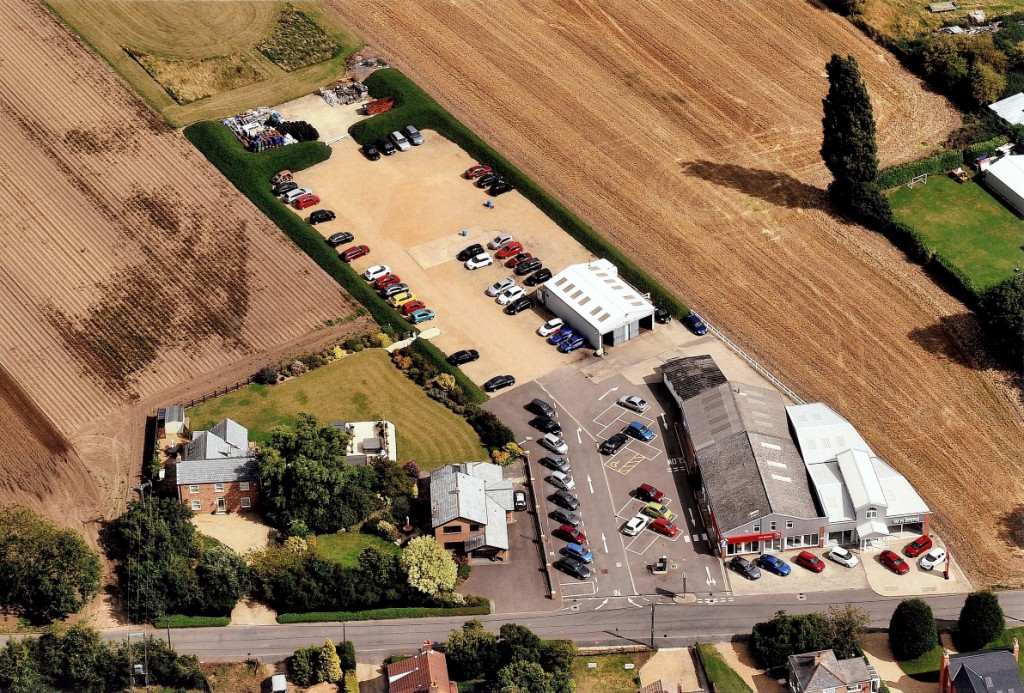 Social Drive to W H Brand - M G CarFest 18th September 2016
W H Brand were the MG Dealer of the year in 2014 and again in 2015. We have been fortunate that they have supported our Lincolnshire Centre since 2015 with a full page advert on the back of our newsletter. Adam Brand, their Sales Manager, suggested to me last year that they might organise an MG CarFest to celebrate their achievement in selling MG's since taking on the Dealership in 2013.
A big thank you to WH Brand for organising the MG CarFest at their premises at Whaplode Drove. When Adam Brand said 18months ago that he was thinking of organising the event and asked if the Lincolnshire Centre of the MG Car Club would support it, he thought that he might attract 30 or 40 MG Cars. On the day, 192 MG and Rover cars attended and completely filled the grass field at the rear of their dealership. Our Social Drive to the event from The Wishing Well at Dyke attracted 8 cars and another 6 or so of our members made their own way to the event. Money was raised for the Lincs & Notts Air Ambulance and W H Brand gave trophies in 4 categories for the best cars attending. Overall, a very successful first event with plans to make it an annual event.
| | |
| --- | --- |
| Trying out the Lincolnshire Centre's new Marquee Shelter. | Our display of "MGs Through the decades" |
| A line up of our members cars | The trophies and competition prizes. |
Sunday 20th September
Social Run and visit/picnic
Woodhall Spa to Spalding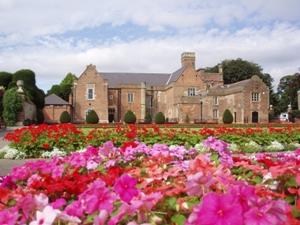 http://www.sholland.gov.uk/leisure/ayscoughfee/ www.ayscoughie
Mini breakfast at Lancaster Brasserie in Woodhall Spa then run to Ayscoughfee Hall and a ride on a river taxi at Spalding
What a great day out we all had on this wonderful run, admittedly the weather helped make this a memorable day.Thanks to Len and Sue for their vision and organisation and hope we can find similar things to do next year.
A few photos of the day, I am sure more will be added as those who took their cameras send me their efforts
***********************************
MGCC Triple MMM Wolds Tour
Tuesday/Friday 18th - 21st August 2015
A number of Lincolnshire members were on hand to help with the smooth running of this fantastic turn out of Triple MMM cars touring our county. Equally I noted also a number of Lincolnshire Triple MMM owners actually taking part. The event was based at the Petwood Hotel and included a display at the Lincolnshire Aviation Heritage Centre with Just Jayne thrilling all with a full fire up of 4 engines and a taxy ride around the grounds of the Centre
***********************************
Here are a few words from the Chairman of the Triple MMM register Dick Morbey
It's hard to believe, but just a week ago we were all gathering at the Petwood for the start of our event. One week on and a few rainstorms later, it's all over now until the next one!
Thank you everyone who took part and everybody else who helped and supported us, either with accommodation and nourishment, fascinating places of interest to visit, on the road support (very necessary as it turned out), and in very many other ways.
We hope you enjoyed the event - we certainly did so - and many of you, including some first timers, commented on the great cameraderie that they experienced. One of them (who shall be nameless) expressed pleasant surprise that not all of us are proverbial anorak wearers! Another reported a successful 1,000 mile round trip, the only blip being a puncture, which was fixed by the indefatiguable Steve Hall.
We hope that those of you who had more serious mechanical disturbances will soon have them fixed.
Mike Linward has produced the results of the Pride of Ownership and the Observation Quiz, and these are attached for your interest.
Neil Cave, the photographer whom we met on Thursday, will be putting some of his pictures of our cars onto his website, where you will be able to view them and purchase images for the very reasonable price of £5 each. I will let you all have the link when it is available.
***********************************
And a few photographs
| | |
| --- | --- |
| | |
| | |
| | |
| | |
| | |
| | |
Summer Social Run
Sunday 28th June 2015
Normanby Hall House and Country park


Thanks to Yuliya and John for a splendid run and day out.
We started with breakfast at the Poacher pub in Lincolnfollowed by a drive around north Lincolnshire lanes, finally ending at Normanby Hall and Country Park
Sunday 3rd August 2014 - Revesby Country fair Display
Everybody had a great day out and 5 new members decided to join our friends
Well done Dave
The Revesby Show is, an event always popular with members, and provides an opportunity to promote the marque of MG. This year MG celebrates 90 years of the iconic brand synonymous with sports cars and sports saloons.

Sunday 3rd August was a beautiful, balmy summer day just perfect for a country show. The MG display was the envy of all the car club stands with a manicured lawned presentation area, surrounded by white picket fencing and a centrally displayed octagon celebrating 90 years of MG motoring. Nineteen members displayed their cars - the newest MG3 of John Hebb and the 1960 MGA of Robert Taylor bordering the MG Octagon. The stand attracted numerous visitors - five of whom signed up as new members of the MGCC.

Sunday 18th May 2014 - Natural Power Tour
We had a great time in the glorious weather touring 2 Natural Power Mills
The 1st Mill was the unique 8 sail windmill at Heckington near Sleaford. This was followed by a lovely drive to the second mill which was a water powered mill at Cogglesford.
Whilst both mills made flour the power was obviously different and we saw the difference demonstrated at both venues.
All our thanks to Kevin for organising such a great day and many thanks to John for the photographic record.