Safety Fast! Notes for November 2006
The South West Centre Annual Dinner will be held at the Limpley Stoke Hotel near Bath on Saturday 10th March 2007. I'll get some more details for next month, but if you cannot wait then please contact John Bird on 0117 956 0175.
The Patchway Autotests had to be cancelled as the venue was no longer available. As car-parks sprout lights and pedestrian walkways, venues for Autotests are becoming harder and harder to come by. If you know of somewhere suitable, please e-mail me and I'll pass the information on the John Delafield.
On Sunday 9th October, a small but enthusiastic group of SW Centre members assembled at the top of Tog Hill for the start of a short road run to commemorate 70 years since the formation of the Centre.
The inaugural meeting of the SW Centre was held in the Weston Hotel, Bath, on 7th October 1936. Cecil Kimber chaired the meeting, convened to elect a committee. The first Chairman of the SW Centre was H. J. Spencer, owner of the Weston Garage with his salesman, J. Siddal, elected Honorary Secretary (I wonder if he volunteered..?). The committee included a lady - Miss Stewart-Black - the first in MG Car Club history and still a rarity about these parts! Mr Kimber donated a trophy and hence the Kimber Trophy Trial was established on 26th December 2006; the Kimber Trial is the longest-standing event on the MG calendar. The first winner was J. H. Waller in a PA, with the SW Centre Cup being won by R. A. Macdermid in one of the original 'Cream Crackers'.
Anyway, back to the future. I was determined to commemorate the anniversary in some small way and hence the "70th Anniversary Road Run" was born in the last week of September. The route took us from Tog Hill to the Weston Hotel in Bath for a photo-opportunity via the Weston Garage. The Weston Hotel is a large building that must have been something quite special in its heyday. Having negotiated Bath successfully, the cars wended their way across country to Chew Valley Lake for a cream tea. The entry was small, but in a strange way very appropriate - representing, as it did, a remarkable cross section of MG motoring as it is today. The cars ranged in age from 70+ almost brand new; the age range of the drivers and passengers was not quite that large but not far off. We had a record breaker, a prize winner, a heritage-shell rebuild and one of the very last MGs to be produced. Hopefully there will be a little more enthusiasm for the 75th Anniversary!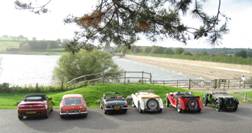 Neil
neil@port-z.fsnet.co.uk
01275 817915 (before 9pm please)
SW Centre website: www.mg-cars.org.uk/mgccsw