Safety Fast! Notes for December 2006
I'll kick off with an apology to Mike Hawke, whose MG J2 was unceremoniously cropped (by the editor, I should say) from the picture included in last months Notes. A hard-copy, J2 included, is in the post Mike!
I've nothing more to report on the South West Centre Annual Dinner. It will be held at the Limpley Stoke Hotel near Bath on Saturday 10th March 2007. Your contact is John Bird on 0117 956 0175.

Some of you will have won awards at the many events held throughout the season, and these will be presented at the Dinner. Awards for the SW Drivers Championship will also be presented, and I am able to report provisional winners as follows: first overall Bruce Morgan, second Neil Lock and third Jim Lott. Class winners are Mike Hawke, Bruce Morgan, Phil Archer, Neil Lock, Anthony Marsden and Jim Lott.
You'll forgive me, I hope, if I indulge in a little analysis (I'll stop short of referring to myself as the "expert summariser"….).
The top two are separated by just 1.7 points out of about 250 - interestingly, Bruce and I are the only competitors to get the full 40 'event-type' bonus points (Bruce would have had fifty points using last year's rules for being the only driver to enter all five event types).
The message here is that 'you have to be in it to win it'. Mike ran away with Class 1 for the really old stuff - probably because his J2 accounted for more than 40% of all entries in the class over the season. Class 2, for the not-quite-so-old stuff was won by Bruce with his TF but Dave Mothersdill was not so very far behind. Phil's winning score in Class 3 (Midgets etc) wasn't enough to get into the top ten, reflecting the lack of Midgets out on events this year.
The class of 2006 was Class 4, the MGABCV8 class - never before have so many As, Bs and Cs been seen at events. I counted five at the Cheddar NavScat only!
Class 5, for the MGFs, was won by just one point (again out of 250 or so) - Anthony just pipping Richard Lucking for the honours. Finally, Class 6, for Metros etc and new Zs, was dominated by a single household - Jim scraped the win by a mere point from Carole Brown, with Sam not far behind in third and Rachel coming fourth for good measure. Just three drivers managed as many as eight of the fourteen events, with the majority entering just one. No analysis would be complete without a vote of thanks to Russ Morgan for compiling and publishing the results. I know how much effort goes into preparing what can only be described as a 'masterpiece of spreadsheet engineering'- thanks Russ.

I've scoured the archives (well, Richard Lucking's website anyway) to find a picture of championship winner (designate) Bruce Morgan and his TF to close the Notes for this year. Maybe I'll be able to beat him if I get a mechanic too - any volunteers?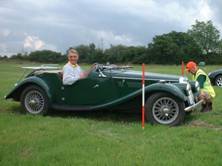 Neil
neil@port-z.fsnet.co.uk
01275 817915 (before 9pm please)
SW Centre website: www.mg-cars.org.uk/mgccsw