International MG Show and Spares Day
at Stoneleigh, Warwickshire, 16th February 2003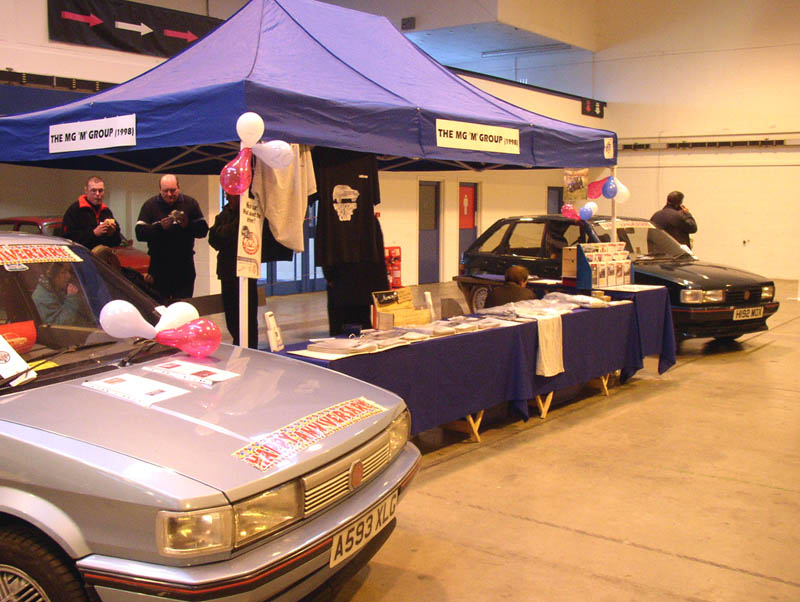 The MG 'M' Group have been attending this show for many years - partly in order to show to the traders that there is a following for MG Metros, Maestros and Montegos! A large amount of regalia and other club merchandise was displayed.

This year the club the show was used to kick-off the celebrations of the MG Maestro's 20th birthday. Matthew Semple, who couldn't attend the event himself, kindly lent the club his MG Maestro 1600. This car represented the very first MG Maestro produced and is fitted with the R-Series engine that was used when the car was launched in March 1983. The car also features the original digital dash, trip computer and voice synthesiser
This picture shows the car decorated with balloons and a banner and it attracted much attention throughout the day.

A late MG Maestro 2.0i finished in
British Racing Green was also on display.
Other MG Maestros at the event included a race car that had just completed a rally, a White Diamond MG Maestro 2.0i and MG Maestro Turbo no.1. This car had recently resurfaced and was the same car that was used by Rover in October 1988 at the Birmingham International Motorshow - 15 years earlier and just 20 miles away from Stoneleigh.
Phoenix of Coventry displayed some interesting models including the MG ZR and MG ZS in the Hot Wheels livery. Also on display was the new MG Express van - of of the models launched by MG Rover to broaden the appeal of the MG range.
If you were there and you have any pictures, then please send e-mail them to us and we'll add them to this review.
---

Back Home 2006 Events Email pictures here
---