MG Trials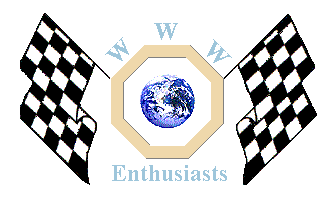 Click here to add your MG News.
---
Extract from January's MGCC publication - Safety Fast
Trial By M.G.

THE EDINBURGH TRIAL (or "Local Boy Done Good")
After considerable expense in both time and effort, and despite several disappointments along the way, we are proud to announce that Gerald Burridge, decoratively assisted by his winsome wife Tricia, has attained the accolade of a "TIPPLE" at the end of the years Trials with the MCC, they were one of only 14 such awards won this year. (Both photos below show Gerrald in full flow this year (left), and from a few years ago (right)).
Not only that but far from pussy-footing around to save the machine for the final sections, he also went hell for leather at the special timed tests such that he also win his class, despite fierce competition from other Local Boy Bill Bennett. These two are, I believe, the only ones to win the coveted Tipple awards in pre-war M.G.s since the war.
Other M.G. Triples were won this year by Derrick Chatto (Midget) and Dud Sterry (mostly J2) with Ann Templeton (of MMM fame) inexplicably forsaking the single seater for a Troll to get there. Of the 266 entrants to this year's trial 56 won no award or fell to bits on the way round, 41 won Bronze, 55 Silver and 75 Gold. The rest failed even to get to the start or were unclassified for some reason.
M.G. Golds
Dud Sterry (J2)
Bill Bennett (J2)
Gerald Burridge (PB)
Stephen Bailey (Midget)
Derrick Chatto (Midget)
Alan Scott (Midget)
M.G. Silvers
Tom Foreshaw (TC)
Perce Harden (Midget)
Brian Osborn (MGB)
Peter Jones (TC)
Ian Williamson (PB)
David Rolfe (M-Type)
Peter Manning (Midget)
M.G. Bronzes
Julian White (TC)
John Wells (PA)
Alistair Stevenson (TD)
Prizes for all, from an M type to MGB, how long before we see an MGF I wonder. All in all a most enjoyable trial, it was just unfortunate for the organisers that the rain fell one weekend too late. We drove round on very dry and "grippy" sections, hence all the breakages on Bamford Clough, whereas if rain had fallen it would have been much more of a challenge on slippery stones. Next up is the Exeter on 2nd/3rd of January. For details contact Ron Butcher, 9, Sandhurst Lane, Ashford Kent TN25 4NS and maybe I'll see you on the way round.
MIDLAND CENTRE - AUTUMN TRIAL '97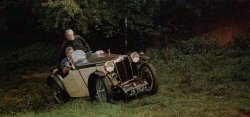 Peter Green tries out the "Bombhole" in his "Cream Cracker PB
Well done and thankyou to everyone who supported this year's event, either as an entrant or a marshall, both are as important. Weatherwise it was hardly the usual trialing stuff, more suitable for picnics, which was just as well considering the time that the Clerk of the Course John Fry and I allowed you for lunch, whilst Martin Price caught up after losing his brakes, and we modified the course in a vain attempt to stop too many of you reaching the top. We all enjoyed it and that's what it's all about.
It can get a bit tricky trying to give the "trials" cars a challenge without making too difficult or damaging for the standard cars. I think we reached a reasonable compromise though. The lowest score was by Peter Manning in the blue & white Midget with Bill Bennett in his J2 not far behind.
The principle award is for The Best M.G on index of Performance. On this basis Bill just nipped in front with 71.4% against Peter's 79.2%. The idea behind the index is to give all classes a chance in the overall awards, sometimes it does and so it did this year.
Bill won The BRYANT CUP, and Peter wins The ALLEN CUP for being "First in Class 5b & 7" (Spridgets & Kit). Brian Goodban won The WOODGREEN TROPHY for best in class 5a (A,B,C,V8). The other awards were won by David Price (M.G.Metro) - 1st in classes 1,3, & 4 (FWD, Saloons, Rear Engine). Julian White (TC) managed to stay ahead of the Cream Cracker PB of Peter Green (in his first trial) to take 1st in class 2. (Pre-War Types). (NB. Cream Cracker JB7524 is the 1936 team car driven by Ken Crawford from Wolverhampton - who might well have been an early Midland Centre Member together with his friend CAN May) - Great to see it - especially being used properly. J. Goodban (VW) followed in his father's footsteps of last year by winning the Novice award.
Well done all of you.
Our next trial will be at Lintridge Farm near Ledbury next Spring (provisionally on the 29th March), which will again include the Inter-Centre Team Trophy. This will be the 60th anniversary of the introduction of this trophy so drum up a team of 3 or 4 and we'll see you there.
Brian Osborn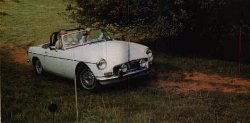 Brian Goodban on his way to 1st in Class, and the Woodgreen Trophey
MOORFOOT CHALLENGE 1997
The Moorfoot Trophy commenced in 1935,
Since then members have had to strive
Taking their cars and testing their skills,
This year was no different with eighteen hills.

Organising and marshaling this PCT
Was John and friends, who even organised tea.
The location was the Borders, just near Stow.
With some of the fields having a sheep and cow.

On entering the field came Brian Low
He certainly was anything but slow.
Pirouetting and sliding far away
We all hoped he'd be back to play.

Last year, in his AX, Andrew was novice
This year with great skill he showed his prowess
By using his front wheels, every pole he did pass
And as a result came first in his class.

Mark and his missus both entered too
And each hill they cleared; right through.
Isobel the novice showed how easy it could be
With an expert co-pilot and a fitted LSD

I double entered my car with a trusted friend
On condition that the bodywork he did not bend.
He did quite well, apart from the start
When putting it in third, he felt a bit like an old f**t!

I must say Douglas Coulter tried hard to win,
At every chance making sure his wheels didn't spin.
His secret - new tyres and springs ready to burst
It's amazing what one will do to be first!

The day was wonderful in an Autumn way
A joy to drive when it's not far away.
The conditions, just right and sunny
What a difference it makes when the marshal's a honey!
And now, but not in rhyme, the results:

| | |
| --- | --- |
| Moorfoot Trophy | Douglas Coulter |
| Class 1 | Andrew MacKay |
| Class 2 | Colin MacKay |
| Class 4 | Mark Speirs |
| Poetic Licence | Yours Truly |
Ken Brown

Back to the News content
---




Made in England