Motorsport

Click here to add your MG News.
MG Liquid Suspension Indy Car
The famous MG Liquid Suspension Indy Car has recently finished a complete restoration. The car competed in the Indianapolis 500 from 1964 to 1969. It was developed by the head of the BMC in San Francisco, Kjell Qvale and famous racecar engineer Joe Huffaker. It was (and still is) superbly crafted with a chrome molybdenum space frame and was powered from the rear by the famous Offenhauser racing engine. The engine from 1964 to 1966 was a 255 cu.In. Offenhauser which was normally aspirated. From 1967 to 1969 it ran a 168 cu.In.

Offenhauser that was Air Research Turbocharged to produce a wild 1000 HP with unrestricted boost. It was test driven by the famous A.J. Foyt who set a track record at Pheonix. It was raced by great drivers like Walt Hansgen, Bob Vieth, Jerry Grant and Wally Dallenbach( the head crew chief of the Indycar Cart racing series). It is named the "Liquid Suspension Special" because it used the same hydrolastic shock absorbers as used in the MG sedans. The car is for sale to someone who needs to complete their MG collection or who needs the ultimate MG vintage race car.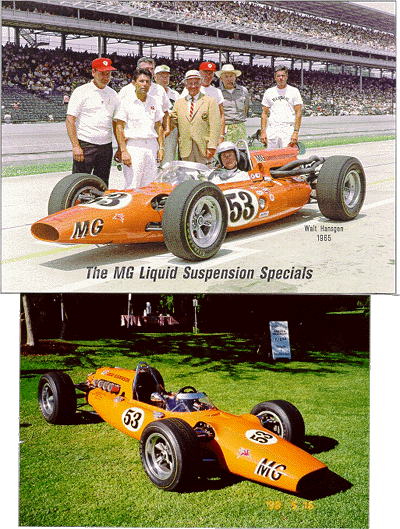 For more information on buying the car or if you have/want more information please contact:
Michael Zbarsky <mzbarsky@uvic.ca>
---




Made in England