Motorsport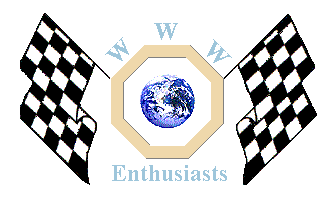 Click here to add your MG News.
---
26th August 2002
MG WORKS ENTRY - MG ZS
Green Flag MSA British Touring Car Championship
Rounds 17 & 18 Brands Hatch
Sprint Race
Weather/Track: Cloudy / Dry
| | | | |
| --- | --- | --- | --- |
| MG ZS | Car no. 11 | Anthony Reid | Position: 1st |
| MG ZS | Car no. 12 | Warren Hughes | Position: 2nd |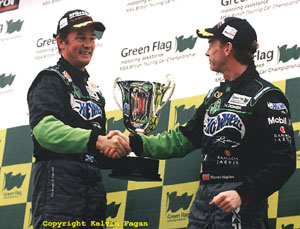 It was a treble celebration for MG at the Kent circuit when the MG Hot Wheels Racing team registered its first one, two of the BTCC season and Team Atomic Kitten secured another Independents Cup win.
Starting from 1st and 2nd on the grid, the MGs dominated the sprint race from start to finish. Anthony Reid led from his pole position with Warren Hughes in his rear view mirror the whole way around. Anthony registered his first win here at Brands Hatch last year and was delighted to be back on the podium again. He said: "Itís a significant breakthrough for the championship. For the first time another manufacturer has won a race in the dry conditions so it reinforces the good work that MG and WSR have done. Iím delighted to win this race as it shows that we are strong contenders. We learnt from our mistakes at Knockhill and put it all right this weekend. Itís all come together and looks good for the future."
Warren Hughes was back on to winning ways following his recent string of bad luck. He drove a steady race keeping Team Atomic Kitten driver Gareth Howell and later on Yvan Muller at bay to join Anthony on the podium. On taking 2nd Warren said: "Itís a stunning result for MG and WSR. The team effort right from the start has been superb. At the end it came down to who got the better start, which was Anthony. We feel like weíve had the edge all weekend so it really is a fantastic result. Iím on pole for the next race but itís going to be tough with the extra weight."
Feature Race
Weather/Track: Cloudy / Dry
| | | | |
| --- | --- | --- | --- |
| MG ZS | Car no. 12 | Warren Hughes | Position: 1st |
| MG ZS | Car no. 11 | Anthony Reid | Position: 5th |
The day just got better for MG as Warren Hughes celebrated his second win of the season. From starting on pole position he drove hard and defensively to take the chequered flag. Warren said: "That was pretty special. To win the feature race from pole in the dry, it doesnít get much better. What a fantastic car! Itís been a great weekend with WSR, MG and the ZS. My girlfriend and family were here to see it so I really am chuffed to bits."
Anthony Reid finished 5th but was disappointed as the safety car played a significant role in the race. Summarising on the weekend Anthony said: "Itís been a fantastic day for MG. On a personal level it was disappointing as I was leading the race and despite the weight I was carrying I still managed to keep in front. I pitted early before Warren and I rejoined, at what I thought was the lead, when Warren came from behind to win the race. But this weekend shows things are just getting better."
Rob Oldaker, managing director, MG Sport & Racing added: "What a result! We got the lot Ė a 1st for each driver, excellent qualifying results, fastest lap, best independent. It really has been a fantastic weekend that will be difficult to beat Ė but who knows."
Dick Bennetts, managing director, WSR commented: "Itís been an awesome day. Qualifying was outstanding and to have a one, two in the sprint race is a first for WSR in touring cars. To win the feature race with Warren, it doesnít get much better. The two Atomic Kitten cars were again mixing it up the front and another Independents Cup win."
Team Atomic Kitten:
Gareth Howell had a mixed weekend when securing his second Independents Cup win in the sprint race, but failed to finish in the feature race. The win places Gareth in fourth position, within 20 points of Aaron Slight, to challenge for the title. Gareth commented: "It was a good race (sprint) and Iíve picked up some more points in the Independents (Cup). I got a pretty good start and sat in behind the works MGs for quite a while. The race was red flagged but by this time Muller and Neal had passed. Itís a shame it didnít carry on until the end, as it was a good race. I had a problem in the feature race with one of the wheel nuts during the pit stop. Itís disappointing as I could have picked up second in the independents."
Colin Turkington had a disappointing weekend when failing to finish either of the races. The sprint race ended abruptly on the opening lap when he came into contact with a Team Halfords Peugeot and the feature race proved equally unlucky. "I didnít get a good start in the sprint race and dropped down the field. I got caught on the rear, which spun me 180 into the barrier so effectively it was race over. During the feature race I had a half spin and again dropped down the field. Later I then came into contact with Thompson, which damaged the car and there was nothing I could do. "
Anthony Reid also secured the fastest sprint race lap in the MG ZS with a time of 49.497.
Issued by MG Rover Group Communications

More images from Brands Hatch

MG XPower

Back to the News content
---




Made in England