MG Lola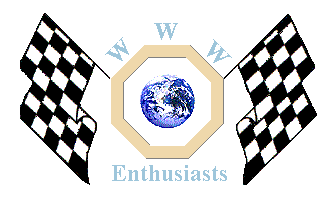 Click here to add your MG News.
---
25th September 2002, Englewood, CO
KNIGHTHAWK WINS AT LAGUNA SECA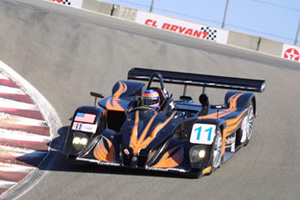 Many times this season they've come close, only to have their hopes dashed, generally while in the lead, due to some unexpected problem. But they knew they would triumph eventually ­ and triumph they did ­ by earning the LMP 675 class win at the Monterey Sports Car Championships at Mazda Raceway Laguna Seca on Sunday, October 22, 2002.

The winning effort was due as much to the continuous "never give up" attitude of the team as it was to the near-flawless driving performances of Chad Block, Claudia Huertgen and team co-owner and driver Steve Knight. Mel Hawkins, the "Hawk" of the dynamic "KnightHawk" duo and co-owner and driver, had a valid excuse for not making it to Laguna ­ he was getting married!

Considered by some to now be the underdog 675 team - due to the recent arrival of the Dyson squad into the class - the KnightHawk effort certainly showed otherwise. Knight, Block and Huertgen drove an excellent and hard-fought battle in the teams #11 Gestetner/DNTLworks MG Lola 675 LMP.

Block, starting second in class on the grid, passed the very skilled and popular James Weaver of Dyson in the very first lap and didn't let go - keeping the lead for his entire one-hour stint and building up a two lap lead against the legendary driver. Knight then switched places with Block and held the lead against another very qualified Dyson rival ­ Butch Leitzinger. When Knight pitted for fuel and tires and to hand over the controls to Huertgen ­ Leitzinger grabbed the class lead. The Dyson driver pitted eight minutes later ­ putting Weaver back in the car ­ now Huertgen took the class lead and held it against a hard-charging Weaver until the checkered flag waved.

"What a thrill it was watching our team win this weekend ­ I only wish that I could have been there to celebrate with them," said team co-owner and driver Mel Hawkins. "The team has been working very hard all season under many adverse conditions, but they just kept going and going and this win is really a testimony to all that hard work. I think that Chad and Steve and Claudia all drove an excellent race. Chad took the lead from Weaver right from the start and I believe that he had the race of his life running ahead of James! Imagine being new to the series and overtaking and then staying in front of such an accomplished veteran. Steve maintained the lead until he pitted to hand it over to Claudia and she absolutely drove her heart out. I can't say enough about both Chad and Claudia. I realized early this season that KnightHawk had a serious shot at the championship ­ putting both Chad and Claudia in the car was a very wise step toward achieving that goal!"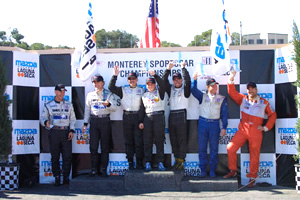 "What a great race today! Chad went out and just kicked butt, I got in and tried to maintain our lead and the Claudia got in and wrapped it up! It's just a great day for KnightHawk Racing," said team co-owner and driver Mel Hawkins.
"The race went very well today,'" said Chad Block. "Everything really came together for us. We got an awesome start ­ the car was working very well. Steve got in and did what he had to do and then Claudia carried us through to the end without incident. It ended up being a great weekend. I had some people here from my sponsoring company Gestetner ­ so that worked out great and I'm real grateful for their support. "I'm really glad that we won today. It's been a long time coming and the crew has been working very hard all season long. I'm happy for them, I'm happy for Steve and Mel ­ and I'm very happy for Gestetner!"
"I'm very happy to be standing here in victory circle because the team worked very hard and very well ­ so it's really nice for them to get this win," said Claudia Huertgen.
The team is very happy and proud for the support of teammate Block by Gestetner. Gestetner offers leading-edge digital document management solutions, including digital duplicators, digital imaging systems, network laser printers and facsimile machines that deliver document output solutions for businesses of all sizes ­ at speeds from 13-105ppm. For information on Gestetner systems, please visit www.GestetnerUSA.com.
For a "Lap around Laguna Seca" commentary please visit Block's webpage at www.ChadBlock.com.
Complete information on the team is available at www.knighthawkracing.com

Back to the News content
---




Made in England