MG of the Year

Click here to add your MG News.
---
Extract from November's MGOC publication - Enjoying MG
MG of the Year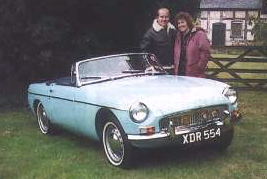 MICHAEL WILLRICH'S MGB ROADSTER - XDR 554
As early MGBs go, the one you see here is more special than most. It's painted in Iris Blue, one of the less common colours in the B's early years. Its steel disc wheels, white walled cross ply tyres and blue hood and tonneau lend it extra period charm. Most significant of all, its chassis number and build date of September 1962 reveal it to be the earliest known surviving right-hand drive MGB sold by the MG Car Company through the dealer network.
Owner Michael Willrich is justifiably proud of the car that has been in his possession since 1984. The first five years of which were spent in its complete restoration, all the work being carried out by Michael himself, even to respraying the car outside with fairly primitive apparatus in October 1989.
Since completion of the restoration in April 1990 Michael with XDR 554 fondly called Irish' has received 13 winners and 10 place concours trophies; reached 2 Benson and Hedges International Finals and 4 Popular Classics National Finals. Irish' is also regularly used on classic car runs, including the London to Brighton Classic run. In the 1995 Poacher 100' Michael received the G C Munton Memorial Trophy' for the Best Self Restored Vehicle.
Michael says that 1996 is his best year, 6 years after restoration, with wins at the MGOC National at Duxford and the Southern National and a second place at the Northern National and finally the pinnacle of Best MG of the Year' for 1996.
It is an honour and a pleasure to receive what I consider to be the ultimate accolade an MG and its owner can ever receive. Also I would like to thank my partner Marilyn who has helped me prepare the car at all the National events. Congratulations and well deserved Michael.
---
Highly Commended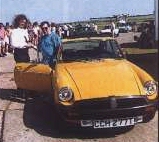 STEPHEN REED'S MGB GT - CCH 277T
It was pure chance that Stephen and his wife Yvonne bought the bright yellow MGB GT as they were really seeking a Vauxhaul Nova! Driving past a small garage the bright colour caught their attention and it was only curiosity as to its price that made them investigate further. Yvonne had always held a long-time want for such a car so a deal was done and it was only after the car arrived home that many problems were discovered. Nevertheless Stephen managed to get the car roadworthy by replacing many mechanical parts.
A few months later Stephen and Yvonne decided to have a little more work done on the car and the MGOC Workshop was chosen to do the work. New sill, n/s wing, o/s door, repair where rusty and full bare metal respray was instructed, not to mention fitting a new lead free engine as well. Stephen then refitted a complete new interior. Friends talked me into entering some competitions and in the 17 months since the rebuild we have won 6 awards, met a lot of friendly people along the way and have enjoyed going to the events. Special thanks to the MGOC Workshop and Spares and especially to Yvonne for putting up with all the parts that have occupied our spare room and for letting me spend her hard earned salary.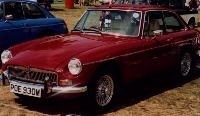 PAUL EVAN'S MGB GT - POE 930M
The car was purchased on 21st September 1993 initially, and underwent an 18 month part home/part professional restoration. The intention being to produce an MGB GT which mechanically was to original specification and outwardly looked standard but to remodel the interior to give more luxurious and spacious appearance. This was completed in May 1995.
The car was taken to Knebworth 95 and we were persuaded to enter into the condition class by successful concours competitor Dee Axon. The car was destroyed under judging, so the next 12 months were spent completely dismantling, replacing, spraying, polishing, cleaning and rebuilding with loads of tips and advice from Dee.
Eventually the car was completed in May 1996 and at Duxford 96 we were pleased to be awarded 2nd in class, then 2nd at the Northern National at Tatton Park, first at Surrey 96 and first at Harrogate 96 and a nice little collection of other awards at a number of classic car events around the country.
A brilliant year and we never expected to achieve all this when we were spending countless hours in the garage during the cold winter months. It was all worth it.
The MG Owners' Club web presence is of course part of this site.

Back to the News content
---




Made in England