Pyreneean Rally

Click here to add your MG News.
---
Extract from November's MGCC publication - Safety Fast
CLASSIC M.G.s FEATURE IN PYRENEEAN HISTORIC RALLY
The 4th Rallye de los Pirineos y Picos de Europa covered over 1600 kms. of the most demanding roads in the Pyrenees, split into 28 competitive stages, over the period of 18th -24th June. Event director Peter Davies and his team of officials can all take tremendous satisfaction from the competitors' verdict that this year's event was the best yet.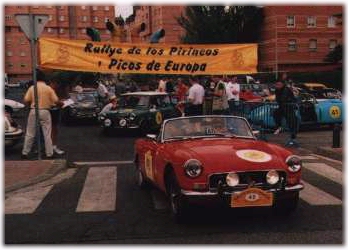 The format of the event is a road regularity rally using relatively simple navigation but requiring very accurate speed control and well honed powers of observation. Notwithstanding, the event caters for crews with a wide range of skill and experience from international expert to pure novice. Although the navigation is not too tricky, many crews underestimate the stamina factor of a six day event. One moment of lost concentration can cause even the experts to be embarrassed!
The 30 UK based crews scrutineered at Vospers Ford dealership in Plymouth, Brittany Ferries transported competitors and officials to Santander for the drive to Haro, Spain (the Rioja wine centre), where the remaining 17 Continental crews were scrutineered, and next day Miss Haro 1996 flagged away the cars from the town square.
During the six days of competition the fortunes of many crews fluctuated wildly. One example being Tim and Linda Porter (MGB V8), previous winners and first day leaders: they lost their way hugely on day 2 and dropped to 30th. They showed their true mettle by fighting back to 9th overall and 2nd in class by the last day. They had some consolation from their third successive win in the separate King of the Mountains competition. In total contrast other crews approached the whole event as a holiday in stupendous scenery with very congenial, like-minded companions, and rarely troubled the scorers so to speak. The event truly can claim to offer something for everyone.
From the field of 47, four were MGB mounted. The above mentioned Porters car was the only V8. Paul Merryweather and Sandra Deacon in their B were hotly fancied for a high final placing. Unfortunately almost six minutes lost on a wrong slot mid-way through the first day, plus further losses in mist and rain on day 2 ruined their chances. Eleventh place overall was a tribute to their tenacity. The Hubands seemed to dislike France; the two days ending at Argeles-Gazost and St. Jean Pied de Port proving to be disastrous for car no. 40. The Wilks/Masters B had a good holiday! Their recently re-shelled roadster was well prepared, better in fact than the crew! Total final day penalties of 58secs. Was on the pace for a mid-field placing, unfortunately the losses over the first five days are best not discussed! None of which affected the crew's huge enjoyment.
This year saw the first win by a non-British crew. Despite determined performances by Duncan Holder/Susan Bradshaw (Porsche 911 Carrera) 6th overall and 1st in class, and Jerry and Claire Hutton (Triumph TR4), 7th overall, 3rd in class (the top all British crews) the first five places overall were filled by crews of various nationalities (see panel). With entries from all over Europe, the four home nations as far away as USA, Argentina and Venezuela, this was a truly international event.
As ever, this type of event is won by consistency. The German winners Dieter Maier/Jo Zaiser (Porsche 356C) incurred only one penalty over 30 seconds on the 28 stages; the 2nd placed Mini Cooper S of the Spanish/Welsh combination of Sunsundegui/Francis had only two debits of over 30 seconds! These penalties being incurred on stages of up to 100 km. In length. Weather conditions varied from rain, mist and a huge electric storm to a real Spanish heatwave, which added to the sense of achievement felt by the competitors and officials alike as the event criss-crossed the narrow steep and twisting roads of the high Pyrenees and Picos mountains.
RESULTS
| | | | |
| --- | --- | --- | --- |
| 1st | Maier/Zaiser (Porsche) | 228 points | Germany |
| 2nd | Sunsundegui/Francis (Mini) | 247 | Spain/Wales |
| 3rd | Goni/Gullick (Mini Cooper) | 653 | Venezuela/England |
| 4th | Glatzel/Glass (Jaguar) | 693 | Germany |
| 5th | Stainer/Smith (AC Cobra) | 746 | England/USA |
| 6th | Holder/Bradshaw (Porsche) | 990 | England |
The MG Car Club web presence is of course part of this site.

Back to the News content
---




Made in England