Models

Click here to add your MG News.
---
Extract from December's MGCC publication - Safety Fast
MG Model Cars
by David Knowles
After a period of absence, my column about M.G. models is back on an occasional basis, heralded by this 'Christmas Special'. No doubt these of you would dearly love your 'other half' to buy you something M.G. related for Christmas rather than yet another pair of musical Santa Socks or a festive tie will wish to leave this issue of Safety Fast! lying strategically on view, since I intend to give some clues for those in search of models of their cars. Firstly, though, there are a few recent arrivals on the M.G. model scene which are of particular interest.
'JOUEF EVOLUTION' 1:43 SCALE DIE-CAST MGB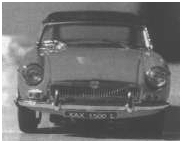 I had first heard about this model from arch M.G. model-enthusiast Gary Davidson in Los Angeles about eighteen months ago, but it is only fairly recently that it has crept into the UK almost unannounced. This is a pity, because as die-cast MGB models go it is a cracker, and for a little under ten pounds it is not too expensive. The detail is to a very high standard for a mass-produced model, with a very fine photo-etched radiator grille, air intake and boot-lid badge, separate chromed door handles and boot catch, and some reasonable 'spoked' wheels. The lights are all made up of translucent plastic pieces, tinted as appropriate, and the headlamps even have separate chromed rims which are just about to scale - quite a remarkable achievement in this scale. The model is available in a choice of left hand drive and right hand drive, the hood up or down; I thought that it made a nice change to have an MGB model with the hood up. I bought mine from the Beaulieu Museum shop, where there was a reasonable choice of versions on offer.
'KYOSHO' 1:18 SCALE DIE-CAST MGB
From a French badged model made in China to a Japanese badged model, also made in China. However, if the 'Jouef' MGB was good then this model is somewhere near Nirvana - as it should do, for around £50. Despite that price, though, the Kyosho MGB is worth every penny, for it is without doubt the best MGB model which has ever been commercially mass produced - and in fact it easily eclipses some of the hand-built white metal collector's models too. The Corgi MGB to the same scale but about half the price is quite a nice model, but place it alongside the Kyosho model and it is quite like parking your average MGB next to one of the Silverstone Concours 'Premier' class cars. The detail is little short of astonishing - beautifully detailed spoked wheels, a separate inlaid chrome side strip, spare wheel with the correct retaining clamp, opening bonnet (with stay!) revealing a detailed engine with separate plugs, leads and 'Cooper' decals on the air filters . . . the list goes on. Unlike the much smaller 'Jouef', the 'kyosho' does not feature any photo-etched parts, but then at this scale they are less essential. If you only ever buy one MGB model, this really ought to be the one.
'CROSSWAY MODELS' 1:43 SCALE HAND-BUILT WHITE METAL M.G. 1300 TWO-DOOR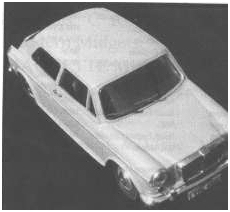 Some time ago I featured the Wolseley 1300 model made by this company, with the message that an M.G. version was programmed to follow in due course. Now it has arrived, in the form of the two-door M.G. 1300 Mk.II, available in Snowberry White or Bermuda Blue. As with the Wolseley, the M.G. is, made using patterns produced by leading pattern maker Peter Kenna, and the quality shines through. At about £60 this model is not cheap, but then again when was the last time you saw an M.G. 1300 two door in model form? The model is available direct from the manufacturers at 'Crossways', 2 Salem Street, Gosberton, Lincs. PE11 4NQ (telephone 01775 841171). Please mention Safety Fast!
CATWALK CHRISTMAS REVIEW
Finally, to a brief overview of where to direct your loved-ones for a model of your pride and you. If your desire is one of the more 'popular' M.G.s, such as an MGA or MGB, then there are a number of mass-produced models which may just fit the bill. For the more 'exotic' M.G., however-such as an 18/80, for example - you will have to dig deeper into your pockets and go for one of the hand-built collector's models, which will cost anything from £40 to £100, dependent upon manufacturer. The following is not a comprehensive list - space would not permit me to try, and anyway what would be the point if your dearly beloved couldn't find one in time? If the model you are after isn't listed, I suggested that you speak to John Roff at K&N Replicas, Keith Edney at RAE Models or Dave Ellis at South Eastern Finecast and see what else they have on offer; if you do call them, please tell them that you read about them in Safety Fast!
See also List of MG Models

The MG Car Club web presence is of course part of this site.

Back to the News content
---




Made in England