Newsbeat

Click here to add your MG News.
---
Extract from February's MGOC publication - Enjoying MG
NEWSBEAT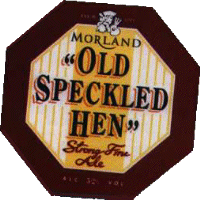 In the Dog House
Morland plc, brewers of the famous Old Speckled Hen , are offering our readers the chance to win a Saturday night stay for two at their Dog House Hotel, Frilfors Heath, near Abingdon. This special prize will allow the winner and his/her guest to visit the home of MG and will include a tour of Morland's brewery on Ock Street, bed, breakfast and dinner at the Dog House which is a 3 Crown country hotel near Abingdon, and a case of Old Speckled Hen . Five runners up will also receive a case of the famous brew. To enter, just answer the following questions and send it on a postcard with your name, address and daytime telephone number to: Enjoying MG Competition, Marketing Dept., Morland plc, Ock St., Abingdon OX14 5BZ. All entrants must be ages 18 or over. Closing date is Friday, 28th February 97. Winners will be drawn from the post sack on Monday 3rd March.
Q. Why was Old Speckled Hen originally brewed?
Return of the MGB Video
After telling many of our customers that the video Guide to MGB Maintenance was unavailable, we are delighted to inform everyone that is now back on-line and currently in stock (cat.no. 3041) at the price of £16.99 (p&p free). Useful for all prospective or actual MGB owners, the video explains just what it takes to keep this popular sportscar regularly serviced and on the road. You can then decide exactly the tasks you feel capable of tackling and thereby reduce your garage bills.
Go Faster Midgets
Moor Lane Garage have now completed development work on their 1.4 Twin Cam 16v K series Midget and are now ready for production. Two versions will be available in the form of a 1.4 and 1.8, both using the Rover K series engine coupled to a 5-speed gearbox. The option for a standard or supersport version is also available. Proprietor Tony Bolton has already proved the agility of the 1.8 Midget by winning the road-going specials class in the Moss Norwester Open Speed Championship. The new cars are based on a round wheel arch Heritage Bodyshell and hand built to customers specification. They are currently working on a 1.8 K series MGB and has already had enquiries including interest from Japan. Further details or to book a test drive call 01772 555020.
Be Prepared
It happens annually but the cold snap always catches drivers unaware. The Institute of Advanced Motorists strongly recommends that following their few simple driving and maintenance procedures will keep you and your family safe for the rest of the winter. They suggest the common sense advice: When roads are slippery, use the brakes, steering, accelerator and clutch smoothly and gently to avoid skidding. Treat road surfaces with the utmost respect in winter months, especially if there is a threat of black ice. Don't be lulled into a false sense of security as black ice is virtually invisible and extremely dangerous. Be familiar with the right procedure for correcting skids. A front wheel skid is corrected by taking your foot off the accelerator and steering smoothly in the skid direction. It may also be useful to disengage the clutch. Rear wheel skids are corrected by again lifting foot from accelerator and steering in the direction of the skid so that the front wheels remain pointing in the intended direction of travel. Most drivers do this instinctively but over-correction takes practice and skill. Car maintenance should include extra checks on tyres, lights, windscreen washers and wipers so that you are not caught out by decreased traction and poor visibility. Further help and advice from the IAM on 0181 994 4403.
Stretch MGB
Recently received on our Internet Link from B&T Foreign Auto Parts in Columbus, Ohio: Just completed MGB stretch Limo a must see for any visitor to the Columbus area. Made from 2/3 front and 2/3 back of two MG's. Baby V8 and low profile wheels. Sweet and unique design. First place at recent MG show in Columbus, Ohio.
Sounds worth a visit when next in the area!
Going Going Going!
ADT were delighted with its last Classic & Historic sale before the name change to British Car Auctions. Held just before Christmas, 70% of the vehicles found new homes including an immaculate A.H Sprite Mk I selling for £10,000 and an MG TD at £9,000. This Auction house look forward to 97 with renewed vigour and are holding a further 6 classic and historic sales throughout the year. All will be at the Blackbushe Centre (A30 between Basingstoke and Camberley) with bidding commencing at noon. Viewing is in the morning and on the day before (Sundays) from 1pm to 5pm. Entrance by catalogue only priced £12 (admits 2). Dates are Mondays, 10 February, 7 April, 2 June, 11 August, 6 October, 1 December. Buying or selling, all details on 01252 877317.
The MG Owners' Club web presence is of course part of this site.

Back to the News content
---




Made in England