Letter from the Secretary

Click here to add your MG News.
---
Extract from May's MGOC publication - Enjoying MG
Written by Roche Bentley, Club Secretary

Letter from the Secretary
Didn't you feel sorry for all those owners of MGs and other classic cars who couldn't drive their cars over the glorious Easter Holiday because their insurance policies were restricted to six months use (April - September)? With the best Easter weather since 1945 we had an early taste of summer and whilst the motorways and main trunk roads were very busy, most of the beautiful winding B roads of Britain were not, indeed some seemed practically deserted. Superb MG conditions. Of course now that I've mentioned the weather and commented on the cloud free skies, no wind and not a trace of rain we are bound to have a downpour for the rest of April and most of May so if we have, it's my fault okay?

I was hoping to have a riveting debate with you regarding my crackpot ideas for having dangerous and selfish drivers prosecuted by on or even off duty police and penalised without having the police engage in dangerous pursuit. Several letters arrived telling me I'd finally gone bonkers whilst others congratulated me on the inititive. I'd also suggested that errant drivers shouldn't be fined but should have retraining and be required to take a new test. It was all a wasted effort, not because the idea really was daft but because in some counties in Britain the police are already doing just that and have been for some time. Those members who wrote suggesting tougher penalties for offenders, joy riders, organised car theft gangs and other members of the sub human society we suffer will be heartened to know that in Abu Dhabi the authorities there have found a solution to their bad driving problem. No longer will offenders be fined, apparently that's a waste of time. Instead, and I quote, "Violaters of the traffic rules will be flogged in public at the mosque nearest to their houses. Up to 50 lashes would be given to anyone deliberately violating traffic rules, driving badly, ignoring red lights or driving without a licence. Some young men do not give a damn for traffic rules and our previous punishment of imposing fines has been futile." (source: The Times 2nd April)

Could any members living in such enlightened countries please write or fax and let us know how such draconian measures are proceeding. (you wouldn't think they were draconian if you'd just had your £250 car radio stolen and someone tried to sell it back to you in the local pub for £30! - ed.)

Bad news for speeders too. Gatso cameras are getting cleverer. Existing cameras are fitted with film which has to be changed regularly and processed, this takes time and believe it or not, the police have better things to do. So we are getting a new generation of cameras. These don't contain film but are linked to the DVLA by telephone lines and the details of the offender appear instantly on the computer, the registered keeper information is recalled and the summons is generated automatically to the registered keeper unless he or she can reveal that another person was the driver. The evidence is on digital image which the Home Office has approved but no doubt some clever hackers will find it amusing to cause chaos.

Whilst on the subject of new driving restrictions, young drivers will shortly commence their driving careers with the equivalent of six points on their brand new licences. From this summer any young driver passing their test will be advised that if they get just two endorsements for an offence, speeding, careless driving etc, they will face a ban and be asked to take the driving test again. Whilst you and I can relax in the knowledge that we need to be caught up to four times before being banned, young drivers can be forced off the road in two. As I am no longer that young and with two new driver sons I apologise to them and to your youngsters but personally I think it's a very good idea. Can we extend that please to harrassed mothers driving Volvos, geriatrics in overcoats and trilbys driving Skodas without looking around them and company reps in Mondeos who refuse to wait in traffic queues and who feel they have the right to barge past us and cut in.

Calling MGF owners. Are you having trouble with your rear window zip? You know you are supposed to unzip the window before folding back the roof but isn't that zip hard to undo? Don't strain and pull too hard, you'll break it, instead, undo the clips holding the front of the hood in place and pull the hood back a few inches. This greatly relieves the tension on the zip and it's easier to undo. If you really are too lazy to undo the zip then it's okay to fold the hood back with the window zipped up but don't leave the roof folded back for long periods as creases will appear and in time you'll need to have a new window sewn in as other MG soft top owners can testify.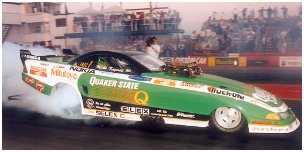 Do you fancy being a Drag Star?
This doesn't entail the men wearing a frock, high heels and make up over a five o clock shadow but actually racing your MG against the clock at Europe's most famous drag strip, Santa Pod in Bedfordshire. We have an opportunity to book an exclusive MGOC day in August for members and their friends to time their cars over the famous quarter of a mile strip. To qualify, your car must be in good running order, to MOT standard and safe and soft top owners need a suitable crash helmet. That's it! The costs are likely to be in the region of £8 entry to Santa Pod for drivers and non drivers, children free and drivers pay an additional £10 for as many runs as they can manage. Proposed dates are Saturday 2nd and 16th August.
If you would like to have a go, please send me a stamped, addressed envelope marked Santa Pod MG Day and advise on number of drivers and non drivers in your group. Non MGs and motorcycles are accepted but MGs have a priority if demand exceeds expectations. Every driver will be properly timed as at a national dragster event and each will be provided with a commemorative certificate.
I'm going to have a go in one of my MGs, anyone want to try their MG against it?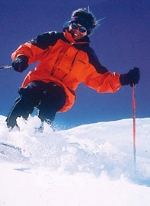 Ski '98
We are back to Italy in January 1998, this time to Sestriere where this year's Mens' Downhill took place. No longer restricted to thirty six, we can now take a party of fifty. The dates are January 18th, the cost is 599 per person, twin rooms, half board in a super hotel next to the piste and includes flight, transfer and ski pass for the whole Milky Way. Lessons and equipment hire are optional at 14 hire and 20 lessons. There are no free places or commission, the prices have maximum discount. Sestriere is a superb resort with lots of chair lifts and hundreds of miles of runs. If you'd like to come with us, telephone Josie Newton Price, on 01273 298 298. Don't wait too long though.
Unwelcome Attention?
You may recall the case of Catriona Bevan who was aquitted of road rage after being accused of ramming her Mercedes Sportscar into a car driven by a man who she claimed was pestering her on the road. Maureen Colquhoun of Cumbria wrote to The Times and her letter was published 3rd April.
"How I sympathise with Catriona Bevan cleared of committing a road rage attack (report March 28th). She is absolutely right about road jelousy and the dangers of that it can cause. All my motoring life I have been an MG enthusiast, but I finally, after seven MG's, became tired of being picked on by young men in battered old tradesman vans and middle aged executive men in almost any car you can name. Life became too dangerous. I have now settled for a nondescript, terribly boring car. It's like driving a comfortable settee, but at least I can drive around without the constant ego challenge of some male drivers, My MGs are just the stuff that dreams are made on".
Have you suffered from idiots leering at you in your MG? Is the problem confined to ladies or do men have unwelcome attention too. I have a lady friend with a white MGF and she's an attractive blonde. She's told me that she's always being waved to, hooted at and shouted at by men trying to gain her attention. She ignores them and hates it. Another lady friend with a bright yellow MGB says that she too gets waved to and whistled at, sometimes she's had male drivers chat her up but this lady enjoys it, she says "It makes me feel young - like a Spice Girl!"
Have you suffered too or do you enjoy the attention? Or are you a man who thinks that it's okay to wave to a pretty lady in a nice car? Is it a problem, what do you think? Please write and let me know. Identities will of course not be published.
In Closing
Nick Weeks from Hampshire has attempted to improve on my jokes, he states that it's been proved that sportscar owners and MG owners' in particular are oversexed and need professional help. To investigate he visited the club psychiatrist who drew a straight line. "What does this remind you of?" He replied "making love all night long." A square was drawn. "And this?" "Making love all night long in a beach hut overlooking the Carribean." The psychiastris drew a circle. "And this?" "Making love for ever and ever without stopping." "It's true, you MG owners have a preoccupation with sex." Nick replied "Hang on, it's you that's been drawing all the sexy pictures."
So here's mine. A member from the Aussie outback arrived in Britain and needed to take a driving test. He drove well but seemed very laid back as to the rules of the road and the examiner felt the need to ask him some extra questions. "What's the most common road sign in Britain?" the Aussie thought, "I know, Pick your own strawberries." The examiner winced but couldn't disagree. "Okay, when should you never overtake?" the Aussie shot back "When you are reversing." I can't argue with that thought the examiner but I'll have him with this one. "Tell me the colours in the UK traffic light sequence. The Aussie paused, "Er Red, Red and Amber, Green." he said. "Yes and then what?" "I dunno mate, I've gone by then."

Back to the News content
---




Made in England