Event Review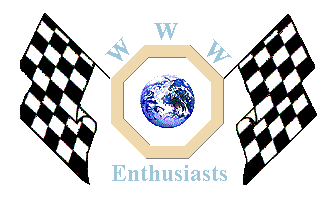 Click here to add your MG News.
---
American MGB Association 1997 Convention in Palo Alto, California
by Bruce Magers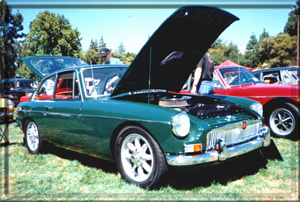 On Saturday and Sunday, September 6th and 7th, 1997, the American MGB association returned to beautiful El Camino Park in Palo Alto, California for its 20th annual meeting. The event was held in conjunction The British Car Meet hosted by Rick Feibusch.
On Saturday a driving event was held that included a scenic tour of the mountains just west of Palo Alto. The scenery was spectacular and the mountain road was just made for MG driving.. The tour included several interesting stops some of which were a hiking tour to locate the San Andreas fault and a stop in Pescadero for some freshly made artichoke and garlic bread. Gary Anderson of British Car Magazine, did an outstanding job as rallye master. The tour ended at El Granada, California at the English Tea Room which was located on the Pacific coast.
Sunday morning started as another beautiful California day. The line of cars waiting to get into the park was already formed by 8:30 am. Rick Feibusch and his staff handled the parking of the cars. Almost 700 cars and their cars participated in the event. A delightful jazz band played while vendors served English food which contributed to the festive atmosphere. The AMGBA conducted a popular vote contest to recognize the hard work of some MG owners. Margie Johnson, Secretary handled the awards presentation for the AMGBA. Winners of the American MGB Association's popular vote were as follows:
RUBBER BUMPER MGB ROADSTERS
'79 - Carlos Laoa; Pacifica, CA
'79 - Kathy Lappe; Portula Valley, CA
'79 - Connie Chronis; Los Altos, CA
CHROME BUMPER MGB ROADSTERS
'65 - Bill Dinehart; Walnut Creek, CA
'69 - Betsy Shotwell; Palo Alto, CA
'71 - Ron & Maryanne Picoli; San Jose, CA
MGB-GTs
'67 V-8 - Robert & Susan Miller; Brentwood, CA
'67 - Dennis Glavis; Santa Cruz, CA
'73 - Ken Kishlansky; Santa Cruz, CA
MG MIDGET
'72 - Lisa, Michael, Justin & Travis Perry; Morgan Hill, CA
'71 - Jim Rose; San Jose, CA
'61 - Steve Bartz; Los Altos, CA
The American MGB Association wishes to thank everyone that attended and Rick Feibusch and his staff for a well organized event. For 1998, the AMGBA will hold its 21st Annual Meet in Charlotte, North Carolina on the beautiful lake campus of Davidson College in September.

For information on this or on the American MGB Association, please contact the AMGBA , P. O. Box 11401, Chicago, IL 60611; phone: 1-800-723-MGMG; E-mail: AMGBA@aol.com.

Back to the News content
---




Made in England