Event Review

Click here to add your MG News.
---
LINCOLNSHIRE GOES TO GUERNSEY
Ten members of the Lincolnshire Centre met on the quayside at Weymouth in glorious sunshine to await our departure on the Catamaran "Condor" to Guernsey - a trip of just over 2 hours - enough time for the weather to change. The sea roughened up and some saw their last meal again but going the wrong way. We arrived in Guernsey in pouring rain, but from the warm welcome from Chris and Mary Backlund and helpers we knew we were going to have a great 5 day break.
The Lincolnshire members were Alan and Elaine Bankhurst with children Donna and Lee who had all piled into Alan's fabulous just restored MGB GT V8; Jean and Peter Ellis with their Midget which had just had the Benefit of Dave Farrar Treatment! Helen and David Kempton with their award winning MGA Coupe and Maria and I with our MGB. The common factor to us all was that all the cars were fitted with mini-lite wheels and we became known as "The Lincolnshire Mini-Lite Centre"!
Having settled into our excellent hotels, we opened the envelope prepared by Chris and Mary to see what had been arranged: States Reception, Gala Dinner, Barbecue, Treasure Hunt, Trip to Sark, Scenic Run, Concours in St Peters Port at the Albert Pier, ending with a Carvery Dinner and prize giving.
In total there was 48 cars coming from as far afield as Germany, Jersey, England and of course, the local contingent. Some were members of the "other club" but we have that one thing in common the friendship that comes with an M.G.
Guernsey is a beautiful island, a 35mph speed limit with most people keep to as most roads are very narrow and twisting; petrol 30p per litre! and the food is superb and excellent value. Chris Backlund had negotiated hard on price and quality to our benefit at all the different venues we visited.
There were lots of highlights and our trip to Sark was certainly one of them. We arrived in Sark after 3/4 hour by boat. To get to the centre of the island we either had a stiff climb up the track/trailer, the only motorised transport allowed on the island.
Sark is another world, it is beautiful, full of wild flowers, unrushed, tranquil, is proud of its feudal system and after a two hour horse and carriage tour, life in the slow lane was very appealing.
After 5 very enjoyable days it was back to the fast lane and using 4th and over-drive again. We must remember that without all the hard work of Chris and Mary none of this would have happened so to them both a big THANK YOU from all the Lincolnshire Mini-Liters!
We now look forward to Guernsey'97!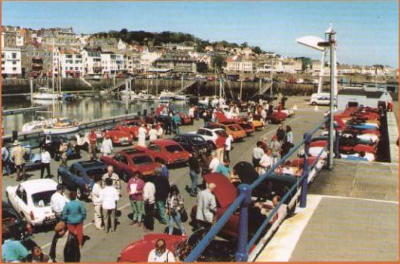 ---

Back to the News content
---




Made in England