MG Memorabilia
From MGB Driver - The North American MGB Register publication
Because we can - Decorating with MG Memorabilia
By Mike Fishman
Some time back in 1992, John Mangles' wife (at that time) stopped by his auto body repair shop-High Tech Collision Repair, which was located two stores down from my print shop in Overland, Missouri. John had just finished welding two pieces from the rear end of a junked MG for me. They were parts that I rescued from the pile of metal slated for the junkman. I had the idea that if I could piece the rear fenders together to fit on top of my pantry, I could have one great flower pot for my kitchen. When John's wife asked him why anyone would want "one of those things" for their kitchen, John's reply to her was, "Because dear-he can!" John was referring to the fact that I had been separated for over a year and living in my own apartment.
In the six years since then, I have been collecting and displaying MG stuff in my condo-Because I Can!
I painted two walls of my kitchen in British Racing Green-honest, it's a semi-gloss paint produced by Ralph Lauren Paints and sold at Home Depot. I found a framed and matted print of a 1937 MG four door saloon car at the 1/2 Price store in St. Charles, Missouri-it was about $15.00.
I was given a poster from Clarion Audio of a 1948 T-Series which I had framed, and I took a old ad for a Mk. II MGB (it was on the back cover of an old MGB Driver) and enlarged it and mounted it on foam board (remember-I had a print shop) and hung it over the fridge. I put up and wired in six under the counter lights on top of my cabinets to highlight the many trophies and plaques earned by my beautiful 1965 Tartan Red MGB Mk. I. I included other items dear to my heart on my trophy wall as well. There is a souvenir sign from our club's Route 66 Historic tour to Springfield, Missouri; some framed postcards that are reproductions of old Rt. 66 postcards that I found in a paper sample book from one of my suppliers; posters from the Heartland Shows which Cookie (my navigator) and I attended; an old bumper from my MG; a steering wheel that I bought at our club swap meet; and a Union Jack and US Flag souvenir from a rally through Fulton, Missouri-site of Winston Churchill's Iron Curtain Speech.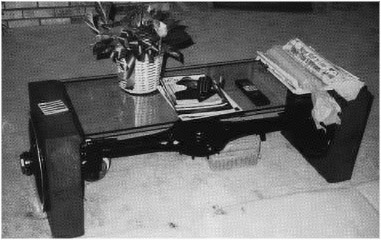 After John Mangles' divorce last year, he proceeded to redecorate his home as well. He started by making a coffee table from the rear end of an MGA-complete with wire wheels (hope it doesn't leak oil on your carpet, John). He accented his fireplace wall with tartan red gloss paint and hung his friends' retired license plates; steering wheels; front grills; dashboards and other stuff that was resurrected from the junkman's stash.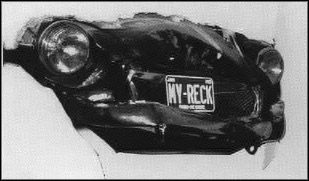 When one of our club members totaled his B, it was towed to John's shop. He cut apart the front end and artfully mounted it to be displayed in the center of his cathedral ceiling living room. He wired the headlamps and parking lights and when the lights in room are turned down low, John can create quite a mood. Christmas decorations were added to the "wreck" for the holidays.
I am interested to know if any other NAMGBR members have decorated their homes with MG Stuff? Send in your pictures of what you've done to make your house your home.
Photos by Mike Fishman and John Mangles

Back to the News content
---




Made in England