News from Safety Fast! (May 1996)

Click here to add your MG News.
---
NEW ZEALAND & AUSTRALIA
The first, and pleasantly frequent duty, is to extend a hearty welcome to new members: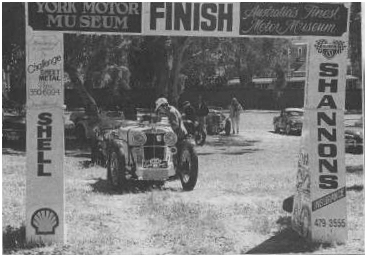 Mr John Keenan of Western Australia owns a May 1956 MGA with just 56,000 miles on the clock, which was delivered to and remained in Pasadena, California, until 1990. It was restored in W.A. by John Hunting after importation, and is now a R.H. drive conversion in BRG re-trimmed in fawn leather. It will be used in VSCC of W.A. and M.G.C.C. W.A. events. Another new member in W.A. is Mr Ronald Kilcullen, who owns 1934 J2/4212, pictured.
This car was previously in the ownership of M.G.C.C. Vic's Walter Magilton. Mr. Kilcullen writes that the car's original first owner, Colin Keefer, is now in his 80s and recounts memories of driving the car in the Australian Grand Prix at Philips Island in the 1930s.
Finally, and also from W.A., we welcome one of Australia's foremost M.G. enthusiasts, Mr Peter Briggs, whose stable includes 1929 14/40, 1931 M1, 1993 J3, 1933 K3, 1934 NE, 1947 TC, 1948 TC Special, and 1959 MGA Twin Cam. The K3 was pictured in our June 1994 issue.
Many people will remember the outstanding last Grand Prix to be held in Adelaide, in 1995. The tremendous enthusiasm of several hundred thousand fans gave the event a great send-off to its new home in Victoria for 1996. The M.G. Clubs of Australia put their shoulder firmly to the wheel and produced a splendid turnout of cars for the support races, and the entry list is reproduced as a Roll of Honour, taken from M.G.C.C. N.S.W.'s 'Opposite Lock':
GRAND PRIX SUPPORT RACES
COMPLETE ENTRANT LISTING
Car Driver
State
Entrant
Car
Colour
1 Lou Molina
VIC
Lou Molina
1946 MG TC Special
White
2 Keith Choyce
WA
Keith Choyce
1937 M.G. TA Special
Silver
3 Philip Bradey
SA
Philip Bradey
1934 M.G. K3
Blue
4 Andrew Willington
SA
Andrew Willington
1953 M.G. TF Special
Aluminium
5 Peter Briggs
WA
York Motor Museum
1933 M.G. K3
Green
6 Robin Briggs
WA
York Motor Museum
1935 M.G. NE
Silver
7 Graham Melocco
NSW
Graham Melocco
1949 M.G. TC S/C Special
Green
8 Ron Townley
VIC
Ron Townley
1939 M.G. TA Special
Red
9 Ken Rowe
NSW
Ken Rowe
1947 M.G. TC Special
Black
10 Jim Catts
NSW
Jim Catts
1948 M.G. TC Special
Green
11 Kevin Shearer
SA
Joan Shearer
1947 M.G. TC Special
Green
12 Barry Hicks
NSW
Barry Hicks
1947 M.G. TC Special
Red
14 Alistair Clarke
NSW
Alistair Clarke
1933 M.G. J Type
Green
15 Ian Mawson
VIC
Ian Mawson
1934 M.G. P Type
Green
16 Alan Heritage
NSW
Alan Heritage
1949 M.G. TD Special
Black
17 Neil McDowell
VIC
Neil McDowell
1947 M.G. TC Special
Green
18 John Ellis
SA
John Ellis
1948 M.G. TC Special
Green
19 Alan Griffin
SA
Alan Griffin
1947 M.G. TC Special
Green
28 Bob Schapel
SA
Bob Schapel
1948 M.G.TC Special
Silver
29 Ian McLennan
VIC
Ian McLennan
1934 M.G.P Type
Cream
30 Doug Gordon
SA
Doug Gordon
1949 M.G. TC Special
Green
31 Adam Berryman
VIC
Adam Berryman
1933 M.G. K3
Green
33 Ross Hodgson
NSW
Ross Hodgson
1949 M.G.TC Special
Black
34 John Anderson
VIC
John Anderson
1934 M.G. PA
Green
38 Peter Statton
VIC
Peter Statton
1949 M.G. TC Special
Red
39 John Payne
SA
John Payne
1933 M.G. J2 Special
Red
41 Gavin Morgan
SA
Gavin Morgan
1932 M.G.C Type
Green
47 Ray Hickman
VIC
Ray Hickman
1947 M.G. TC Special
Red
49 John Gillett
VIC
John Gillett
1949 M.G. TC Special
Red
51 John Playford
SA
John Playford
1949 M.G. TC Special
Blue
54 Bill Schapel
SA
Bill Schapel
1947 M.G. TC Special
Red
59 John Pitman
VIC
John Pitman
1949 M.G. TC Special
Green
73 Graham Smith
SA
Graham Smith
1948 M.G. TC Special
Green
77 Patrick Ryan
VIC
Patrick Ryan
11936 M.G. TA Special
Black
81 Percy Hunter
NSW
Percy Hunter
1947 M.G. TC Special
Silver
98 Graeme Steinfort
VIC
Graeme Steinfort
1934 M.G. P Type
Green
140 Harry Firth
VIC
Harry Firth
1953 M.G. Special
Green
Our member John Hornabrook has kindly sent an article by Bob Jennings which among other cars gives details of the ex-Prince Bira K3, from which I quote, together with photos:
". . . the (Philip) Bradey M.G., was campaigned in Europe by one of the Princes of Siam, Prince Birabongse Bhamubandhu, who raced under the name of "B. Bira". B. Bira was one of the wealthy playboys of the pre-war Grand Prix era as well as being an accomplished driver. He ran the blue M.G. K3 in the light blue colour of the Thai Royal horse racing stables. The car was brought into Australia by John Snow of N.S.W. for the 1936 Australian Grand Prix at Victor Harbour. Later, it was owned by several Adelaide drivers including the late Andy Brown, who drove it to third place in the 1953 Australian Grand Prix at Albert Park. The late Tom Bradey bought the car in 1959 and it has been in the family ever since, Tom leaving the car to his grandson, Philip, who will return from London to drive the car at the Grand Prix."
John writes of his memories of seeing this car race before Tom Bradey bought it.
He says "In those days they ran races up and down the long flat beach at low tide. Sellicks Beach is now a residential suburb of Adelaide and it would be unheard of." He has a clear memory of the 1936 Centenary Grand Prix at Victor Harbour, mentioned in the article above.
---

Back to the news content
---




Made in England