Articles from Safety Fast! (May 1996)

Click here to add your MG News.
---
APW AND THE VVC
It had been a bad week, the last one in February, especially at work - a couple of stressful court cases involving children and some office politics, plunging me into a gloomy frame of mind, not helped by bright sunny weather outside, where outside, where I'd rather have been driving my T-Type, as the slogan has it. Late one Friday evening I cheered up a bit as, reading the 'Solicitor's Journal' I saw a certain Norman Green, Solicitor from Skegness and Farina Magnette owner, had penned a few words. This gave me an opportunity to fax him in return for one he'd sent me earlier when roles had been reversed and I'd also featured in' The Sunday Telegraph'!
Then, a call came from Andrew Dove of Marshall of Bedford, M.G. Sales Executive of this Rover emporium. Come and drive an MGF WC he said. So I did. A wet Saturday afternoon, but this made no difference. What a car! This particular one was a pre-production car built in August 1995 and had 10,000 hard miles behind it. All I can say is that it was well run in, but otherwise as taut as the day it left the factory. No rattles, shakes, wind roar. Just the fabulous sound of the variable valve technology of this 1.8 litre K-series engine zooming up the rev. Range, smooth as a turbine, and powerful. Both as a passenger and driver the acceleration is awesome. I doubt if my supercharge racer is any slower up to 60 mph (7 seconds) but the manner is so different - so smooth and progressive is the WC up to 7000 rpm, in each gear, though not reached in 4th for obvious reasons and I never got into 5th, as I was in a rural B and C road environment.
This car has a standard ABS and EPAS, but the standard one I drove last October was so equipped, so I was used to that. The differences that marked this one from the 1.8i are the 5-spoke alloy wheels and the leather seats and steering wheel.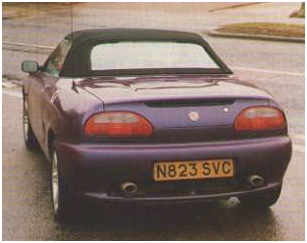 The big difference is the power that the 1½ seconds in the 0-60 time is apparent, and of course this one had a well loosened engine you could really exploit and is indicative of how these cars will motor when they've got a few miles under their belt.
The fact that the roads were wet made no difference. It, like the standard one, handles superbly, cornering impossibly fast with the right foot hard down. In 2nd gear roundabouts the car can be drifted round, with the back end just breaking, a bit of opposite lock with the sensitive throttle control combining into a symmetry of movement, that banished the blues of that week to the far recesses of my mind. Absolutely fabulous!
Costing £18,995, with delivery in July and August this year, don't delay, order today. You will go on driving it forever, till the roads run out - it's that good. You will never want to park it!
---

Back to the news content
---




Made in England