Motorsport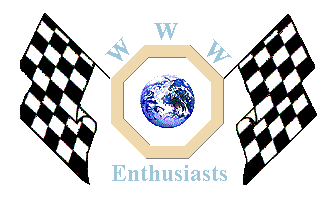 Click here to add your MG News.
---
15th February 2001

FISC International Spridget Competitions World Record Attempt at Spa-Francorchamps, 18-20 May 2001.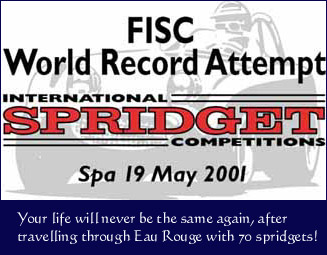 Your chance to be part of Race History!

To celebrate the 40th Anniversary of the launch of the MG Midget, FISC - International Spridget Competitions will be assembling the biggest race grid of MG Midgets and Austin Healey Sprites ever in race history. The race will take place at Spa-Francorchamps at the famous Belgian Grand Prix circuit in the Ardennes on the weekend of 18, 19 & 20th May 2001.

If a full grid is achieved 70 Sprites and Midgets will take the green light to start the race. An awesome sight through Eau Rouge, Blanchimont and the Bus Stop and an event never likely to be seen again.

FISC offers a special package to Sprite & Midget drivers who wish to be part of Race History.

You will receive;
An entry into qualifying and the race ( 50 minís of tracktime )
A return ferry crossing for a Car or Motor Home plus your Race Car and Trailer
Dinner & Drinks vouchers for the Saturday evening for two people at the
Spridget Cafť
A commemorative T Shirt
For a price of only £ 275.-
PLUS: For an extra of only £ 125.- a second qualifying & race (50 minís) can be undertaken.

PLUS: You are offered the possibility to familiarize yourself with this awesome track and make use of the paid testing opportunities on the Friday.

Further information and entry forms can be obtained from the following sources:
Web Site: www.drive.to/fisc
By writing to: FISC Administration
Mrs Annette Vastenhout
c/o Meer en Duin 1
2163 HA LISSE
The Netherlands
E mail: a.vastenhout@thegardenspecialist.com
By fax: +31 252 438 330
Do not miss this chance to take part in a piece of Race History for the Spridget Models. Or just take your chance to race at one of the greatest Grand Prix circuits in the world.

Back to the News content
---




Made in England