Le Mans 16/17 June 2001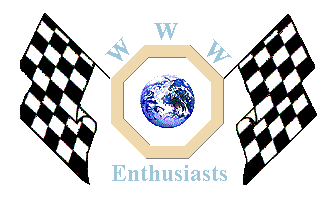 Click here to add your MG News.
---
13th June 2001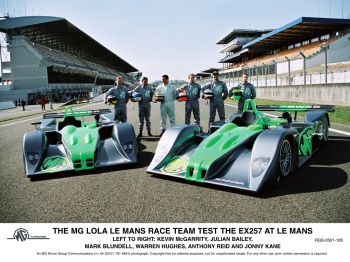 MEAN GREEN FIGHTING MACHINE
TOUCHES DOWN INTO 24 HEURES DU MANS
Question: What's green, has a top speed in excess of 200 miles per hour and is 100 per cent British?
Answer: The all-new MG Lola EX257 Le Mans sports car charged with spear-heading MG's long-awaited return to motorsport.
MG Sport & Racing Ltd has recruited a team of leading specialists in delivering a highly competitive package on track at Le Mans.
Under the guidance of Frank Dernie, chief engineer at Lola Cars International, the MG Lola EX257 Le Mans sports car has been built to compete in the LMP675 class at Le Mans.
Rob Oldaker, managing director at MG Sport & Racing Limited said: "No one has ever won at La Sarthe in the LMP675 class so we thought it was about time that someone did just that, or at least gave the big boys a run for their money!"
Race engine specialists Advanced Engine Research (AER) – responsible for the power unit Lola used to win last year's LMP 675 class at Le Mans – became MG Sport & Racing Limited's ally in building the MG Lola EX257 Le Mans sports car.
AER's brief was to produce an engine light enough to make the weight limit, tough enough to survive the rigours of 24 hours and fast enough to take on the world's best at Le Mans. The package they produced was a two-litre, straight four-cylinder engine with single turbo and inter-cooler generating over 450Ps during race conditions.
Team management is just as vital to the success of the MG Lola EX257 at Le Mans as technical excellence. Under the guidance of Martin Birrane, owner of Lola Cars, a team of drivers was assembled to provide the essential balance in three key areas – experience, youth and speed.
MG Sport & Racing Limited recruited test and development drivers with experience. FIA World Sports Car Champion and British GT Champion, Julian Bailey and Anthony Reid, former BTCC driver, were soon signed up. The right blend of level-headedness and raw speed were then sought. Highly talented Irishmen, Kevin McGarrity and Jonny Kane were added to the team.
Two more drivers were left to find. Warren Hughes, a former MGF Cup winner and development driver provided the historic link with MG and was immediately signed up. Finally, a former Le Mans winner and experienced Formula 1 driver, Mark Blundell, became leader (and of course joker) of the pack.
With the team assembled, the project began to pick up pace. Design work began in September 2000, just when MG's competitors commenced testing for the 2001 season.
A team at Lola Cars International began work producing the MG Lola EX257 chassis while AER delivered some extremely powerful engines. The car took to the roads at MIRA for its first shakedown in April 2001.
Nerves jangled as Anthony Reid started the car and took to the test track for the first time. The buzz and adrenaline from the car's first success were almost visible, but the hard work of putting miles on the clock became the next challenge.
Further test sessions followed in Albacete, Spain and Snetterton, England before the real measure of progress took place at the pre-qualifying weekend at Le Mans on May 6, 2001. Aside from engine niggles, Jonny Kane, 1999 Rookie of the Year at the US Indy Lights Championship, recorded a lap time of 3:53.471 seconds – placing him only eight seconds behind pole position.
Coming off the track, Jonny said: "The track is wild, it never stops! I am really pleased. I was taking things easy because I just didn't know the circuit, so I would expect to take 15 seconds off the lap time just by getting to know the track."
Following Le Mans, two days of overnight testing were held at Magny Cours - home of the French Formula 1 Grand Prix. Anthony Reid notched up the first laps with the MG Lola EX257 in darkness as the team sought to evaluate the car in night running mode. Headlamp performance and their directional visibility were evaluated, while tyre wear and fuel usage were monitored.
Frank Dernie, chief engineer at Lola Cars International said: "We traced the cause of our engine problems at Le Mans to an ignition irregularity. In its first overnight test, the car has functioned well and the drivers have become more acclimatised to its speed. Now we're trying to achieve effective fuel economy and reliability rather than just a few good fast laps."
Since Magny Cours, Julian Bailey and Mark Blundell put the MG Lola EX257 sports car to the test at Snetterton and MIRA.
Frank Dernie was particularly pleased with the test: "The fastest lap time we recorded at Snetterton was 58.2 seconds on race tyres.
"Julian Bailey tested the car and was pleasantly surprised by the level of grip. In fact, the car's impressive hold on the race track resulted in modifications to Julian's seat and pedal settings."
Summing up the MG Lola EX257 sports car programme, Rob Oldaker said: "Everyone involved has a very high level of motivation and determination. We have some formidable combinations of machinery and people, and we are very hungry for success."
Issued by MG Rover Group Communications
| | | | |
| --- | --- | --- | --- |
| Car No. 33 Drivers | Mark Blundell | Julian Bailey | Kevin McGarrity |
| Car No. 34 Drivers | Anthony Reid | Warren Hughes | Jonny Kane |

More on X-Power

Back to the News content
---




Made in England