Event Review

Click here to add your MG News.
---
THE KIMBER BIRTHDAY RUN
This event should need no introduction, sd it must be familiar to all M.G. owners now after several years of operation, organised by Geoff Shirt and open to members of all M.G. Clubs, it is a season opener for many. Run in April the weather is unpredictable. This year it was better than the forecast, though it was chilly and misty as Jenny and I took the TB up the A1 that morning to the start at Chatsworth House, in Derbyshire for those who are geographically ignorant!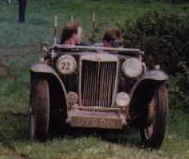 I'd forgotten how wet you can get driving an open T-Type in foggy conditions, as water condensation the top screen rail and blows into your face. What with this, and passing lorries sucking the windscreen blades into cleaning a non existent windscreen 6 inches above the real one, dual carriageway driving is not to be recommended in these cars! However we arrived unscathed to be greeted by fellow T-drivers and others, before warming up in the excellent restaurant.
We were due to take a southerly route on this run, via the Denby Pottery and Dovedale. As we set off the sun came out and, with Jenny's excellent navigating, we found our way to the Denby Pottery, near Belper, with no trouble, especially as we found no-one to follow. Met John Clark (TF) and Trevor Vertigan (TC) going the other way, though.
They were on the anticlockwise route. The car was running faultlessly, so what withthe sun and the pottery everyone was happy. After buying a pot or two, and stowing them carefully in the back of the TB, we set off again. This time in a convoy of 14/40, 18/80 and VA Tourer. Navigation took a back seat as we followed, admiring the lines of these varied motors as they romped along quite narrow B and C roads. Eventually Cyril Mellow, in the 14/40 and a local, took his colleagues off to a pub, leaving us the only M.G. for the rest of the route, and this is where things started to go wrong. It began to rain and then the engine stopped! No tick in the fuel pump. A bang on it and of we'd go again but it got progressively worse, so we did not enjoy Dovedale as much as we could have . Approaching the finish it got worse and worse, stopping every ½ mile or so. At one point a friendly M.G. Midget stopped to see if they could help. Thanks, but ce n'est paspossible!
We caused a massive traffic jam after refuelling in Baslow, and finally spluttered to the finish!
After a cup of tea and cakes, and a walk around the grounds, I met up with John Clark, who very kindly helped me repaur the fuel pump - its points had all but disappeared! A new set from Harry Crutchley off the Octagon Car Club's stand got all going again. Wonderful to have a travelling service centre around!
Anxious to test it, I set off on a run round the grounds, without securing the doors properly and probably frightened witless a blue TF as I returned. Approaching it along this narrow road, both doors swung wide open and my hat blew off, simultaneously, a bit like Chitty Bang Bang preparing for take off! Sorry about that chaps!
Anyway, all as well as we got home with no further alarms and excursions after a most enjoyable day which saw over 300 miles added to the Tbs mileage.
As a postscript I took it to Abingdon the following weekend, and then a week later into Wales, where it became so sluggish it was obviously not well. 3 exhaust valves had burnt out, which in retrospect had been affecting performance for some time but which I had attributed, quite unjustly, to the camshaft in Jones' old engine which is currently and gratefully, powering "la grande wreck".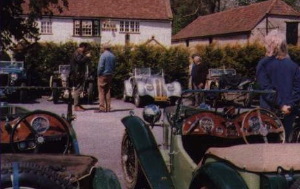 ---

Back to the News content
---




Made in England