Motorsport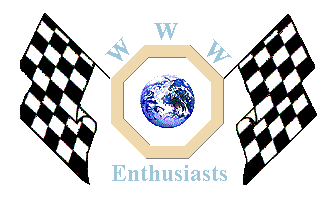 Click here to add your MG News.
---
29th July 2002
MG WORKS ENTRY - MG ZS
Green Flag MSA British Touring Car Championship
Rounds 13 & 14 Snetterton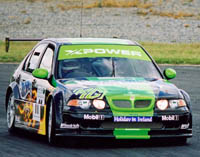 Sprint Race
Weather/Track: Hot / Dry
MG ZS Car no. 11 Anthony Reid Position: 4th
MG ZS Car no. 12 Warren Hughes Position: 7th
After qualifying 8th on the grid, Anthony Reid put in a solid performance to secure 4th in the Sprint Race. It was full of action with the safety car being employed twice, which resulted in the race being extended to 20 laps. When the race finally got underway on lap12 Anthony retained his 4th position until the end. Anthony said: "This race again shows the strength of the MG chassis. I'm quite pleased. From 8th on the grid to secure fourth is a good result."
Having qualified 5th on the grid Warren experienced a difficult battle in midfield to eventually finish 7th. He explained: "I had a great start and managed to hold onto third place. It was a scappy race for me with some contact and then loosing it on some spilt oil. The car is holding up well, the chassis and brakes are good particularly through the corners."
Feature Race
Weather/Track: Warm / Dry
MG ZS Car no. 11 Anthony Reid Position: 10th
MG ZS Car no. 12 Warren Hughes Position: 3rd
Anthony Reid was running well and in third position when he cruelly suffered a puncture on lap 24 which effectively meant that his race was over. He still managed to finish the race to earn MG an extra point. He explained: "I knew the car would be strong in the race, and the guys did a great pit stop. I got a good solid start and kept out of trouble. Warren was just behind me when I came out of the pits, and he sneaked past at Sears when I still had cold tyres. As the race settled down I could see I was holding station with the leaders, and even felt quicker then them. I was starting to ease out a gap when suddenly I heard a bang and I knew immediately a tyre had blown, and that was it. At least we picked up tenth, which was a point."
Anthony puncture meant that team-mate Warren Hughes took on the challenge of the Vauxhall's. Warren fought on to take third place. Warren said:" A very clean race and I didn't make any mistakes. I had a great pit stop, the car was superb and I was really able to battle with the Vauxhall's and Honda. A very good result and I'm really pleased."
Rob Oldaker, managing director MG Sport & Racing: "Warren took a strong third in the feature race for the works team, but it was disappointing for Anthony as whilst looking to secure a podium position, he suffered a puncture. We still have a lot of work to do.
"Team Atomic Kitten had an excellent day, finishing first and second in both Independent Cup races, with Colin securing his third win in a row."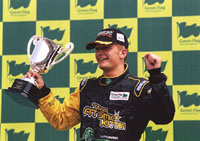 Team Atomic Kitten:
Team Atomic Kitten continued to show improvements over the weekend with Colin Turkington and Gareth Howell. Colin continued his positive form when taking the Independent Cup in both the Sprint and Feature Races. Colin said: "I've had a great weekend getting Independent's win in the sprint and the feature. It was really hot and conditions were really tough. The car has really improved and I got some more points in the bag so all in all it's been a really good weekend."
Gareth Howell also performed well and secured the position of runner-up to Colin in both races. Gareth added: "A great performance and I'm really pleased for the team. I had a great pit stop, it must have been one of the fastest, and considering how new the guys are to this they did an amazing job. I got baulked on the restart, and lost momentum and was on the backfoot for the next lap or so - which was when Colin went past me. But I'm pleased to have picked up some points."
Dick Bennetts, managing director, WSR said: "A good weekend with Warren taking third in the feature race. It was a shame for Anthony as he was challenging for second before he got the puncture. The MG's were flying! I'm very happy for Team Atomic Kitten in the Independents Cup finishing one, two in both races, which couldn't be better."
Issued by MG Rover Group Communications

MG XPower

Back to the News content
---




Made in England