Motorsport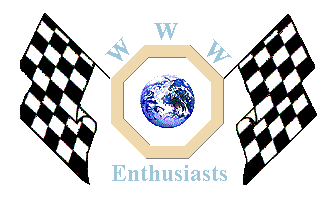 Click here to add your MG News.
---
19th November 2002
JARDINE AND HAMILTON ACHIEVE CLASS WIN WITH THE MG ZR AT RALLY GB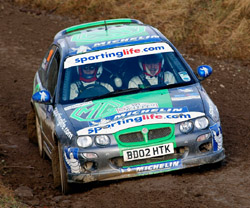 Formula One pundit Tony Jardine overcame the testing conditions of the Rally GB to secure a class Group N win and 35th overall for the two-wheel drive production MG ZR.
Together with Observer correspondent Maurice Hamilton the pairing took everything that was thrown at them and the MG carried on relentlessly on the gruelling 17 stages, which claimed 48 retirements in total. On his success Tony said: "I can honestly say that I have just experienced one of the best rallies ever, and set a personal best finish in the Network Q. All of which has been done in a standard production car. It was the smallest car out there but we continued on and on with no major problems. There were times when we thought it could have been all over but thankfully that was not the case. It was a brilliant team effort Ė the support from MG was fundamental to the result and the reliability of the car was absolutely outstanding."
Hamilton was also delighted with the success. He added: "It is fantastic to see all the months of preparation pay off and to come home with our best ever result is brilliant. The MG ZR was outstanding and we were continually impressed by its handling and resilience. The team effort was second to none and the support from MG and Michelin was unparalleled, with no mechanical failings or punctures Ė a true testament to Michelinís tyre technology. It certainly is a combination that I would be more than happy to be associated with next year."
It was more disappointing for Gwyndaf Evans and Chris Patterson when they were forced to retire 12kms into stage 15 of the Rally GB when a rear hub sheared on their Super1600 MG ZR.
After completing the longest 54.69kms of the Resolfen stage, they were lying sixth in class and within the top thirty of the 50 cars still remaining. It was on the next stage at Rheola that the MG retired two thirds of the way through. It was a bitter disappointment to the MG crew, Gwyndaf and co-driver Chris Patterson. Gwyndaf said: "Of course Iím disappointed but this weekend has shown that we have a fantastic foundation to work from. This makes me upbeat for the future. It shows how tough a WRC rally can be and the potential of the MG ZR."
Chris added: "Disappointed to be out with just over two stages left to go and a possible fourth place in the JWRC. Weíre looking forward now to developing the car for competing next year."
The second of the MG ZR Super1600s retired on stage 5 when Mark Blundellís car retired due to transmission failure. After competing in his first Rally GB, the only previous experience being the Bulldog Rally and Tempest Stages, Mark said: "We were going really well and I was gaining in confidence on each stage, so it was a big blow to have to retire from the event. Bob, my co-driver, and I had really got in sync and we were steadily improving our times. The conditions werenít too bad, we didnít have too many hairy moments and my great little MG ZR was full of potential, so itís a great shame we didnít get further into the Rally. Iíve definitely got the Rally bug now. Itís been a completely new experience for me, but itís a challenge that Iíve relished. I hope that I can get back out in the MG ZR again, as thereís now unfinished business in rallying for me. MG Sport & Racing gave me a fantastic opportunity in competing in this prestigious event Ė I hope Iíll be back next year!"
Front right suspension damage to his group N MG ZR was the reason for Rob Gillís early retirement from the rally on stage 3. Rob explained: "Weíve had a good year in the British Championship with the MG and a 100 percent finishing rate, so we were confident of finishing. We were really starting to find our feet; the car was behaving perfectly and did everything I asked. Unfortunately, we had a bit of bad luck on our side and as weíve come to a fast right with a small bump and as we landed we damaged the suspension. There was just no way that we could continue. When you put into perspective that around 85 cars had been through the stage before there was a lot against us."
Reflecting after the final event of MGís motorsport calendar for 2002, Rob Oldaker, managing director, MG Sport & Racing said: "Four cars entered, one finished and one class win with Tony Jardine. Iím disappointed that we didnít get the other cars home, particularly the two Super1600s particularly with Gwyndaf running so strongly towards the end. A great result for Tony (Jardine) and Maurice (Hamilton) to win group N, showroom class, as thatís the car that the public can buy actually means the most."
Issued by MG Rover Group Communications

MG XPower

Back to the News content
---




Made in England