Motorsport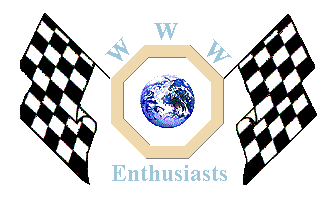 Click here to add your MG News.
---
25th November 2003
K SERIES CELEBRATES A SUCCESSFUL SEASON OF MOTORSPORT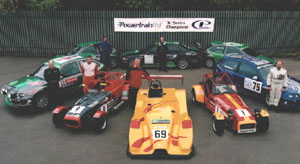 The K Series engine is equally at home powering rally cars to class victories in Wales or thrilling Caterham enthusiasts at Brands Hatch thanks to its high power output, lightweight all-aluminium construction and legendary in-built reliability.

Today, Powertrain Ltd celebrated its 2003 achievements with champion racing drivers from all areas of motorsport.

National Tarmacadam Rally Championship

Following a gruelling seven round series in this popular championship, the group N1 MGZR105 of Tim Seipel emerged victorious as class Champion for 2003. The K Series 1.4 engine, unmodified in this class, provided Tim with the performance required to beat his rivals and the reliability required to win a rally championship.

"The K1.4 powered MGZR proved to be the most competitive package in its class enabling us to set some quick stage times throughout the season. Its reliability ensured the championship was ours," commented Tim.

MG XPower Clubmans

The long established Clubmans series switched to K Series power in 1995. Using the K Series in 1.6 litre format developing 125 PS, Clubmans drivers have enjoyed trouble free racing over many seasons ­ some engines have completed as many as seven seasons without a major rebuild.

2003 Champion Matthew Slinn said: "Having driven a K1.6 engined Mallock race car for over 5 years, I've been amazed by the engine's reliability and power delivery. Testament to my two championship wins and countless lap records."

This season saw the formula compete in France with local temperatures exceeding 100º F.

"Mallock Sports have been extremely impressed by the K engine's performance and reliability ­ Matthew is known to drive hard and with little mechanical sympathy," commented Mallock Director, Richard Mallock.

Mayflower MG Trophy

The Mayflower MG Trophy Championship caters exclusively for current MG models in three classes: purpose built MG ZR race cars running on slick tyres and powered by Powertrain Ltd's own K Series Motorsport engine putting out 190bhp; MGTF class for the former MGF Cup Cars with updated bodywork to bring them up to current MGTF outline, running with a 2002 K Series 1.8 motorsport engine; and the MGF class for road going K Series 1.8 and VVC models.

2003 saw close racing, as you might expect, from a one make race series. Barry Benham, however, dominated the season winning seven races to secure the championship.

"As well as successfully completing the 11 round Mayflower MG Trophy season, I also entered my car in the Willhire 9 hour race in June. The engine just motored on, much of it on the red line, giving me a 2nd place in class and 5th overall," said Barry.

Powertrain Caterham R400 Challenge

The R400 Challenge is the pinnacle of Caterham's varied and exciting motor sport activities in the UK.

Under the R400 bonnet is a naturally aspirated K Series 1.8-litre engine, which develops 200bhp at 7900rpm, delivered to the rear wheels via a six- speed manual gearbox.

With a minimum weight set at just 500kg ­ less than half that of a new Mini ­ it's easy to see why the R400 flies.

This year R400 pilots have stunned British race crowds throughout the season, with the title going down to the wire.

Dan Stilp eventually gained the edge over his nearest rival Dillon Battistini, taking the championship at Brands Hatch last month, with his season's tally for the Tracsport team comprising three race wins and a further six visits to the podium.

"The K Series is bomb proof. At Thruxton I was flat-out in 5th gear and went for 6th but got 4th by accident, over speeding the engine ­ I carried on without a hitch! Last season Barry Horne won both the UK and European titles with a single K Series engine."

In Caterham's Roadsport championship, gridfulls of drivers have battled for the title, and the right to compete in the R400 series for 2004.

Using K Series 1.6 engines, tuned to 138PS, this series provides excitement and experience to would-be R400 drivers, whilst keeping costs to a minimum. David Dyson took the 2003 crown and now swaps his Roadsport for an R400 in next year's championship.

As well as the UK, Caterhams are raced extensively across Europe and recently Caterham Motorsport crowned its second female champion - Melanie Cazzani, who clinched the French Caterham championship with victory in the final round at Dijon-Prenois. She crossed the line just two-hundredths of a second ahead of her title rival, Frederic Real, in another close run series.

Melanie's success in the 2003 Coupe de France Caterham comes just 12 months after the UK's Rachel Green won the Caterham Graduates Championship crown.

Rachel Green is planning to step up to the top rung of Caterham Motorsport's ladder of excellence in 2004 ­ she is intending to campaign the R400 in the Caterham Eurocup, competing in Germany, France, Holland and the UK.

European Endurance Racing Championship

2003 has brought huge success for John Hammersley and Andrew Dunlop racing an MG ZR 160 in the European Endurance Racing Championship, under the Britcar Series banner.

Powered by a standard specification K Series 1.8 VVC engine developing 160PS, the car has displayed total reliability and efficiency coupled with speed; essential ingredients in endurance racing.

With one race remaining this weekend, John and Andrew have already won their class championship, and can go on to win the championship outright, beating more powerful cars from Mercedes, BMW and Honda.

Commenting on their success so far: "We're determined to put a No.1 on the car for next season. The car's reliability so far is testimony to the strength of K Series, especially in an endurance racing environment."

WRC Wales Rally GB

They don't come any bigger or tougher than a World Rally Championship event so Gwyndaf Evans and Claire Mole's group N3 win in a K1.8 VVC MG ZR in the Wales Rally GB earlier in the month was simply outstanding.

Coming home 1st in class and 27th place overall was a fantastic achievement considering half the cars in the field probably cost £500,000 or more. Where many dropped out because of the conditions, mechanical failure or driver error, the K Series powered ZRs ran faultlessly to the finish, with an identical car driven by Tony Jardine finishing 2nd in class, and 10 places behind overall.

"The car came straight out the showroom. We had the safety systems fitted then took it to Wales. The engine never missed a beat during the entire rally, even though it was on the rev limiter for much of it," commented Gwyndaf.

British Touring Car Championship

Powertrain Ltd's K Series 2 litre V6 engine made its mark in arguably the toughest race series in the UK in the form of the British Touring Car Championship.

Powering MG's race proven ZS, the 270PS motorsport version of Powertrain Ltd's flagship engine managed to collect three race wins and eight further podiums during 2003.

Experienced BTCC campaigner and winner of round 12 at Croft, Anthony Reid, was also present to share in the celebrations.




Back to the News content

MG X Power
---




Made in England