Jubilee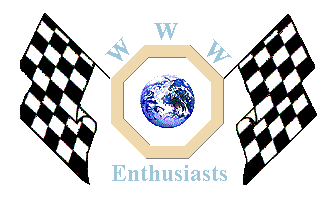 Click here to add your MG News.
---
12th December 2003
The True Tale of KJC 11P Jubilee MGB GT No.735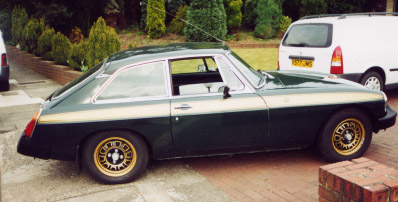 Mr Wu was a Newcastle based restaurant owner whose wont was to holiday and do business in Japan. To help pay for each trip he took a restored MG to sell at a profit. Sadly on one such visit Mr. Ho died of a heart attack and his last MG project languished in a Low Fell garage for nine long years, tyres slowly deflating and bodywork gathering dust under piles of discarded boxes.

Until….. five years ago Jim Bullock looking at the Low Fell bungalow with a view to purchasing saw the GTs bumpers under the accumulated rubbish and was told by Mr Wu (junior) that the engine was seized and would he like to buy it..As Jim was the proud owner of his 1953 MK7 Minx as well as a Burlington Arrow (since sold) he expressed no interest in the MG

Until……when negotiating the house purchase he asked for the GT to be included in the offer (forgetting to tell this to Mrs Bullock) and hearing no further mention of the car thought no more of it

Until……moving in on the Saturday there it was ..still in the garage.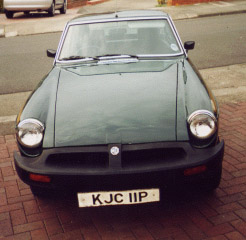 Jim phoned Jeff Gibson to bring a trailer to take the vehicle to Jeff's garage. Together they inflated the tyres, pushed the car outside, looked over the body (good condition), attached jump leads, turned the ignition, tapped the fuel pump sharply to make it tick (as you do) and hey presto, magically, the engine fired and ran..on petrol nine years old (yes its true). Gingerly the car was driven around the block - EVERYTHING WORKED. On to the trailer to Jeff's garage, a good wash, checks on fluid levels which were OK apart from a leaking water pump and on the Monday to Belle Vue Motors where it passed its MOT! Wisely a new battery and a set of tyres were fitted and the leaking water pump cured itself and hasn't leaked since. The new exhaust bought by Mr.Wu nine years before still had the labels on as did the tyres although they had developed big flat spots. NO. 735 is still running well and looks good.

Back to the News content
---




Made in England