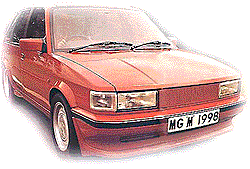 Follow the links below to a selection of photographs which were taken by MG 'M' Group committee member Victor Kish. Thanks to Victor for sorting thru his box of photos, but he seems to have forgotten to take a picture of his own car! Never mind, we have here a picture of Victors MG Maestro under the nose of 'Concorde' taken at Duxford. Victor's car has been featured on 'Top Gear' and in the December 1998 issue of 'MG World' Magazine.
*A subscription form to MG World can be found in the MG'M' Groups latest newsletter.
White Maestro Turbo sporting MGF alloys

This has been tweaked with the help of Moto-build

Another fine example!

This car is owned by Andy Bradley, and has won many prizes

Andy's car has been featured in many magazines
We believe that this car still has under 10,000 miles on the clock

The number plate on this car must be worth a fortune!!

Another personal number plate, also note the air vents in the bonnet


All pictures above are from 1996.
Surrey 98 was attended by the MG'M' Group, but it rained and it rained.
Sadly only a few cars braved the elements!
We did manage to get a few pictures, from This Picture you can see just how wet it was!


Further additions and improvements will be made to these pages!
All photographs displayed are copyright, and must not be used without permission!

---
This site forms part of
MG - The Classic Marque
Email:
MG 'M' Group Webmaster
---