The MG that never was?
---
The MG Gnat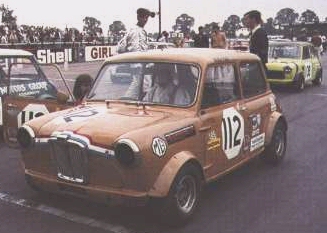 An insight into Club Saloon Racing of 25 years ago - and a mystery to be solved.

For years there has been controversy about whether or not there was ever an MG Mini.
Yet over 20 years ago I raced an MG Mini called the MG 'Gnat'.

This is her story.

The MG 'Gnat' began as a project to build a low-cost racer, but the dream of cheap racing is an eternal myth. I had to build the fastest for the lowest cost and that meant a Mini, but not just a "Ditto" Mini. In 1968 a sponsor was as vital as today and their support is for the unique, the exciting and the quick.

I bought a Cooper 'S' shell and over the next 7 months I practically lived at BMC Special Tuning at the MG factory in Abingdon and bought or cadged parts from them and the BMC Competitions Department. They were enthusiastic in their help and assistance.
Almost everything on the car was from MG and it didn't take me long to decide how to imply that fact. I got the grille of an MG 1100 and remodeled it to the width of a Riley 'Elf'. A little aluminium sheetmetal magic by Shapecraft of Leatherhead and the car looked brilliant.

From the history of MG, I knew that the saloons were called 'Magna' and 'Magnette'. I combined the two to make 'Gnat' - a little creature that's very bothersome to big ones'.

Initially fitted with a 78bhp 999S engine from a works-team Mini-Jem - which had won its class at the 1000K Nurburgring - the 'Gnat' began to take on a seriousness of purpose.
1968
The first time the 'Gnat' ran under her own power was from the trailer to the Scrutineering Bay at the BMRMC Silverstone meeting on 12th July 1968. The engine was run-in in a wet Practice. We did a 1:18.4 lap and finished 3rd in class in the 60-lap Gargoyle Trophy race.

Much development work was done and I raced her at Snetterton, Oulton Park and at the MGCC Silverstone. Low on power, I tuned the chassis well enough to get up with the leaders but needed a sponsor.
1969
The John Stanton Racing Team advertised their accessory shops on Lavender Hill, London and inevitably we were dubbed 'The Lavender Hill Mob' after the famous movie.

In track testing our 'get-away cars' at Brands Hatch, John Blunsden of 'Motor Racing' magazine said of the MG 'Gnat' she "...handles like few other Mini's...a highly manoeuvrable car, with a useful ability to hold a tight line on the corners, where so often a Mini can be out-fumbled..."

John Stanton paid JanSpeed of Salisbuty for the 78 to 92bhp power jump to my engine, but we were plagued by a chronic misfire for race after race.

On 17th May, I ran in the invitation Saloon race at the Martini International at Silverstone and was 2nd in class until the misfire caused retirement on the last lap.

Then Jan Odor rebuilt the motor and it blew up. Another rebuild and a change to NGK spark plugs and it was a road-rocket. It showed in the results. Second place at Silverstone; fastest lap at Oulton Park; 2nd overall by .8; fastest lap and a class win by 12 seconds at Snetterton; 2nd overall by 2 hundredths of a second and a class win at Brand Hatch. But the outright win was elusive. We soldiered on, continually developing handling, braking, power, tactics.

Stanton put other drivers in my car. Tony Youlton raced in an Osram GT Saloon Championship round at Crystal Palace and got 2nd in class. Mike Darrieulat raced the 'Gnat' in the last five rounds of the Redex Saloon Car Championship, maintaining his lead to win it overall. The MG 'Gnat' wore racing number 1.

Richard Hudson-Evans, then Editor of 'Cars & Car Conversions', tested the 'Gnat' at Silverstone and said of her "...this MG is so completely right..."

I had my car to myself for the rest of the season. At last, at Silverstone I won a 1,000cc race. Someone in the paddock told me that it was the first time an MG Saloon had ever won outright. I don't know if it was true and never checked it out.

We raced eight more times that season, each netting good results, with 2 wins, 3 seconds, 2 thirds and one retirement while leading - and 4 fastest laps. My book "How to Start Motor Racing" - which features the MG 'Gnat - was published that Autumn by SpeedSports Motobooks, I wonder if it launched the careers of any modern racers?
1970
For 1970, John Stanton sponsored Gerry Birrell in Formula 2. So I was a privateer again. I decided to contest the Triplex Saloon Car Championship at Silverstone.

We were still using a 45DCOE9 Weber on the 999cc 'S' engine, yet most other Mini racers had Lucas Electronic Fuel Injection (Efi) - #1,000 for the cylinder head, alone.

The Triplex was a highly competitive series with such notables as Gerry Marshall in 'Big Bertha', Mick Hill in the 3.8 litre Jaguar-engined Ford Anglia (called the Janglia'), David Howes and Roddy Harvey-Bailey (Ford Falcons) and Terry Drury (Mustang). The 1,000cc class was snarled over by Terry McNally (Cosworth Ford Anglia) Ray Payne, Nick Birch and Maurice Ford (Coventry-Climax-engined Hillman Imps) and Mike Evans, Geoff Stone, Jim Balmer, Ian Blunt et al in EFi Mini-Cooper S.
THIS WAS A CLASSIC SEASON OF MOTOR RACING.
Round 1 on the 30th March was wet. The MG 'Gnat' was third fastest on the front row with 1:15.4, just .8 slower than the works Hartwell Imp of Ray Payne and just .4 slower than Doug Griffiths in the Formula 2-Cosworth Ford-engined Mini Clubman. Doug broke down on Lap 6 and I stroked to 2nd, got 3 points and #12 prize money. That was useful, I spent every spare penny on the racer.

Round 2 on 25th May my times were down to 1:12.2 next to Payne on Pole and Mike Evans' Patrick Motors Group EFi Cooper S. Evans retired on lap 2 and I had a great dice for 2nd with three Hillman Imps and the Cosworth Anglia of McNally. Ray Payne won and the results read Imp, MG Gnat, Imp, Imp, Ford, Ford, Mini, etc. We were the fastest privateer and had beaten all of the EFi Cooper S's, hollow.

Round 3 and I had problems but managed to finish 5th. The same result in

Round 4, this time I finished with no clutch.

The 'Autosport' headline reporting the 5th Round said it all "Lap Records fall at BARC Silverstone.". It was a shake-y-booties, right old ding-dong of a race. We managed a 1:11.7 in practice - good enough for Pole in previous rounds, but only 4th fastest on the front row with McNally, Evans and Birch. In the race the leading pair dropped the Lap Record to 1:10 dead. I did a 1:10.6 in the slipstreamer and almost got Nick Birch for 3rd at the line. Nick congratulated me on beating him, but the results showed he'd led me by 2 one hundredths of a second - a 'Gnats' whisker.

In the 6th Round I was again on the front row with Evans on Pole, then McNally, the MG 'Gnat', then Griffiths. The first half of the race was fabulous and I grabbed the lead three times but my crankshaft damper loosened and I fell to finish 4th.

It was at that meeting that Gerry Marshall recommended Les Ryder as an engine tuner. Les worked with Bill Richardson, a great MG man, at his Towcester garage. They re-worked my old 'Gnat' engine 'til it revved to 11,000rpm and gave 115bhp.

We raced the new engine at the MGCC Silverstone on 19th September. The MG 'Gnat' finished 3rd, winning the 1,000cc class by over half a minute and wiped a few cynical smirks from a few faces.

On the 26th I rolled a Go-Kart at Rye House. I broke five ribs and hurt my wrists which slowed me down a bit for the rest of the season, finishing 4th and lower in the other rounds. I missed the last round of the Triplex Championship as I wore a body cast that weighed more than the MG.
From what I've heard, a little old lady with a shopping cart won - any truth in that Lads?
1971
The MG languished in my garage until I got a request to run at the MCC Silverstone on 26th June. So the 'Gnat' and I raced for the last time. The day was bright and sunny until just before the first event. I had a strange premonition and asked Roger Harvey my pit manager to change to wet tyres. "You're daft, mate" my mechanic said, "Look at the sky - it's cloudles!" As he torqued on the last wheelnut, the first drops of rain fell, which soon turned into a Monsoon downpour of Biblical proportion. I was on Pole, the only car on wets and we strode away to win by a lap.

In the second race I won the 1,000cc class, finishing 4th overall behind such items as an Lotus 47, AC Cobra and Ford Mustang. In the third race, I finished 6th from a push-start after the pack had left.

Not a bad day really. An outright win lapping the whole field. A class victory and a 6th from a push-start. Though not realising it at the time, not a bad way to stop motor racing, either.

The second edition of my book "How to Start Motor Racing" was published later the same year.

| | |
| --- | --- |
| Full-tilt Boogie at Woodcote, 1970 | Drifting at Becketts |

I went overseas shortly afterwards, leaving the 'Gnat' with Lavers, Newall Racing of Lewisham in South London, complete with an agreement (which I still have) to race the car and return it to me in good condition on my return.

When I got home, they and the MG 'Gnat' had disappeared. I haven't seen her since. In 1977, when I was in California, I found out that a fellow called James Newsome, of Beeston, Nottinghamshire, had the MG 'Gnat' and was going to race her, but he sold her to a speed-shop in Nuneaton called Jonspeed. I heard that they'd butchered her and sold her parts. I mourned my old war horse.

After 10 years in the aircraft industry in the USA, I returned home.

One day, in 1989, I was talking cars with a publican who wore an MGOC tie. Suddenly, he said to me "D'you know? - there's some fool story going around that there was once an MG Mini! and they're saying it's a classic - 'The MG that never was - did you ever hear of such a foolish rumour?" Oh, boy, HAVE I? I thought that my old friend may not be dead after all. That's when I wrote this article, which was published in 'Enjoying MG' Volume 9, Number 10, in October 1989.

Well, was she MG? Certainly she carried the spirit of the marque.

Early this year, 1996, a small article entitled "Whatever happened to the MG 'Gnat'" appeared in 'Autosport' magazine.

This brought a response from Simon Sabel. He had bought the 'Gnat', in good faith I believe, from Lavers, Newall Racing, shortly after I had left overseas. According to the agreement signed by Mike Lavers, he had no right to sell the MG 'Gnat' to Simon.

Simon raced her a few times, but from what he tells me of her specification, most of her original racing bits had been substituted. She was no longer competitive. He wrote to me and we've since become good e-mail friends. He has filled-in a lot of details I never knew before. It was Simon who sold the 'Gnat' to James Newsome.

Now? I dodder about in a 1972 Jensen Interceptor Mk.III. 6.3 litre V8, 400bhp. A nice little runabout, ideal for shopping - which I occasionally Sprint at the Oulton Park and Silverstone Racing Circuits.

Whatever happened to the MG 'Gnat' - anybody know?

I'd like to find the MG 'Gnat', or her parts, or her grave, or any information at all about this Classic Racing Car from that Golden Era.

Had I the finance, I'd recreate her. That would be poetic.
It is with great sadness, that we must report that Wally Hall died in Arrowe Park Hospital, Birkenhead, on Wednesday 13th May 1998
Originally published in Enjoying MG, now rewritten by the author for the MG Enthusiasts Web Site

---

News content
---




Made in England