Letter from the Secretary

Click here to add your MG News.
---
Extract from January's MGOC publication - Enjoying MG
Written by Roche Bentley, Club Secretary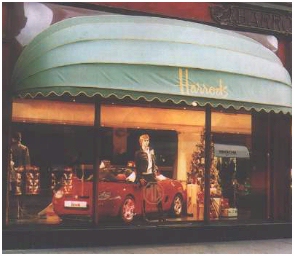 Letter from the secretary
Christmas shoppers at Harrods were amazed to see two MGFs and an MGC in the festive window display during December. The MGC had been nicely restored and was for sale at twenty thousand pounds and the two brand new MGFs sparkled under the spotlights. Rover must have been delighted and it was one of the nicest window displays we'd ever seen.
GOVERNMENT INCENTIVE TO TRADE IN OLD CARS?
In France the owner of an old car can receive the equivalent of £600 if the car is scrapped and a brand new car purchased. In Ireland, the offer is even more generous, the incentive is £1000. In Britain the Society of Motor Manu-fac-turers and Traders is urging our ministers to offer a similar inducement to British car owners. This worries many classic car owners, not because we can be bribed or conned into falsely believing that our well maintained and properly tuned classics cause additional pollution but because the next step in SMMT's dastardly plan is believed to be to eventually cause any vehicle over ten years old to be scrapped. As SMMT members manufactured and sell new vehicles it's not too difficult to see how they are motivated but fortunately I have discovered that they have a problem.
In the UK the basic price of an MGF is £14,719.15. In addition, there is £2,575.85 vat at 17.5%. A total of £17,295. As you can see there's not too much for the government to give away as a valuable incentive without seriously depleting the treasury coffers when compared to the Irish scheme.
In Ireland, the same MGF costs just over £21,000 and include 20% of the basic price as duty and a further 21% vat on the whole amount. The government therefore has more than enough in duty income to give away £1,000 from a tax of over £6,000.
For the UK to follow suit, we'd have to increase our duty and our vat to take with one hand to give back with the other. Can you imagine that the SMMT would welcome a large tax increase on new vehicles even with the incentive? Incidentally for an Irish buyer to qualify for the rebate, his old car must be taxed and insured for the previous two years so he can't rescue the old wreck from the barn to trade in. Furthermore, old cars in usable condition are expensive because of the 21% VAT and higher new car prices and few are worth less than £1000. Next year Ireland plans to introduce an MOT test, some cars will be bound to fail and thus help the sale of even more new cars.
WHAT CONDITION YOUR MG FOR SALE?
Anyone who has ever wasted a journey to view a car described as being in excellent condition only to discover a rotting wreck will understand the frustration and annoyance. It seems as if people who are otherwise honest and perfect citizens develop another character when they decide to sell their cars and the prospective buyers are the ones to suffer.
Last month member Phil van Bergen's letter was published in Enjoying MG. Phil suggested a number system for buyers to describe their cars accurately. He listed ten categories but we would like to reduce them. Some suggestions appear below but before we agree on a definitive list, has anyone got any comments or ideas.
This is an initial suggestion.
Condition 1 -
In need of major restoration.
Condition 2 -
MOT'd and drivable, but rust damage evident. Body, trim and mechanical components in reason able condition for their age but parts and labour needed to bring up to Condition 3.
Condition 3 -
Everything in working order and no unsightly areas or mechanical problems. Likely to pass an MOT in twelve months time with no major work needed.
Condition 4 -
Not quite a show prize winner but excellent in every respect. No faults. Either a properly restored car or an original car in exceptionally good condition.
Condition 5 -
No faults, no rust, quite capable of winning or being or being runner up in a national club event. (If a winner of a prize, date and place of event given.)
I suggest that the Condition number isn't compulsory but is recommended. If it is used and is accurate, more prospective buyers will be encouraged to travel to view.
Any comments before we decide on a final list? Please write and mark your envelope Condition.
AUTOJUMBLERS AND HOBBY TRADERS
Napolean once described us as a nation of shopkeepers but now we seem to be a nation of car boot sale traders and autojumblers. If you enjoy a hobby dealing with secondhand car parts at MG events or other classic car shows take care because the Inland Revenue and Customs and Excise are on the warpath.
Inspectors have been watching traders and chatting to them as potential customers asking how long people have been trading and which shows they attend. Then armed with a business card or leaflet that they write to the trader, estimate an amount of back tax or vat and the trader then has to prove that he or she has not earned the amount claimed against. Recent swoops at major autojumbled and classic car shows have caught many stallholders and the autojumble we know and love is in serious danger of extinction. If part time trading is your hobby it is recommended that you keep proper books showing purchases, sales and expenses and that you pay tax on any profit that you make. Also, if a pleasant person enquiring about an item asks how long you have been doing this, don't boast ten years when ten months or ten days might be more accurate. A claim for ten years estimated back tax would not make pleasant reading over breakfast and the emphasis is on the trader to prove that the money has not been earned.
Autojumblers and Dealers trading in Continental Europe have found that the so called free market is a myth. Protectionist policies are being applied and officials in Brussels and Germany have pounced on British traders flouting all sorts of unexpected and unreasonable rules. Local traders who have been selling classic car parts at prices up to three times the UK equivalent have been rubbing their hands in glee to see the lower priced British goods confiscated or barred from sale. Once well known specialist had his passport taken at Essen in Germany last year and another MG specialist was stopped from trading in Brussels. Their crimes , not showing prices in local currency, not having guarantees printed in the local language and not displaying local vat amounts and not having all the correct export and import papers. Astute European classic car owners now travel to Britain and save a fortune by buying their spares at our prices.
SUBSCRIPTION INCREASE AND IMPROVEMENTS
From March 1st 1997 subscriptions increase from £24 to £26, that's the bad news and the first increase since 1994 is necessary because of steadily increasing postage, printing and advertising costs. We've suffered too in that the past two years has seen a reduction in the number of MG specialists able to advertise in Enjoying MG. We've seen mergers, acquisitions and sadly several closures and we have been very reluctant to accept replacement advertisements from watch and clothes companies or holiday firms. We'd rather restrict our magazine to MG related products and services rather then feature the latest fragrance for the boudoir! Instead we are going to do something we think will please you more. We are going to expand our technical features, include more fault finding hints and expand on get you home tips and fault diagnosis.
ROAD FUND LICENCE - IS YOUR 1972 MG EXEMPT
Under DVLA's 25 year rule, cars manufactured before 31st December 1971 are now eligible for a tax free road fund licence. And if your MG is registered in 1972, providing it was built before the end of 1971 then you are £145 better off. But if your 1972 MG was built in 1972 then sadly you must wait until January 1st 1998 to enjoy the Chancellor's favour. So how do you know?
It's easy, check the lottery (I mean chassis) numbers below. They are the first cars built in 1972 so if your chassis number is earlier then you cheer. If it's later, hard luck.
| | |
| --- | --- |
| MG Midget | GAN5 113617 |
| MGB | GHN5 268692 |
| MGB GT | GHD5 269303 |
If you have a Austin Sprite, the last one was manufactured in July 1971 and the chassis number was AAN10 87824.
I looked up the chassis number of my 1972 round wheel arch Midget and to my delight discovered that it was made in 1971.
If you would like an certificate confirming the date of manufacture of your MG (whatever year it was registered) then contact British Motor Industry Heritage Trust, telephone 01926 641188. They provide two certification services. The Statement of Manufacture costs £10.00. For a fee of £25.00 BMIHT will advise you of the date of manufacture and the original body and trim colours, and factory fitted options, possibly the dealer who took delivery and on some models, the ignition and door key numbers*.
We acknowledge the support and assistance of BMIHT in providing the pre 1972 chassis numbers above and confirm that they are correct.
IN CLOSING
I escaped into a pub and had a beer with a friend whilst our wives were Christmas shopping. My pal said that he loved Christmas and that it was his favourite time of the year. But hang on, I said, You are Jewish, you don't celebrate Christmas. He smiled and explained. My Dad and I have a toy shop in the High Street. On Christmas Day we stand in our empty stockroom, sing two verses of What a friend we have in Jesus, and then we go the Caribbean for a fortnight.
Happy New Year
*Special Offer for MGOC Members:
Order either the £10 or £25 BMIHT certificate and purchase two Gaydon tickets for the price of one.
The MG Owners' Club web presence is of course part of this site.

Back to the News content
---




Made in England