Newsbeat

Click here to add your MG News.
---
Extract from May's MGOC publication - Enjoying MG
Newsbeat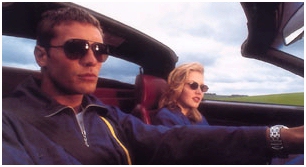 Silverstone via Serengeti
An invitation to 'test drive' a pair of Serengeti Drivers sunglasses, as worn by the Jordan Grand Prix motor racing team, plus the opportunity to win a trip to Silverstone, is being offered by this in-trend shades company. Simply visit a participating local opticians and borrow the glasses for 24 hours without charge. Naturally you will have to leave some sort of security (cash/cheque/card) to ensure return! All those taking a test drive will then be invited to enter a prize draw to win a full hospitality day at the last round of the Touring Car Championship on 21st September. For participating opticians call the Norville help desk on 01452 318116.
Pride of Ownership at Surrey
Surrey '97 to be held on 11th - 13th July at the Leatherhead Leisure Centre is staging an additional class to augment the existing concours and condition awards. Entitled 'Pride of Ownership', the intention is to find cars which, although not necessarily in concours condition, have been carefully looked after and cherished by their owners over a reasonable period of time. The competition will be divided into a) Pre-war b) Roadsters Post War - 31.12.81 c) Saloons and GTs Post War - 31.12.81 d) MGs registered 1.1.82 - 1.5.93. The car must have been owned by one person for the minimum of 2 years and must the largely unrestored or must not have had 'major restoration' (i.e. no wholesale replacement of body panels, complete respray or mechanical overhaul) for 2 years prior to 1.5.97. Entry is by prior application only and forms obtainable (with SAE please) from Mike Broughton, 7 Goldcrest Drive, Ridgewood, Uckfield, E. Sussex TN22 5QG. So if you love your car but are not a regular concours officianardo then this friendly fun competition is the one for you.
Re-release
Many will be delighted at the availability of what is often referred to as the MG 'bible'. The book 'MG by McCombe', first published in 1978, has been off the bookshelves for many years, except on the second hand market but is now back in print and on sale through the MGOC priced £19.95 inc. p&p (catalogue no. 3519). Other books newly on offer this month include Sprite & Midget Owners Workshop Manual (£6.95, cat no 3521) The MG Midget (series TF and TF 1500) Operation Manual (£4.95, cat no 3523) and MG Midget (series TD) Operation Manual (£4.95, cat no 3522).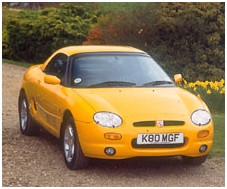 Extra Smart MGF
Lex Rover of Chelmsford have done a little extra work on one of their MGFs. Costing £5100 extra to be built, the colour is Lotus Norfolk Mustard Yellow sprayed by MG Heritage and prepared by Lex Rover of Chelmsford. It has a Heritage full black leather interior, colour coded leather lined hard-top, Alpine 6 disc CD stereo system, walnut fascia kit, front fog lights, Tracker security system, mats and mudflaps. If you do not like yellow, then they can supply any model in any colour (for a small charge!). This MGF is pictured at Warren Golf Club, Woodham Walter, Essex. More details from MG specialist Nick Chatten on 01245 492294.
Fishy Klassics
Recommended Suppliers Keson Klassics of Ashford, Kent would now like to inform everyone that they will now be trading as Dolphin Sportscars. "Everything we do will be the same as it has been for the last few years but we feel a change in name will attract more owners of sportscars, which is where our main interest lies" commented co-proprietor Kevin Hoare. More info on 01233 646466.
Under 25's in Danger
The Institute of Advanced Motorists are continuing their offer to all car drivers and motorcycle riders aged 25 and under. They will all be able to take the IAM Advanced Driving Test for £17 instead of the usual £27. It is a sad fact that the under 21 age group are involved in 25% of all road deaths and 20% of all injury. Making a contribution to perhaps reduce these figures, the IAM are encouraging all young drivers to look beyond their 'L' test and improve their skills. It may also be of interest to all those youngsters who pass their test on or after 1st June this year when new Government rules mean that any driver who tots up more than 6 penalty points during a 2-year 'probationary period' will have to suffer the indignity of having to go back to Learner Driver status. Free £10 Test discount vouchers and further details from the IAM on 0181 994 4403.

Back to the News content
---




Made in England