Review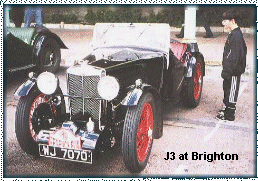 Click here to add your MG News.
Extract from June's Octagon Car Club Bulletin


Regency Run
A Report on from Bob Clare
Unlike 1996 preparations for this year's Regency run went smoothly. Though the running-in period for "Molly's" refurbished engine was not complete, the engine was loosening up nicely.
On the electrical front (front and rear in fact) and as a result of a near-miss at night on the M27, modern direction indicators had been added over-winter and a suitable warning light unobtrusively placed beneath the dash. So unobtrusive was it that I never remembered to switch the indicators off! So a refinement of a bleeper fitted. It worked very well but when signalling at junctions, surrounding cars and pedestrians reacted as if they expected me to reverse! I think a reduction in volume is required.
All in all, son Stephen and I started off from Worthing with confidence in the car if not in the weather.
The Journey to the start
The 1997 Regency Run reverted to previous habit and started at Brooklands. This meant an earlier start for us than in 1996. Nonetheless, since we live in Worthing the journey to Brooklands is almost "local" and we had a delightful, rain-free if chilly, run up. Stephen drove and I hung in there (no - really he's as good as I am if not better with a crash box and cable brakes, but I wouldn't like it known).
It was our second Regency, so we knew what to expect and we were not disappointed. No less than 449 entries were listed in the programme. 89 of these were pre-1956 and, just for interest, I've listed the breakdown by type at the end.
The Run
I drove and Stephen navigated (he had proved his skills in 1996 in the Regency and Wings runs). I was a bit diffident about the wisdom of following the complete course since it included Ditchling Beacon hill which is long and steep. Instructions from Mike Allison (who doctored the engine over-winter) were: "run between 3000 & 3500 revs as much as possible and don't let the engine labour or use full throttle". As it turned out, not only did we take Ditchling at the required revs at about 3/4 throttle, but that low PA Wolseley box 2nd gear ratio proved itself just right for the job (though it's a curse at most other times!).
But I'm jumping forward. The Vintagers and MMMers were first to go from Brooklands and therefore the first part of the run was in the wake of an L, J2s and a J4 which I assume was the car burning Castrol R (lovely smell). However, the lunch stop (invoked by the J2s turning into a pub car park - we followed - never intended stop of course, wouldn't have done if not led astray!), mixed us in with later cars. And there was proof positive of the charms of MMMing. Without breaking the running-in rules, we were well able to keep the MGA ahead of us in sight round the narrow twisting roads at the back of the South Downs and hanging the dear old thing out round the safer bends scored wonderfully high for "Grin Factor". MMM design, particularly the narrow wheel base is ideal for this type of road work. It's surprising how narrow a gap between milk lorry and ditch can be negotiated when need dictates!
Wind played a fair part in challenging the "Square Riggers" throughout the run. If not always because of steering irregularity, then because of hat loss (Mrs. Diplock's Russian furry job and Stephen's MGCC cap were examples which caused hasty braking and a run back down the road).
Navigating traffic-light infested Brighton was easy with clear directions from the route chart (which was very well prepared throughout - our thanks to the route-masters). We got to Madeira Drive on the sea-front, were ushered into the queue which proved to be lined up for interview by the MGCC President Bill Wallis and I heard my voice, somewhat delayed, coming out over the loud-speaker system. Can't remember what answers I gave, probably embarrassing rubbish!
In any case, we were let through to the parking area and indulged in a good deal of friendly chat with the other pre-war entrants (cars and drivers!). I was not aware of any casualties amongst us oldsters and everyone I talked to enjoyed the run. Not only that the "Square Riggers" scored very highly for hood-down running when compared with the post-war softies!
As always, many thanks are due to the organisers and marshals who did a great job and gave the participants a very enjoyable day out.
Postscript - Pre-1956 Entries by Type
These included 2 ZAs, 4 YBs, 4 YAs, 9 TFs, 20 TDs, 8 TCs, 2 TBs, 5 TAs, 3 VAs, 1 PB (with a Morris Minor engine!), 5 PAs, 1 ND, 2 NBs, 2 NA, 1 J4, 1 J2 special (J4 replica), 6 J2s, 1 J1, 1 L special, 1 L2, 1 L1, 1 F1, 1 D Type, 1 C Type, 3 M Types, 2 18/80s and a 14/40.
Octagon Club Home Page
More on the Regency Run


Back to the News content
---




Made in England