A team of enthusiastic engineers from Rover Group's Gaydon Design and Engineering Centre have been working in their own time on the latest project, with the support of Nick Stephenson, Group Design and Engineering Director. The project was code-named 'Project EXF', in homage to the classic M.G. record breakers of the past. The objective of the project, initiated in May, was to see just how fast an MGF could be driven on the basis that it retained largely standard components. With a target speed of 200 mph, the achievement of 217.4 mph is nearly 100 mph faster that the 120 mph production car.
The M.G. was driven by Terry Kilbourne, a technician from a Californian Land Rover dealer, chosen as he held the necessary SCTA competitions licence, and had already driven other machinery at Bonneville, up to 226mph. The earlier land speed record M.G.s were very definitely works supported, one-off specials with tear-drop body styles of minimal frontal area; this MGF differs from the standard production car only as necessary to reduce the coefficient of drag to less than 0.25. This was achieved by the addition of a 'longtail' - a 400 mm tapered tail extension, retaining the same design cues as MGF - and removal of the windscreen and door mirrors. A flat-deck tonneau was added along with a roll-cage within a 'tear-drop' canopy providing protection for the driver's head.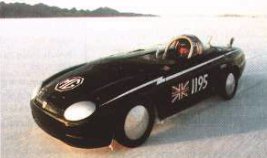 The F from the side and showing the livery, cockpit capsule and roll bar, and two small stabilising fins on the back.
A 1.4 litre version of the MGF1.8 litre k-Series engine was selected, as its lower compression ratio is better suited to turbocharging. The fuel used was super-unleaded petrol. The K Series, which has always exhibited high specific power-per-litre, produced 333.6Ps (329 bhp) @ 7000rpm (230 Ps-per-litre) and 336 Nm (247.8lb ft) torque.
Nick Stephenson, Group Design & Engineering Director for Rover Group said: "Project EXF is the culmination of a passion within the company to see M.G. return to Bonneville - a 'back-to-the-future' adventure. It is terrific to see the pent-up enthusiasm within our talented design and engineering team resulting in an achievement so true to the spirit of the M.G,,
"It is fitting that they should be rewarded with the knowledge that they have produced the fastest MG ever. My colleagues on the Rover Group Board gave the project their blessing in June and we are delighted to see the team exceed their target of 200mph in such a short period of time.