Australian Review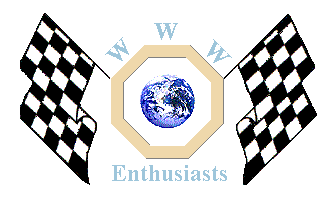 Click here to add your MG News.
---
Extract from November's MGCC publication - Safety Fast

Spring is breaking our in the Antipodes and the enthusiasts are out polishing their cars for a growing events calendar. One of the biggest has been the Wagga Wagga Club's gathering of the faithful on the weekend of 6/7th September. It featured what claims to be the oldest M.G. in the world actually on the road - a 1925 14/24 Super Sports and at the other end of the scale was an MGF, just recently launched in Australia and New Zealand. M.G.s have gathered for this event from most parts of the country, making this one of the biggest events of the year including a rally, a tour and a jazz concert as well as the Concours.
The M.G.C.C.'s newly appointed manager for Australia and New Zealand, David Ewart James, is visiting Australia this month and he hopes to meet a number of the affiliated clubs and bring home more news of happenings Down Under.
Gathering of the Faithful: GOF'97
'GOF 97' was held at Wagga Wagga on 6th and 7th September. With almost 80 entries received a great week-end of friendship was anticipated.
Of particular note was the distance some people travelled to be present . Phil Evett came from the sunshine Coast, north of Brisbane, a round trip of almost 3000km. Vicki. and Brian George travelled from Adelaide, another round trip of over 2000 km. On the other hand Moira and Mike Wellman were only about 700km from their Tasmanian home, but an overnight ferry crossing, both ways, was in their trip.
Last year Victorian M.G. owners were strongly represented but 'GOF 97' was the year the Sydney enthusiasts came to Wagga Wagga. There were also increased numbers from Canberra and Melbourne and the first attendees from Newcastle were welcomed. All of this augurs well for the future of 'GOF'.

An MGF on the starting ramp waiting for the flag
Blackman & Sons Rally
Many arrived on Saturday afternoon and took part in the Blackman's Rally. A special promotion by Blackman & Son's Mark Shaw, was well received by the entrants.
Rally directors, Sue and John Lenton, sent the cars on a tour of parts of the district. Other Wagga M.G.C.C. members provided afternoon tea at the village of Marrar, which was very well received.
Of course there were some who got lost, and others who couldn't find the answers to questions, but that's all part of being in a rally isn't it? Highlights Included Tony Ainsworth (MGC GT) running out of petrol (even though he had a new petrol tank), and Ernie Valance (MGA Coupe) applying too much right foot on the starting ramp at Wagga Beach, with dramatic results.
Social Events
That evening the Faithful, for that's who they are had a choice of social events. The Concours spares Casino or the Heritage M.G. Spares Jazz.
Concourse Spares Casino
The Faithful played blackjack, roulette, and crown & anchor. People enjoyed playing with money other than their own. Of course some people finished with lots of money (but others didn't). There was an M.G. Quiz, where correct answers were rewarded with more money. An auction was then held, so people could spend their money.
One couple paid $40,000 for a jar of metal polish. Others snared goodies such as TC model kit, Chocolate body paint, and car related Items. Those who went to this function had a lot of fun, with Ly Smith in charge of proceedings.
Heritage M.G. Parts Jazz
This was a popular choice and many people enjoyed listening to music of the 30's, 40's and 50's from a local jazz band. The Faithful also sang several 'GOF' songs, under the guidance of Maggie and Craig Couzens. Jan Kirk (Canberra) and her group sang which really showed what can be done when a certain amount of enthusiasm is applied.
Heritage M.G. Spares Breakfast
Early next morning Sue and Grant MacRae, co-ordinated the breakfast at the Riverine Club. Here Ron Craig, spoke of his involvement with M.G. cars. Ron is the owner of the 'GOF 97' featured car. His talk was entertaining, informative and very well received.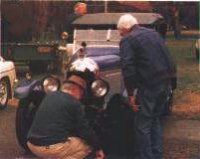 Inspecting the 1925 14/28 M.G. Super Sports
Featured Car 1925 14/28 M.G. Super
Sports
The Super Sports was driven from Sydney by its owners, Julie and Ron Craig. It's not often a real place of M.G. history is available for ordinary M.G. owners to have a close look at and meet and talk to the owners. The Super Sports was certainly one of the highlights of 'GOF 97'.
Ron Graig's 14/28 M.G. Super Sports is the oldest running M.G. in the world and the oldest M.G. in Australia. This particular car is a 4 seater tourer. the running chassis left the Morris works late in September 1925 and was sent to Morris Garages. Cecil Kimber weaved his magic on the mechanicals, and fitted a sporty aluminium body to his own design. The car was finished in two tone polished aluminium and blue enamel, with open hub wire wheels.
On 21st October 1925 this magnificent example of Kimber's brilliance appeared for the first time. Even now, Ron Craig's 14/28 M.G. Super Sports is very original. The only major departure being the position of the spare wheel.
In 1965 only six 'bullnose' M.G.s were Officially known to exist throughout the world. The present opinion is that, of the 101 four seater and 214 two seater 14/28's made by Kimber, around a dozen survive.
Considering this, you'll be surprised to learn Ron's car isn't the only 14/28 in Australia. There's a 1927 car in Sydney, although it has the flat radiator.
Rover Australia Gathering
Rover Australia were the sponsors of the major component of 'GOF 97', the gathering. Peter Turvey was present with an MGF, and Presented awards on behalf of Rover Australia.
A self judging format was used to determine the winners of awards and certificates in a wide variety of categories. The main idea was to have the Faithful meet other, owners and have a chat about their cars. Mike Reeves was the Gofficial who co-ordinated this aspect of the Rover Australia Gathering. He was assisted by a number of other people, not all of whom were from the Wagga M.G.C.C..
As you'd expect there were many MGBs in their variety of forms. At the other end of the time scale was Kevin Armstrong's 1938 TA. Other notable entries included a TD chassis, and MGA racing car, an MGA coupe rally car and the new MGF. All entrants present were eligible to win a painting of their car. Tony Elphick (MGB) was the lucky M.G. owner.
Winners from 'GOF 96' who were present again, competed for two Premier Awards, All cars were excellent, but the black ZA Magnette owned by Margaret and Anton Lorenzi was voted the winner of the Improving the Breed Award. Frank Hiscock's MGA Twin-Cam won the Maintaining the Breed Award. Congratulations to the first 'GOF' Premier Award winners.
Heritage M.G. Spares Partners Tour
An innovation was the Heritage M.G. Spares Partners Tour. As the weather was cool, a number of people joined the bus for a trip to the Protea Farm and tour of the district (without getting lost). Anne and John Craig were responsible for this aspect of 'GOF 97'.
Back at Wagga Beach there was sausages sandwiches, free coffee or tea, and other drinks available. Steve Foster and other M.G.C.C. Wagga members kept the Inner M.G. man or woman satisfied.
For sartorial elegance the 'GOF 97' cap was a must. A jacket patch, a plastic label and the 'Faithful' windscreen sticker (the big red 'F') as well as other 'normal' M.G.C.C. WW regalia were also available for people to buy from Val Williams.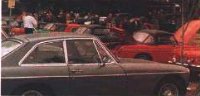 Results
Blackman's Rally
Owned less than a year

1st
Fiona & Peter Turvey (MGF)
2nd
Jan & kevin Kirk (MGB GT V8)
3rd
Roger & Wilma Cox (MGB)
Owned between 1 and 2 years
1st
Ray Catts (MGB GT)
2nd
Phil Evett (MGB GT)
3rd
Ann & Ron Withers (MGB)
Owned between 2 and 3 years
1st
Sue & Les Bingham (MGB GT)
2nd
Val & David McEwan (MGB)
3rd
Sandie & Gil Taylor (MGB GT)
Owned between 3 and 5 years
1st
Jeanette & Peter Hill (MGA)
Owned between 5 and 7 years
1st
Charlie Grimwood (MGB)
Owned between 7 and 9 years
1st
No entry
Owned between 10 years or more
1st
Sharon McLean (MGC)
2nd
Helen & Bryan Gibson (MGB)
3rd
Ernie Valance & Trevor Bailey (MGA Coupe)
Distance Awards
Owned less than a year
1st
Jan & Kevin Kirk (MGB GT V8)
Owned between 2 and 3 years
1st
Sandie & Gil Taylor (MGB GT)
Owned 10 or more years
1st
Helen & Bryan Gibson (MGB)
Rover Australia First Timers Awards
Maintaining the Breed
Dot & Alf Luckman YA
Improving the Breed
Tony Ainsworth MGC GT
Pre-War & Y & T Series
Improving the Breed
Sharon McLean TC
Maintaining the Breed
Dot & Alf Luckman YA
Using the Breed
Sharon McLean TC
MGA
Improving the Breed
Ernie Valance MGA Coupe
Maintaining the Breed
Jeanette & Peter Hill MGA 1600
Using the Breed
Greame Smith MGA Coupe
MGB (A)
Improving the Breed
Sue & John Lenton MGB 67
Maintaining the Breed
Ron Hutton MGB 67
Using the Breed
Ron Hutton MGB 67
MGB (B)
Improving the Breed
No award
Maintaining the Breed
Marj & Steve Smith MGB 69
Using the Breed
No award
MGB (C)
Improving the Breed
Val & David McEwan MGB 77
Maintaining the Breed
Keith Speer MGB 71
Using the Breed
Les Reader MGB 70
MGB GT
Improving the Breed
No award
Maintaining the Breed
Sue & grant McRae MGB GT Auto 67
using the Breed
Ly Smith MGB GT 76
MGC/MGB GTV8
Improving the Breed
Tony Ainsworth MGC GT
Maintaining the Breed
Jan Kirk MGB GT V8
Using the Breed
Sandra Hiscock MGB V8
Midget
Improving the Breed
Alan Brink 70
Maintaining the Breed
No award
Using the Breed
No award
MGF
Improving the Breed
No award
Maintaining the Breed
Graham McCann
using the Breed
No award
Oldest Car
Kevin Armstrong TA 1938
Newest car
Graham McCann MGF 1997
Car travelling furthest
Moira & Mike Wellman (Tas)
Phil Evett (Old)
Vicki & Brian George (5th. Aust.)
Rough solid car needing restoration
Jarman Donohue MGB
Car closest to basket case
Ingrid Smith TD
Best number plate
Leigh Rootsey MGB 070
Participant overcoming most obstacles
Jarman Donohue MGB
Most recently purchased car
Leigh Rootsey MGB (2 weeks)
Car owned the longest
Graham Waller MGA (25 years)
Premier Awards
Improving the Breeds
Margarat & Anton Lorenzi Magnette
Maintaining the Breed
Frank Hiscock MGA Twin-Cam 1959.
Appreciation
The M.G.C.C. of Wagga Wagga received co-operation and encouragement from other M.G. Car Clubs which was way beyond our expectations. In some cases, even promoting 'GOF 97' when there were events of their own at the same time. This generosity of spirit is part of what makes belonging to an M.G. Car Club special. Just like the cars, M.G. people have character. The M.G. Car Club of Wagga Wagga has greatly appreciated the support and co-operation we've received and we are very thankful for it. However, 'GOF' is not just for members of M.G. Car Clubs, it's for owners of M.G. cars, whether they're in a club or not. 'GOF 97' is primarily so owners of M.G. cars can gather together and enjoy the fellowship that comes from their shared ownership and enjoyment of M.G.s.

Back to the News content
---




Made in England