Rally Report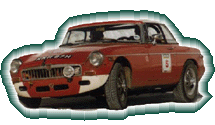 Click here to add your MG News.
---
"Costa a Costa" Rally Report
The five pictures below are of my '69 "WorksLike" MGB, XKH87H or "Little Monster", well known on your Isle too, eg by Debby Edwards. Taken during the recent "Costa a Costa" Rally, from the Mediterranean (Sitges) to the Bay of Biscay (Getxo/Bilbao) via the (on top of) Pyrenees with first snow and ice. It is is a magnificent 50's/60's style adventure for classic (sports) cars organized by the "Escuderia OIZ" Rally Villa de Bilbao in their 2nd edition. This year my co-pilot Adolfo Gil and I finished 4th. The rally is a regularity, timed and navigational marathon pleasantly intertwined with gastronomic delights a la Espanola. 28 departed and 10 arrived, battling through sometimes adverse conditions making it ideal practise for some of the Monte Challenge teams - all of whom we beat !
Click on the images to see larger versions:
| | |
| --- | --- |
| ice and snow skills | plenty of winter practice |
| first on top of the Pyrenees | 4th overall |
Leonard Loos <loosco@ran.es>

More motorsport

Back to the News content
---




Made in England