With the introduction of Statutory Off Road Notification (SORN) from 31st January 1998, the DVLA has removed the option to 'do nothing' from motorists to delay their payment of vehicle excise duty when they receive a vehicle licence reminder.
Richard Verge, Head of Operations at DVLA, said "The introduction of SORN will significantly reduce the opportunity for tax dodgers (known as "month skippers") to evade vehicle excise duty. Law abiding motorists need not fear the new regulations. However, motorists who avoid compliance will be targetted. By law, keepers will have to provide a SORN declaration which advises DVLA that the vehicle is neither used nor kept on a public road, and is therefore not liable to vehicle excise duty. In the majority of cases this declaration will be made on the tax renewal reminder form (V11) issued by DVLA. The SORN arrangements will ensure that those who previously evaded paying road tax will not be allowed to get away with it any more. It will make a significant contribution to reducing the overall tax burden that is carried by those who pay in full".
Tax dodgers will now be readily identified - the recently introduced three part registration document helps ensure the accuracy of the vehicle keeper information held at DVLA is bang up to date, whilst the introduction of SORN means that DVLA will know if a vehicle is neither taxed nor declared off the road. If a vehicle has neither a valid tax disc nor a valid SORN declaration, the DVLA will be able to trace the registered vehicle keeper and take necessary action to ensure compliance with the law. Failure to make a SORN declaration may result in prosecution and a fine of up to £1,000 or five times the annual rate of duty of the vehicle, whichever is the greater. Vehicle keepers making a false declaration risk prosecution and a maximum penalty of up to £5,000 or two years imprisonment.
Vehicle keepers who are taking their vehicle off the road and retaining them can apply for a refund of vehicle excise duty and declare SORN at the same time by completing the V14 or V33. Notes on these forms explain what to do. If you need to declare SORN and you do not have a V11 or V85/1 and are not applying for a refund of duty, you can do so on form V890. This form is available from the DVLA Customer Enquiry Unit or from Vehicle Registration Offices.
For further information, contact Sean Lees or Graham Buckingham at Wyndham Leigh PR on 0171 371 5335.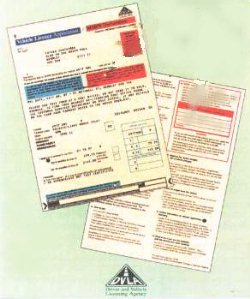 V11 FORM
From the end of January 1998 a new style V11 form, which includes a tick box for those keepers wanting to decare SORN, will demand that the vehicle keeper either buys a tax disc or declares that the vehicle is kept off the public road. The new V11, like the form it replaces, is designed for use at Post Offices allowing quick and convenient payment of vehicle excise duty or to make a SORN declaration. The new V11 should not be mailed direct to DVLA.
V85/1 FORM
Keepers of Heavy Goods Vehicles, many of which may be off the road for periods during a typical working year, can declare SORN on the new V85/1 and continue to use the form to make a licence application at the Vehicle Registration Office. A vehicle keeper who does nothing on receipt of a V11 or V85/1 may be liable to prosecution as will a vehicle on the road. There is a legal obligation to sign and date the forms. The address at which the vehicle is to be kept off road must be inserted in the space provided on the back of the forms. SORN declarations will be valid for a twelve month period and can be renewed, if the vehicle is kept off road for a further period, by declaring SORN again on the next V11 or V85/1.
A detailed information leaflet INS 107 will accompany all licence reminders from the end of January 1998.