Like most motors of the fifties, corrosion treatment was insufficient, box sections were not treated internally and there were many built-in mud traps. Nearly all Z-types will have had attention to the sills (inner and outer), lower rear wings (behind wheel), the lower wing area behind the front wheels where the wing is secured to the baffle plate, the lower front wing area (just above the join with the front valance) and the doors. If the door skin is corroded but the frame is intact, the repair is relatively simple as door skin repair sections are readily available. Repairing the stepped section of the frame is much more difficult. Most door corrosion is due to water ingress past disintegrated weather seals. The water will often run down the back of the door trim, causing it to distort. Cars where the corrosion has spread into the floor pan area are likely to be time-consuming and therefore expensive to put right, and should be avoided.
So, accepting that any likely purchase will have had some attention at some time, it is important to ensure that repairs have been carried out competently, to the original specification, and that adequate anti-corrosion treatment has been applied. I have seen several cars recently where the lower part of the front wing has been joined to the sill panel and the gap has been sealed with filler. Apart from looking totally wrong, water finding its way behind the baffle plate cannot escape.
If you are keen to purchase a Magnette take a look at a well-restored or original example so you know what it should look like. Remember, too, that chrome parts are getting rarer and re-chroming is expensive.
Mechanically things look much better. Most mechanical items are available and relatively inexpensive. Even a rebuilt engine with unleaded conversion costs only about £600 and this is probably the most expensive item you will ever need.
Gearboxes last a long time, with their only real weakness being second gear and synchromesh. Suspension and steering components are robust and simple, with rubber bushes, etc. easily obtained and fitted. One weak point is the front suspension rear-facing tiebars which can wear thin by the floor brackets. Looking at the interior, obviously the most important area is the leather seats. If these are in poor condition they will cost around £1,500 to be replaced. New leather adds significantly to an interior, and even good condition original seats are often sagging, with the leather faded. Other trim items such as carpets, woodwork, door panels and headlining are relatively straightforward to work on and the standard materials easy to obtain.
Choose your Magnette carefully and you can look forward to many years of inexpensive trouble-free motoring. Although these cars can be used as everyday transport it is probably more realistic, bearing in mind modern traffic conditions and the British climate, to keep them as a classic to enjoy when the conditions are right. For instance, they will always mist up rapidly on a wet day and trafficators, and even the later Varitone stop/flasher system, are not always appreciated by the average modern motorist. By the time you have modified your Magnette to compete you may just as well buy an old banger for everyday use.

Andrew Brook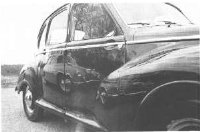 Reflections of Palmer - One of Gerald Palmer's great designs mirrored by another.