Recall

Click here to add your MG News.
MGF Safety Recall
The seat belt webbing of the right hand seat belt has a possibility of getting snagged in the slot in the escutcheon in the rear bulkhead finisher. This generally occurs when the driver leans forward. If it does happen, then the seat belt will not retract in the way in which it is designed to do, leaving the belt loose. Pull and free the belt before driving and the danger is removed.
If the driver fails to notice that the seat belt is loose, then there is a risk that, should an accident occur, there would be too much space between the driver's upper body and the belt and this could cause injury. In addition there is an increased risk of wear on the webbing.
During rectification the Rover dealer replaces the escutcheon with a later version. This type has the slot in a different position and therefore eliminates the associated risks.
Your Rover dealer will, whilst carrying out the modification, also inspect the webbing on the belt for damage and replace if necessary.
Rover will have written to the 20,000 drivers of MGF cars that need to be checked.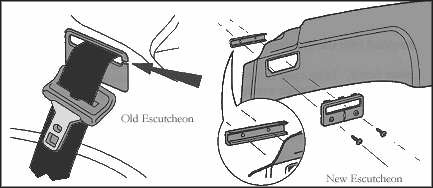 Old and new escutcheon designs
Our thanks to Trident Garages for supplying this information
---





Made in England